"The scene was more than the kiss. It was about deception, intrigue and murder."
Watch your back villains, Detective Byomkesh Bakshy is in town.
Director of the critically acclaimed black comedy Oye Lucky! Lucky Oye!, Dibakar Banerjee takes a swing at recreating Saradindu Bandyopadhyay's classic character, Detective Byomkesh Bakshy.
The crime caper stars the talented Sushant Singh Rajput, who made a successful debut with his hit film Kai Poh Che. Here he is seen portraying the successful fictional character, detective Byomkesh Bakshy.
Projecting a modern day interpretation of war-torn Calcutta in the 1940s, the movie follows the life of fresh-out-of-college boy Byomkesh.
Being a well renowned detective in town, and solving various crimes, Byomkesh is now put up with his biggest case yet, finding Yang Guang.
Guang is a man who single headedly is going to destroy Calcutta. Byomkesh has one choice now to run away from the war tone area and save himself, or to stay and save the city.
Will Byomkesh be able to solve the case? Can he find Yang Guang and find out why he wants to destroy Calcutta?
Ever since the trailer released in 2014, audiences have become more curious and drawn in by not only the diverse story of Detective Byomkesh Bakshy!, but by the unique aesthetics of the film, taking Hollywood's classic genre but giving it a well-needed Indian twist.
Director Dibakar Banerjee explains: "Man clad in dhoti-kurta, travelling in a tram, buying a paan from the roadside shop, going to Kolkata's college street coffee house and solving a mystery just the archetypical way American gumshoe would but in a completely original Indian setting."
Banerjee's choice to recreate the popular fictional detective was a 'childhood fantasy'. But he is keen to warn die-hard fans that the film is purely for entertainment, and may not be what they expect:
"I know that probably a lot of the core die-hard film watchers, who would love to put me in a slot, would resent me foraying into something which is purely a yarn, purely a story, purely to entertain, purely to become innocent again and enjoy a whodunit. So that's the challenge I wanted to take."
Speaking about his lead actor, Sushant, Banerjee adds: "Sushant is a bigger obsessive than I am. He lost 12 kgs, changed his physicality, his face.
"We accentuated his broken nose, gave a darker look and he was literally abused throughout this film – getting shot at, pulped, beaten up, picked up by the cops, going through the roughest time that any young detective can.
"He's even being suspected as a criminal in the film. So all these things together made Sushant a complete obsessive. I don't think that he has worked harder on any other film than this. And from the trial audience, we got the response that, 'This is our Byomkesh! We cannot imagine any other'."
Upcoming star Sushant is also rapidly gaining the new tag of on-screen serial kisser. His kiss in Detective Byomkesh Bakshy! will apparently be his longest lip lock on screen.
However Sushant was completely unaware of the kiss, as Banerjee wanted a shocked expression from the actor:
"The scene was more [than] the kiss. It was about deception, intrigue and murder and I needed that something extra – that element of surprise that throws everyone off. But we had over-rehearsed it. The takes ended up being just like the rehearsals – no surprise!
"Six takes, eight takes, still the same. I was worried. Then it struck me. I took Swastika aside and told her, 'Kiss him before he can say anything – and we won't tell him. Throw him off guard'."
The soundtrack to the film sees seven tracks in total, each being crafted in order to fit in with the ideologies of the film.
The biggest USP of the album is that all the songs are composed by independent music artists. Including the likes of Madboy/Mink, Sneha Khanwalkar, Blek, Peter Cat Recording Co. (PCRC), Joint Family and IJA.
The album itself is a lovely assortment of Hindi indie music. For example 'Calcutta Kiss', composed by Madboy and Mink is definitely one of the liveliest songs from the album.
With a jazz twist, it definitely captures the 1940s era and the essence of the film. Also the talented dancer, Lauren Gottlieb, tapping her feet to the peppy number, adds an extra spark to the song.
A song that definitely hits the right notes is 'Byomkesh In Love', which is a lovely romantic ballad giving the audience an idea that there is some essence of romance in this dark thriller.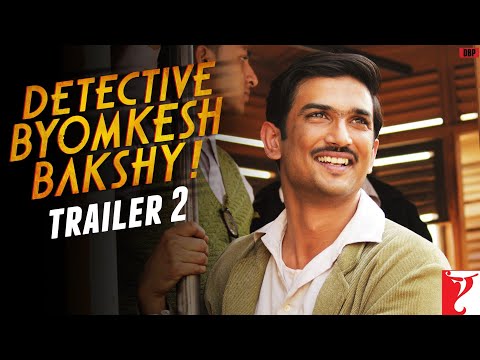 With the film releasing from April 3, 2015, filmmakers are eager for fans to go see the film, and Sushant believes that it is one of his best character roles to date:
"One thing I assure you of this is my best performance till date. So, please come and watch the film. I'm so sure that all of you will like it."
Also with the rare exposure to the detective genre, Detective Byomkesh Bakshy! is definitely a film that will encourage more producers to indulge in this niche and interesting genre. So will you help Detective Byomkesh Bakshy solve the case from April 3, 2015?