"We are here to win."
Bollywood stars and netizens reacted to the trailer of Ranveer Singh's 83.
The sports drama sees Ranveer play Kapil Dev as he leads India to its first World Cup in 1983.
The trailer begins with the commentator mentioning how the Indian cricket team must be feeling after back-to-back losses against the West Indies and Australia.
The comments are made during India vs Zimbabwe and it shows India losing wicket after wicket.
It then picks up as members of the Indian cricket team are introduced to the audience.
What follows is the journey of how Team India overcame hardship to win the 1983 World Cup.
One particular scene was striking. It showed Ranveer Singh's Kapil Dev facing the media in an almost empty room.
He is asked: "What do you think are the team's chances in the World Cup?"
India's captain replies: "We are here to win."
The response is met with sarcastic laughter.
As the trailer goes on, the Indian team start finding success, with Kapil hitting window-smashing sixes and the team opening bottles of champagne.
Another scene shows Kapil Dev facing the media, this time in a full room, where he repeats:
"We are here to win."
This is met with reporters scrambling to get their questions in.
The trailer has been met with an overwhelmingly positive response, from both netizens and Bollywood celebrities.
Abhishek Bachchan left a series of raised hands emojis.
Meanwhile, Rakul Preet Singh wrote:
"What the wowwwwwwww!!!! This is beyond a sixer!! What can you not do Ranveer Singh? Goosebumps… this one will be a double blockbuster for sure!!"
Sophie Choudry admitted she got goosebumps after watching the trailer. She said:
"Goosebumps just from the trailer!! Picture mein kya hoga??! Uff this looks so awesome!!!"
"Love to you Ranveer Singh and the entire team!!!"
Fashion designer Manish Malhotra left a thumbs-up emoji.
Esha Deol said: "Outstanding. Proud of you Ranveer Singh."
Karan Johar called it a "bonafide blockbuster".
Humungous congratulations to the entire cast and crew!!! This gave me goose bumps and is so emotional and arousing! BONAFIDE BLOCKBUSTER! Kabir !!! You're the man and Ranveer you just became Kapil Dev with the ease of a veteran! Badhai ho! https://t.co/PK9YPRSGyX

— Karan Johar (@karanjohar) November 30, 2021
Neil Nitin Mukesh was also impressed. He tweeted:
"Simply outstanding!!! What a fantastic trailer. Goosebumps all the way."
Netizens also applauded the trailer.
One person wrote: "Goosebumps and tears, I am sure no one would able to hold their tears while seeing this trailer and the movie for sure."
Another said: "What an amazing performance by everyone. Specially Ranveer! Hats off!!!"
A third commented: "Ranveer Singh, you're the best actor in India.
"This trailer gave me goosebumps and you've performed so good in it. All the best, this film is going to break records."
83 also stars Deepika Padukone as Kapil's wife Romi Dev.
Watch the 83 trailer: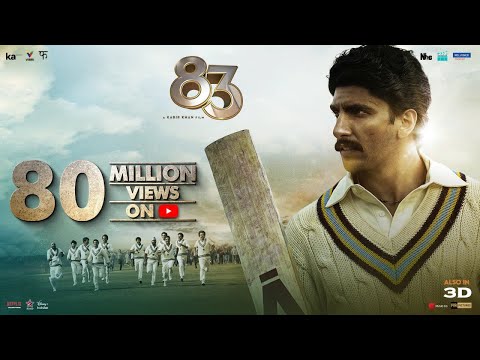 The film is directed by Kabir Khan and it will release on December 24, 2021.