"You should have done proper [quality assurance] on your PC port before it launched."
A flood of complaints about a number of serious issues with the PC version of Batman: Arkham Knight caused Warner Bros. Games to suspend its sales on June 24, 2015.
After offering refunds for those who bought the game, the game publisher announced on Arkham Knight's forum on June 27 the first patch has been released to primarily fix the crashing problem.
WB Games also provided a detailed update on the progress of their joint-damage control with Rocksteady, the game's developer.
The post read: "The work is significant and while we are making good progress on improving performance, it will take some time to ensure that we get the right fixes in place."
WB Games confirmed the list of technical issues that they are working on:
Support for frame rates above 30fps in the graphics settings menu
Fix for low resolution texture bug
Improve overall performance and framerate hitches
Add more options to the graphics settings menu
Improvements to hard drive streaming and hitches
Address full screen rendering bug on gaming laptop
Improvements to system memory and VRAM usage
NVIDIA SLI bug fixes
Enabling AMD Crossfire
NVIDIA and AMD updated drivers
It is hardly common to withdraw a video game from sale, especially one with the calibre of Arkham Knight – the biggest video game launch sales of 2015 in the UK.
What is even more surprising is that these problems have arisen on the PC port, which is usually less likely to take the hit than the consoles. So what went wrong for Arkham Knight?
Performance Issues
Most high-end triple A games experience bugs or glitches every now and then, but very rarely do they have game-breaking problems.
The myriad of issues found on the PC version of Arkham Knight include:
Graphical downgrading
Audio glitches
Sporadic freezing
Framerate stuttering
Players have attempted to resolve them by tweaking options within the game. Some have even managed to push the game up to 60fps without any significant backlash.
NeoGAF user felipepl has kindly offered some solutions for the PC-savvy players. Find out more here.
Porting Issues
While its PC version is being dragged through the mud, Arkham Knight is running fine on both Xbox One and PS4 without any real issues.
This may partly stem from the decision to outsource its PC port to an external developer, namely Iron Galaxy Studios. Their small team of 12 is also responsible for porting other games, such as Destiny to the PS3 and Borderlands 2 to the PS Vita.
But they are not new to the Batman series, as they supported the development of Batman: Arkham Origins. The warning signs were there, when its PC version suffered problems at launch in 2013.
Check out Arkham Knight's graphics comparisons across PC, PS4 and Xbox One: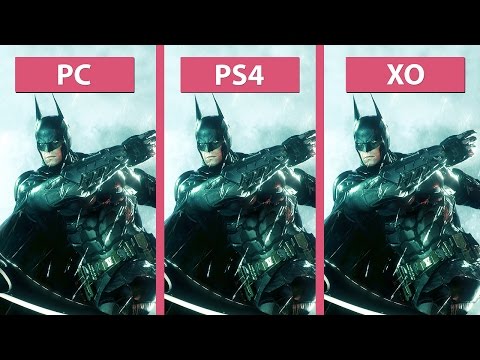 Now with the latest announcement from WB Games, most players have calmed down and are patiently waiting for further updates.
Rudi777 wrote: "Keep up the good work…I for one am confident it will eventually be the worthy addition to the best gaming franchise in history."
Yet other players feel differently, as Garenator posted: "Am I the only one who thinks this shouldn't be praised?
"Yes, it's good you managed to get a patch out so fast…but this isn't what you SHOULD be doing. You SHOULD have done proper QA on your PC 'port' before it launched."
Rocksteady are no doubt working like mad men to rectify the problems and pacify the players. But they may have more repairs to do for its reputation than churning out patches for Arkham Knight.