"The Aston Martin Vulcan sets a whole new standard in the ultra-high luxury superclass car."
The limited edition track-only Aston Martin Vulcan was one of the stars at the 2015 Goodwood Festival of Speed in West Sussex.
Sparks were literally flying as Darren Turner, driving for Aston Martin in the FIA World Endurance Championship, took it for a spin.
The Vulcan oozes over 800bhp of raw power and is capable of reaching 0-60mph in less than three seconds.
No wonder drivers are required to complete a special course before they can get behind the wheel.
Aston Martin, famous for fuelling James Bond with a range of gadget-filled vehicles, said only 24 of these 7.0-litre, V-12 'thunderballs' will be produced.
The all carbon-fibre Vulcan is somewhat more reminiscent of the Batmobile. Priced at £1.5m and soaring at a top speed of 200mph, Bruce Wayne may be a more fitting master of this beast than '007'.
Aston Martin's CEO Andy Palmer, who wanted to debut the supercar on home soil, said: "I believe the Aston Martin Vulcan sets a whole new standard in the ultra-high luxury superclass car."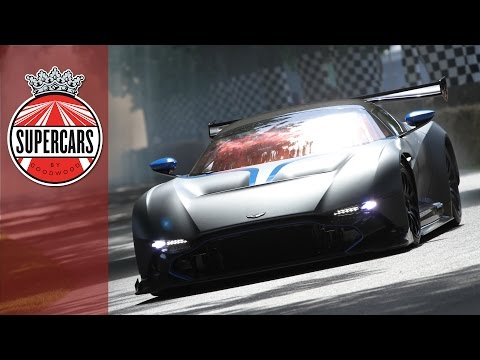 He added: "It's designed and engineered to deliver a genuinely bespoke driving experience. A sports car for true sports car lovers."
And he is right indeed. The Vulcan is not just about its blisteringly ravishing good looks. Inside the cabin lies futuristic and high-tech features.
The smart and iconic U-shaped steering wheel controls many of the car's functions, such as paddle gear shifters, pit lane speed limiter and 'flash-to-pass' beams.
It also boasts 380mm carbon ceramic racing disc brakes, Dynamic Suspension Spool Valve (DSSV) and an Xtrac six-speed sequential shift gearbox.
Although Mr. Bond will be driving the stunning Aston Martin DB10 instead in the highly-anticipated movie Spectre (2015), the all-mighty Vulcan will forever remain 'A View to a Kill'.