"India is not only Bollywood, we can do English music equally well"
Armaan Malik is an incredibly fantastic singer who comes from three generations of Bollywood music.
The singing heartthrob has sung for many top music directors' including Pritam, Salim-Sulaiman, Vishal-Shekhar, Amit Trivedi, Shank-Ehsan Loy and Amaal Malik.
Armaan was born in Mumbai on 22 July 1995. His father Daboo Malik is a music director, whilst mother Jyoti Malik comes from a teaching background.
From a very young age , Armaan had a link with music. His grandfather Israr Sardaar Malik taught students Hindustani classical music.
Armaan learnt Raaga from his grandfather. This way he started his musical training from the age of six.
There was a 24×7 musical atmosphere in the house he grew up. His father and grandfather would often be composing some music, with Armaan singing along the way.
Hence for Armaan Malik, it was not a tough decision to take up music as a career. It was a natural decision and progression. As Armaan said: It was like 'music or nothing.'
At the age of 14, Armaan attended the Berklee College of Music where he studied pop and RnB music.
Malik has incorporated all these styles of genres into his voice. Whatever he is singing today is a mixture of these genres. He does not want to restrict to any one particular genre. Armaan has even produced his own cover of Justin Beiber's famous song, 'Sorry'. Armaan explains why he chose to do the cover, saying:
"Because, I wanted to just tell the world that India is not only Bollywood and it's not only Hindi music, we can do English music equally well."
Watch our Exclusive Gupshup with Armaan Malik here: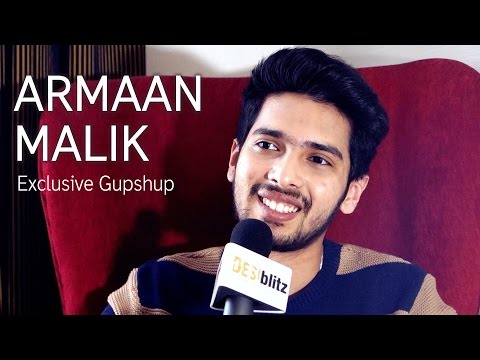 Famous baritone singers such as Frank Sinatra inspire Armaan very much. He is also a big admirer of many eastern and western artists from across the globe:
"I'm a big fan of Michael Bublé, Frank Sinatra, Chris Brown, and Bruno Mars," Armaan tells DESIblitz.
"Those are the western artists who have influenced my musical style when it comes to non-film music. Because with film music you are restricted to using Bollywood influenced compositions.
"But when I did my album in 2014, it was a self-titled album, called Armaan. So, it was in the pop, RnB space. And if you hear those songs, you can hear the influence these artists have had upon me."
Armaan is always looking up to his family including uncle Annu Malik to forward the legacy of his grandfather.
Taking his father's advice, Armaan chose to create an independent identity rather than forming a duo alongside his brother Amaal Malilk. Armaan was always destined to be a singer and composer, while his brother focused on composing.
Despite going on their separate paths, both brothers have worked together on some special tracks. These include: 'Jai Ho,' 'Mein Hoon Hero Tera,' 'Tumhe Apna Banane Ka' and 'Mein Rahoon Ya Na Rahoon' (based on Raag Yaman but very commercial).
Up till now, Armaan shares a Bromance like relationship with his brother Amaal.
Armaan's claim to fame came when he appeared as a finalist on the television show Sa Re Ga Ma Pa L'il Champs in 2009.
He started his career by doing some ads and jingles. During that same time, he started meeting several music composers.
Armaan met Amit Trivedi when working on these ads. He sang in Chillar Party (2011) a film, which was composed by Trivedi.
Armaan's first break, however, was in the film Bhootnath (2008) with Vishal-Shekhar for the song 'Mere Buddy.'
This track is special for Armaan as he collaborated with superstar Amitabh Bachchan. What made it more special for Armaan was the fact he recited the song on Big B's birthday.
He also did the vocals for the Return of Hanuman (2007) and 'Bum Bum Bole' for Taare Zameen Par (2007). Armaan then took a brief break from singing to concentrate on his education.
Arman received his first break as an adult playback singer for the film Jai Ho (2014), featuring Salman Khan.
His first single 'Krazy Konnection' featuring Salim Merchant came out in 2014, courtesy of Universal Music India.
Next came 'Naina' from Khoobsurat (2014), 'Auliya' from Ungli, (2014), 'Mein Hoon Hero Tera' from Hero (2015), 'Tumhe Apna Banane Ka' and 'Wajah Tum Ho' from Hate Story 3 (2015).
In 2015, Armaan and his brother Amaal signed a seven-year contract with the company T-Series.
Other popular hit songs of Armaan's include: 'Bol Do Na Zara' from Azhar (2016), 'Kuch To Hain' from 'Do Lafzhon Ki Kahani' (2016) and 'Besabriyaan' from M.S. Dhoni: The Untold Story (2016).
Armaan admits that before releasing a new track, he sends it to his mentor Sonu Nigam for approval:
"Sonu Nigam has been a huge inspiration for me, and he's also been my mentor. His opinion and feedback really matters to me."
He as also lent his voice to the title track for the Pakistani film Janaan (2016), along with singing in various Indian regional languages. Speaking about the song, Armaan says:
"I was offered this track by Salim-Sulaiman, and we have done quite a few tracks in the past. It's a very special collaboration, and it's the first time that I'm singing for a home-grown Pakistani film. It's very different to what I have sung till now."
Armaan Malik has sung in Bengali, Telugu, Gujarati and English to name a few.
Within a short space of time, Armaan has received many prestigious awards. These include the 2016 Dada Saheb Phalke Award (Most Popular Singer for Mein Hoon Hero Tera) and the 2016 R.D Burman Filmfare Award (New Music Talent).
In over 10 years of singing, Armaan's voice is more versatile and has got even better with each year passing.
For you #Armaanians here is an special treat – Armaan sings Humein Tumse Pyar Kitna exclusively for DESIblitz: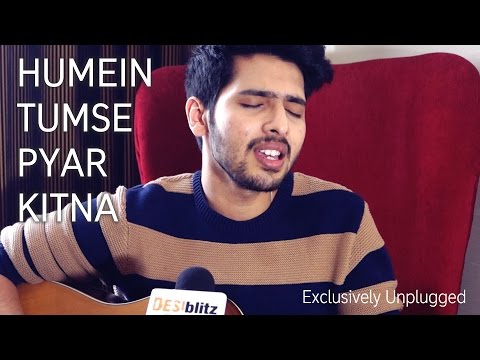 His 2016 debut UK tour is one that British Asian fans will remember for many years to come.
Armaan Malik is a bright prospect and will no doubt have a successful music career ahead. DESIblitz wishes him all the best for his future endeavours.