"It was truly one of the best experiences of my life"
Set in tropical South India, The Good Karma Hospital follows British Asian junior doctor Ruby Walker as she searches for a new job and life in India.
Expecting sunny beaches, tuk-tuks and picturesque landscapes, Ruby is shocked to be working in an overcrowded and rundown cottage hospital.
Run by Dr Lydia Fonseca (played by Amanda Redman), The Good Karma Hospital is the heart of the community and helps everyone from locals to tourists.
The contemporary series is heartbreaking and humorous as it follows the journey of nurses, doctors and patients who discover The Good Karma Hospital is more than a hospital, it's a home.
The series also features the likes of Neil Morrissey, Phyllis Logan, James Floyd, Darhsan Jariwalla and Sagar Radia.
Ruby Walker is played by Nepalese actress Amrita Acharia. She is best known for her role in the hit television series, Game of Thrones.
DESIblitz chats exclusively to Amrita about her role as Dr Ruby Walker and what to expect from ITV's British Indian medical drama.
What can you tell us about your character as a British-Asian junior doctor, Ruby Walker?
Ruby is at rock bottom when we meet her in episode one. She is an overworked and burnt out junior doctor whose life as she knows it has crumbled around her. In a moment of desperation, she uproots her life in the UK by accepting a job as a doctor in Kerala, India.
Despite being half Asian, Ruby has never been to India and is very much thrown into the deep end of a culture that throws the belief system she has grown up with into a new light.
Things aren't quite as she expects and there are moments Ruby doesn't feel cut out to for the demands of the job. But despite the immediate shock she is compelled to stay and in doing so she uncovers a new perspective on her life, her past, her work and what it really means to be a doctor.
What was it like to film in India and Sri Lanka?
It was truly one of the best experiences of my life. Though the show is set in India we filmed in Sri Lanka due to the monsoon season.
The three months out there were challenging and nothing you could prepare for yet everything you could throw yourself into.
I loved working in that environment and the fact we had a crew from the UK, South Africa, India and Sri Lanka gave us a beautiful medley of people that were all invested hugely in making the show as best as it could be.
What makes The Good Karma Hospital different to other dramas?
It's perhaps different to other medical dramas because it is predominantly character driven and delves into the stories behind the casualties and medical cases themselves.
In essence, that is what you end up investing in and rooting for. The drama is just as much in the lives of the doctors and their patients as on the operating table.
Obviously, being set in Kerala makes it different and a breath of fresh air when we're turning into popsicles in the UK!
How did you prepare for this role?
I took my CBT two days before flying out and learnt to ride a Royal Enfield. The rest is history!
Ruby was a really lovely character to play and has a lot of drive and diligence as well as being extremely kind and empathetic. It was refreshing to play a role different from others I've worked on in the past.
Though she has hardships and has gone through tough periods in life, she bounces back and there are layers to her she only starts uncovering herself throughout her journey.
Practically, I made sure I had a good idea of the life of a junior doctor and the tough parts of being a doctor when faced with, what to me would feel like, impossible decisions.
"I also talked to my dad as he is a doctor and worked both in Nepal and the UK and was able to shed light on some cultural and socioeconomic differences."
I was hugely enthusiastic on the SFX aspect of the show and being able to work with prosthetics.
We had medics on set and Dan Sefton, the writer who is a doctor himself who we could always grill about the ins and outs of procedures.
It was important to understand what and why we were doing things on set. Otherwise, it was about knowing the journey of Ruby and her relationship to the people around her.
How does your character Ruby cope uprooting the only home she knows?
Ruby faces things head on. By uprooting her life, she ultimately also faces her past and learns to fall back in love with her life, and not just work.
Working as an overworked medic, does Ruby have time for a love life?
Ruby's only love at this current moment is her Royal Enfield. For her, it's more about falling in love with a heritage she never knew existed.
Ruby's fine alone but I'm sure if the time was right and the right person knocked on her door she might consider a 'Netflix and chill' sometime!
What was it like working alongside Amanda Redman, Neil Morrissey and James Floyd?
It was a great experience to work with both well-established and newer talent. Everyone was hugely supportive and Amanda and Neil are so generous and positive with their time.
I count myself lucky to have worked so closely with an absolute bunch of legends.
How different was this experience compared to previous acting roles such as Game of Thrones?
This is my first British series as one of the leads. So that is obviously quite different from playing a series regular on a show like GOT where you are in and out of shooting and across different countries and with a lot of different directors. The genre is, of course, different as well.
Ruby is probably one of the few roles where I'm speaking in my natural British accent.
It's different to the Norwegian noirs. I shot season 2 of Acquitted in Norway right before Good Karma Hospital and aside from the role being the polar opposite to Ruby, the style of storytelling in Nordic series is quite different to a faster paced medical drama, so just the way you shoot varies.
I love experiencing different projects. I think it keeps you on your toes and you can't get too comfortable or complacent with the material. It's enriching to be able to experience different perspectives and approaches.
What inspired you to move to England to pursue acting?
I'd been in northern Norway through my teens and thought it would be fun to pretend to be other people!
What would've you done if you did not pursue acting as a career?
I'd have been a tattoo artist or a director.
How important are your Nepalese and Ukrainian roots to you?
Incredibly important. It's my heritage and I identify with both and have lived in both countries, those cultures shaped me at a young age.
At the same time, I also hold Norway close to my heart having spent my teens there and strongly identify myself as Scandinavian as well.
"I suppose that's the beauty of having been lucky enough to have moved around from city to city. You adopt what you love about each place and make it yours. I love my roots but am more than happy to plant new ones when the time and place call for it."
What are your ambitions as an actor?
To have a varied international career with contrasting roles. I want to make sure I keep challenging myself and be able to be part of stories that are worth telling.
I'd love to do more theatre, and as aside from the old school Bollywood films I grew up watching, the stage is definitely where my love for acting was ignited.
Watch the trailer for The Good Karma Hospital here: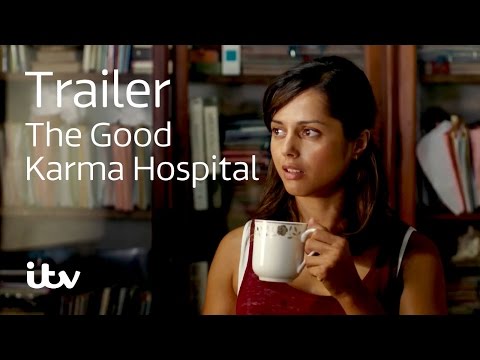 With exotic locations and a multicultural cast, The Good Karma Hospital promises to be an unmissable medical drama. We wish Amrita Acharia all the best in her new role as Dr Ruby Walker.
The first episode of The Good Karma Hospital will air on ITV at 9 pm on Sunday 5th February 2017.