"It's a big time in my career"
Amir Khan the sensational British Asian boxer takes on Paulie Malignaggi on 15th May 2010. The fight is to take place at the Madison Square Garden in New York, USA. This will be Amir Khan's debut fight in America. And he is keen to show Malignaggi that he will do a better job on him that Ricky Hatton did, who finished Malignaggi in the 11th round when the two met in 2008.
Amir Khan is eager to make a mark in America and he sees this fight as his opportunity to do just that. Amir said, "Malignaggi can sell a fight. He talks a lot and I need someone like that to get me a name in America." And added,
"A lot of people want to see him get beat. No one has done a proper job on him so I want to be the first person to do a proper job on him."
Conversely, Paulie Malignaggi known as the 'Magic Man' declares that he is going to provide an explosion at New York's Madison Square Garden and grab the WBA light welterweight title which currently belongs to 'Mr Nice Guy' as Malignaggi calls Amir.
Malignaggi said of his opponent, "Amir is a funny guy, he plays this peace maker, and says no need for sh*t talking. But then he goes and takes shots. Which is it going to be? Are you going to be Mr. Nice guy or you're going to talk sh*t? We can talk sh*t, and I'll beat him at that too. I don't care what Khan has to say, him and his team will be worrying about his career after May 15th."
Amir Khan has been training very hard in Los Angeles in preparation for this fight. Since, teaming up with his trainer Freddie Roach, Khan has shown tremendous world class potential. Amir said, "It's a big time in my career. My dream has always been to come to America and become a star in America."
Khan is relatively unknown in the USA and he wants to prove his mark by taking out Malignaggi cleanly. He said, "Ricky stopped him in the 11th, but I want to finish him off cleanly so there are no excuses."
However, Malignaggi is ready to live up to his nickname and said, "I'm like a magician as soon as that bell rings. I made a few titles disappear into my hands. And come May 15th, I'll make Amir and his belt disappear."
Khan desires to reproduce the successful US debut of Prince Naseem, who made his name by beating Kevin Kelly in his first fight. "Naseem went to New York when he fought for the first time in America and he became a big attraction," said Khan. "I hope I can go the same way as Naz."
Rumors of accusations of steroid taking by Manny Pacquiao who is also trained by Freddie Roach have been played up by Malignaggi, indirectly linking Amir Khan to 'cheating.' Amir Khan has commented on this and said "I've seen how Manny trains and I've trained with him myself," Khan said. "I keep up with him in the mornings when we run, on the pad sessions and in the sparring sessions, so does that mean I'm on drugs as well?"
Here is a video of the press conference between the Amir Khan and Paulie Malignaggi with some heightened pre-match banter: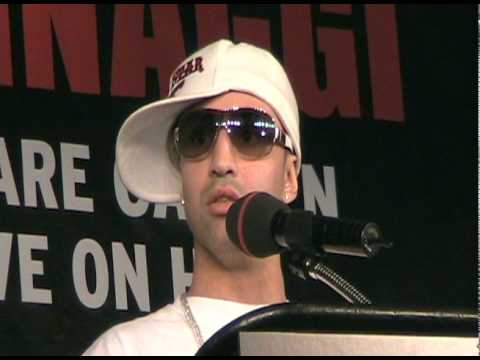 Amir Khan has said that he is planning to retire from boxing in 2015. "In the next four years I will have all my big fights so in five years time I will be gone," Amir said, and added, "When I hit my peak I will be fighting men like Floyd Mayweather Jnr and Manny Pacquiao. They will be my last few fights."