Arrests won't take place immediately
Akshay Kumar has caused a reaction in India to his catwalk stunt where he gets Twinkle Khanna, his wife, to unbutton his jeans. Akshay was on the ramp promoting the Levis jeans brand and at the point when a model was due do the unbuttoning, he turned towards his wife in the front-row of the audience and got her to do it instead.
Akshay Kumar is the brand ambassador of Levi's jeans in India. The fashion show was part of the 2009 Lakme Fashion week, held at the Grand Hyatt hotel, in Santa Cruz, Mumbai, India.
This act by Akshay has caused some protest in India. A social activist, Anil Nair, has filed a complaint against Akshay, Twinkle and Lakme organisers, alleging that what Akshay did in full public view on the catwalk was completely obscene and vulgar.
Vakola Police of Mumbai have registered an FIR against the actor and organisers. Senior Inspector S Neklikar said, "We saw newspaper clippings and video footage of the show before registering an FIR under Section 294 of the IPC (Indian Penal Code). A public prosecutor was also consulted." He added, "We will now record statements of people in the audience. Arrests won't take place immediately."
Confirming the incident, Deputy Commissioner of Mumbai Police Nisar Kulambole said, "If they are found guilty of obscenity, then we shall initiate appropriate proceedings against the actor and the organisers."
Section 294 of the IPC refers to a person who does any obscene act in any public place, or sings, recites or utters any obscene song, balled or words, in or near any public place. If convicted, the accused can face imprisonment that may extend to three months, or a fine, or both.
Akshay Kumar is one of many Bollywood stars that have appeared at the 2009 Lakme Fashion week in Mumbai. Other stars include Shahrukh Khan, Malaika Arora, Kangana Ranaut, Tushar Kapoor and Genelia D'Souza.
The trend of Bollywood actors appearing at fashion shows of this kind is growing. Especially, to endorse big fashion brands like Levi's.
The protest of the incident has split views. Many of the younger generation say he was promoting the 'unbuttoned' range of Levis jeans and it should not be taken so seriously to warrant an arrest or court case. Whilst the older generation are not impressed and feel this kind of vulgar behaviour in India needs to be discouraged. Especially, because Akshay has had an honour of the Padma Shri bestowed upon him.
Here is a video clip of the 'unbuttoning' of Akshay's jeans at Lakme Fashion week 2009.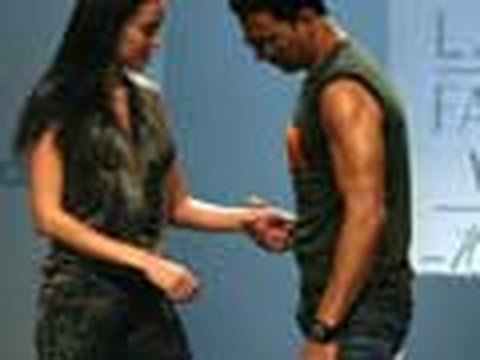 It will be interesting to have your views on this. Is it something that is acceptable or should Bollywood stars be more responsible in public?