"I can tell you Aishwarya is no less. She is the hero of Jazbaa."
Making her come back after 5 years, the beautiful Aishwarya Rai Bachchan will set the screen on fire with her new action drama, Jazbaa.
Directed by Sanjay Gupta, we could not be more excited to see the ex-Miss World share screen space with the talented Irrfan Khan who has taken not only Bollywood, but also Hollywood, by storm with his incredible acting talent.
Being an official remake of the 2007 south Korean film, Seven Days, Jazbaa follows the story of brilliant criminal lawyer, Anuradha Verma (played by Aishwarya Rai Bachchan).
Being a single mother and having a successful career, Anuradha's life takes an unexpected turn when her daughter is kidnapped.
Confused and helpless, Anuradha is told the only way her daughter can be saved if she defends a convicted felon, charged with brutally raping and murdering a young woman.
With the kidnappers watching her every move, Anuradha in desperation calls her friend Yohan (played by Irrfan Khan), a suspended policeman with a keen disregard for old rule.
With only seven days before the trial, Anuradha is on a race against time. Can Anuradha save her daughter? Or will she serve justice to the criminal who deserves to be punished?
Since her last release Guzaarish in 2010, Aishwarya Rai Bachchan took a long deserved break to focus on her personal life. And after the birth of her daughter Aaradhya Bachchan in 2011, the ex-beauty queen took up the role of a full-time mum.
So with balancing motherhood and movies, Aishwarya got candid in an interview explaining how she balanced both her personal and professional life:
"Yes, it's tough being a working mom, my day starts early. I would drop Aaradhya to play school. 24 hours in a day are not enough but it's a regular job and being a mom's all about juggling work. It's no different at home."
She also added how her real life role as mother has helped her reel character come to life, saying:
"Being a mom helped me play Anuradha Verma better. Five years ago if I had done this film, I would have tried to channel myself."
"Motherhood brings with it additional fears but I was Anuradha and going through her angst on the sets. I don't carry work back home."
After being paired on screen opposite Deepika Padukone in Piku, Irrfan once again is paired opposite another Bollywood beauty.
Ever since the trailer has been out, audiences are excited to see how the chemistry of this fresh on screen pair turns out to be.
In a recent interview, Irrfan explained how he felt the chemistry between his and Aishwarya's character was, saying:
"There were a lot of reasons for me to do this film like the story, director [Sanjay Gupta] and the one-liners. It is an exciting thriller and my chemistry with Aishwarya in the film is unusual."
Watch the incredible trailer to Jazbaa here: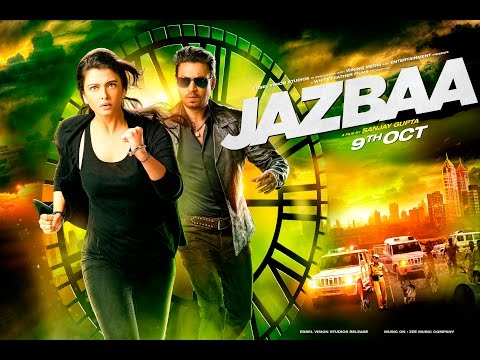 With Jazbaa being one of the most awaited films of 2015, delivering a realistically appropriate soundtrack was important for the filmmakers, especially with the serious topic of the film.
The crisp five track album has music composed by Amjad-Nadeem, Arko, Sachin-Jigar and Badshah.
The soulful 'Bandeya' is a well-composed and well-written track with enough depth to touch your heart.
The ghazal, 'Jaane Tere Shehar Ka', is meaningful and soft to the ear, reflecting many feelings at once, the track is definitely one of the best.
'Aaj Raat Ka Scene' is a quintessential item number, and with Badshah rapping, it's definitely the fun track of the album.
Lastly, 'Kahaniya' is the introductory track for Aishwarya's character in the film. Full of life and energy, the track shows the passion and dedication her character has towards her career and life.
Considering the global appeal Irrfan and Aishwarya both have, the makers of the film have secured nearly 100 screens in over 40 countries for the release of the film.
The makers of the film explain why they decided to take such a step:
"We're highly encouraged by the interest that Jazbaa has generated internationally. The story's universal appeal and powerful performances and the global recognition of the stars has created a huge demand for the film."
Furthermore with more and more women centric films being made in the industry its exciting to see directors giving more importance to the female characters in the movies.
Sanjay Gupta insisted: "I have worked with male actors like Sanjay Dutt, John Abraham and many others, but I can tell you Aishwarya is no less. She is the hero of Jazbaa."
So would you like to join Aishwarya Rai Bachchan and Irrfan Khan for this nail biting thriller? Jazbaa releases from October 8, 2015.