"I guess I'm feeling nervous now as everyone is looking forward to the film."
The rightful Queen of Bollywood makes her return to the big screen after a hiatus of five years.
Aishwarya Rai Bachchan is eagerly promoting her upcoming film, Jazbaa, directed by Sanjay Gupta, and boy does she look in spectacular shape!
The yummy mummy has been keeping fit for the film with regular cardio exercises, and you can see Ash working out in the latest Jazbaa video song, 'Kahaaniya'.
Speaking about the video, Sanjay explains: "'Kahaaniya' is a happy space – about life and taking on new challenges.
"It's the first visual in the film on the title sequence and talks about a fit, happy single mother working out, waking up her daughter, getting her ready for school, making her breakfast and then heading for her work."
Ever since Aishwarya gave birth to daughter Aaradhya, Bollywood has continually criticised the famous mother for her notable weight gain.
But Sanjay admits that he was proud to quash all of those weight gain rumours, saying: "When we started shooting for Jazbaa, everybody around I my family to my friends would just have one question for me and that is 'Has Aish lost weight?'
"And all I would say is calm down. I knew they'd shut up when they would see her in this song. "
Watch the video for 'Kahaaniya' here: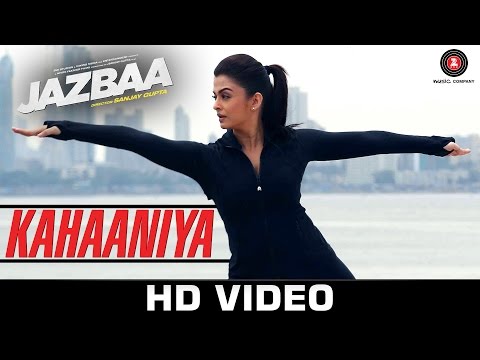 The director commended the Bollywood actress on her fitness, admitting that she had to do cardio all day for the video shoot:
"We shot this song for a day at Bandra reclamation with the Mumbai skyline as the backdrop. Normally we do exercises like cardio/stretched for an hour or so, but for the song, Aishwarya had to do cardio throughout the day.
"We were pressed for time, there was no time to relax in between shots."
The upbeat song has been composed by Arko Pravo Mukherjee, and features vocals from singer-songwriter Nilofer Wani.
The video sees Ash juggle life as a mother and a lawyer. We see her running in a flattering black tracksuit and red kicks. The immaculate beauty looks flawless with her hair in a high ponytail.
Her regime includes yoga exercises which she performs to perfection, to the envy of many a yoga student everywhere.
Ash's character sees her play a criminal lawyer whose daughter has been taken hostage. She is forced to defend a criminal who is on trial in exchange for her daughter's freedom. A former cop, played by Irrfan Khan helps her.
The film also stars Jackie Shroff, Shabana Azmi and Chandan Roy Sanyal.
The last time fans saw Ash on screen was in 2010's Guzaarish, and in recent promotion interviews, Ash has expressed that she is quite nervous about how Jazbaa will be received.
At a recent wrap-party hosted by Sanjay, Ash reportedly said: "I guess I'm feeling nervous now as everyone is looking forward to the film. October is not far away. Not much time is left for release."
Aishwarya adds:
"We had a good time making Jazbaa, and as I have said before, it is wonderful working with Sanjay. I haven't seen the final movie yet… So let's see, we are looking forward to it."
The wrap party held at Tryst was attended by the film cast and crew. Guests included: Anu Gupta, Sachiin Joshi, Chandan Roy, Atul Kulkarni, Arko Mukherjee, Nilofer, Vipin Aneja, Amjad Nadeem, and Jubin Nautiyal.
Ash has been in full promotion mode in the run up to the film's release. Making numerous TV appearances, she has already been on Dance India Dance.
Interestingly, and perhaps unsurprisingly, the actress won't be appearing on Bigg Boss 9 to promote her film.
But while most of us assume it's because of the unhappy relationship between ex-beau Salman Khan and Ash, it is actually because Bigg Boss launches a few days after Jazbaa releases in cinemas.
It seems by a lucky coincidence both stars will be saved from an awkward encounter.
That said, it's unlikely that Ash will need superstar Salman's backing on this film anway. If the star cast is anything to go by, we are pretty sure the film will do wonders for Mrs Bachchan at the Box Office.
Jazbaa releases from October 9, 2015.