A classic look [for Aishwarya] that shows comfort, yet an elegant style.
Aishwarya Rai continues to show fans how she hails as one of Bollywood's outstanding fashionistas. No matter the occasion or dress code, she always looks superb.
Take this impeccable outfit for example, which the starlet wore on 7th November 2017. After enjoying her 44th birthday on 1st November, she appeared keen to continue the festivities.
Indian paparazzi spotted her at Manish Malhotra's house party. The bash boasted of a star-studded guest list and included the likes of Karan Johar, as well as the actress' husband, Abhishek Bachchan.
For the party, everyone followed a smart, casual dress code. However, Aishwarya became the main attraction with her attire. She wore a short, blue, denim dress, which revealed her stunning legs. Along the neckline, it was detailed with cream embroidery.
With the sleeves coming up to the star's elbows, she showed off dazzling bracelets. Aishwarya also kept her hair loose and straight; mahogany locks that looked radiant under the shining lights of the paparazzi's cameras.
To finish the look, the actress donned a pair of strappy, nude heels. A classic look that shows comfort, yet an elegant style.
The starlet was accompanied by the host, Manish Malhotra. He kept to an all-black ensemble; a dark, buttoned-up shirt with black trousers. As they walked over to a car, the Indian paparazzi snapped numerous photos of the two.
Meanwhile, photographers also spotted Karan and Abhishek. Both donned casual attire for the bash. We particularly loved Karan's black jacket with its patterned sleeves; red and black square designs.
Abhishek donned a pure white hoodie, paired with grey sweatpants with white, horizontal stripes. He also wore a yellow baseball cap and white trainers.
While the Indian paparazzi appeared very keen to snap photos of Aishwarya, her husband grew frustrated with their eagerness. Especially as she entered their car, while they attempted to take inappropriate images of her.
Before the two leave, Abhishek calls one of the photographers over, beckoning him with his finger. While the man tries to defend himself, the actor remains insistent that the photographer deletes his images.
The couple then departs in their luxury Audi vehicle.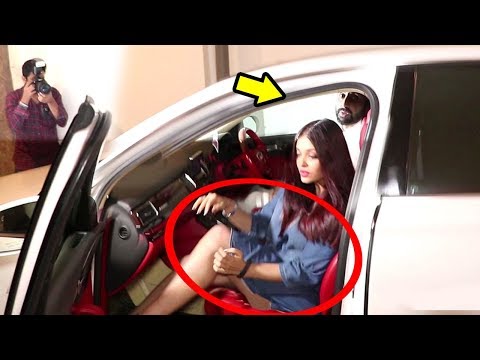 This stylish look marks the second time she has captivated the internet. Only recently, her Fanney Khan look went viral, with fans catching a sneak glimpse of how she would appear for the 2018 film.
From wearing enchanting dresses for Cannes to donning simple, fresh casualwear, the star always keeps on top of her fashion game.
However, she did face a troubling time in October 2017 when her mother's building caught fire. While the event didn't lead to any casualties, images did show a tearful Aishwarya. Understandably feeling concerned for her mother.
But now fans are glad to see the beautiful starlet feeling happier in this new month of November.