"There's a lot of anticipation, but it's for a good reason, right?"
British Asian actor and singer Kamal Khan features in the Netflix horror drama, The Haunting of Bly Manor, releasing on October 9, 2020.
There's a kind of hush-hush about Kamal's role in the series, which is a follow up to The Haunting of Hill House (2018).
The Haunting of Bly Manor is a big project for the USA based multi-lingual Kamal Khan.
For this American drama, he has been fortunate to work with the amazing filmmaker Mike Flanagan.
Victoria Pedretti has a lead part in the series. She plays a tutor who is responsible for taking care of the Wingrave children after arriving at a stately manor.
Whilst the makers of the series are tight-lipped about Kamal's character, all will be revealed once the series airs on Netflix.
Watch an Exclusive Interview with Kamal Khan here: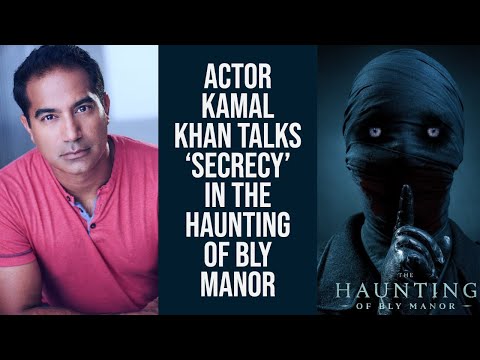 The Haunting of Bly Manor is a loose adaptation of the 1898 horror novella The Turn of the Screw by Henry James. Kamal comes into this series with alot of acting knowledge, experience and prowess under his belt.
He has a varied repertoire, with several credits to his name. This includes playing the lead as Romeo in London West End's Romeo and Juliet.
He has also had impressive appearances across popular British and American TV shows such as The Bold and the Beautiful (2017), Outsourced (2011) and The Bill (1999).
The multi-talented performer is also famous as a model and singer, as well as a voiceover artist. Kamal stars as Claymore in the successful video game Xcom Chimera Squad (2020).
He also plays Rahi for Amazon Game Studios first ever AAA game called Crucible (2020).
In an exclusive conversation with DESIblitz, Kamal Khan opens up about The Haunting of Bly Manor, the secrecy surrounding his role and acting.
The Haunting of Bly Manor:  Shooting, Project and Theme
Kamal Khan reveals the shooting for The Haunting of Bly Manor, which began in 2019 came to a finish prior to COVID-19.
Speaking about the completion and how he found the shoot, Kamal smilingly said:
"We're kind of lucky that it all wrapped, but it was a definitely a fun shoot."
Kamal pinpoints director Mike Flanagan as one the key reasons for his involvement in this project:
"I really respect Mike Flanagan, who's the director and you've probably seen other films from him too, Dr Sleep and obviously The Haunting of the Hill House – the first season."
Kamal confirms The Haunting of Bly Manor is an anthology series. Thus, it was very exciting for him to be part of this project.
He emphasises the cinematography, development of characters and the entire story as the key assets to the series.
According to Kamal, The Haunting of Bly Manor is a "supernatural drama," which takes inspiration from the 1898 horror novella, The Turn of the Screw.
Kamal sheds lights on the main theme of the series saying:
"It really talks about a young governess who's really hired by a man to look after his niece and nephew at this family country house – Bly Manor, of course.
"There'll be some sort of apparitions that proceed to kind of haunt the premises, so to speak."
"And then obviously things developed from there."
It is clear from what Kamal says that the series has all the hallmarks of being a classical horror drama.
Character, Director and Cast
Kamal Khan was unable to reveal much about his character due to a Non-Disclosure Agreement (NDA) in place.
Kamal jokingly refers to being a "ghost" in the series and adds:
"I'm looking forward to kind of seeing it all develop and unfold. Even for myself to see it all put together. So I'm excited about that.
"There's a lot of anticipation, but it's for a good reason, right? I mean they want this opportunity for things to develop during the season."
Viewers will have to watch the series to unravel the secret of his character. Kamal states he learnt more about his character by reading and following the script.
Kamal mentions he had a fantastic time working with Mike Flanagan and the other stars of the series.
Describing them as talented people, Kamal comments on it being a learning curve too:
"In the cast obviously, Victoria Pedretti is coming back and all these superb sort of actors and I get an opportunity to work with and learn from."
Many of the actors are returning from season one, with others joining specifically for The Haunting of Bly Manor.
The vision of Mike Flanagan was an interesting aspect for Kamal. He finds his work very impressive.
Acting Highlights
Kamal Khan expresses he had an interest in creating characters from an early age. But the acting seeds were sown during a high school play.
Kamal who is also a singer talks about his first major acting role, which had a music theme to it:
"I was playing Tony in a West Side Story. So, I got the lead role, landed the part and I went through a bunch of auditions. I always enjoyed singing that I was doing since I was a kid.
"So I've always been into music and singing. I sang in the choir at Royal Alber Hall when I was ten and performed in front of many people.
"But, the one thing that I enjoyed was when I did the play and the musical was being able to go in and perform that. And then after that, got positive reviews."
After availing an opportunity to work at the National Youth Theatre, Kamal came to realise that acting was for him.
Besides The Haunting of Bly Manor, Kamal discloses several highpoints from his acting career so far.
Kamal's portfolio includes acting in The Bill and performing to Romeo and Juliet in the West End.
Kamal laughingly tells us that his relatives were also fond of his appearance in The Bold and the Beautiful (2017).
"I got to work with Bold and Beautiful, which I know a lot of my uncles and aunties watched for a long period.
"It was quite funny for them to actually see and say, 'Oh, there you are playing an architect.'"
He has also played a doctor in the movie Birthmothers Betrayal (2020). He has also appeared as a Doctor in a Royal Navy commercial.
Kamal feels he headed for the USA to further fulfil his film and TV aspirations. Being a very good singer as well, Kamal's dream is to incorporate the element of singing in his acting.
He gives the example of a Hollywood project or similar in that sort of La La land as an ultimate goal. On that note, fans of Kamal Khan can expect some exciting music from him in the future. This could include film songs.
Outside of showbusiness, Kamal is a Desi at heart. He enjoys his Karak chai and performing at traditional weddings to songs such as 'Chaudvin Ka Chand' (1960).
Kamal was born in Bremen, Germany, but raised in London. His parents have an East African connection, belonging to Dar es Salaam, Tanzania.
Looking ahead, Kamal discloses that he is writing a few scripts and reviewing them. He will also be sending what he refers to as self-tapes for the attention of casting directors.
So, watch out for other big announcements coming from Kamal Khan by following him on Instagram.
Meanwhile, The Haunting of Bly Manor, starring Kamal Khan releases via Netflix on October 9, 2020. Viewers can keep updated through the official Facebook page of the series here.