Beats 1 is a 'free to listen' 24/7 radio station, headed by former Radio 1 DJ Zane Lowe.
At the end of May 2015, San Francisco's Moscone Centre was packed with journalists, pundits and developers dissecting every big announcement made at Google I/O 2015.
While the seats were still warm, rival Apple took the centre stage at Moscone with its annual Worldwide Developers Conference (WWDC) between June 8 and 12, 2015.
Opening with a wacky comedy sketch by Saturday Night Live's Bill Hader, Apple rewarded its loyal and ever growing consumer base with lifestyle-changing new products.
DESIblitz has all the key updates you need to know.
Apple Music
There are two reasons why Apple's new music streaming service was the biggest announcement at WWDC.
Scheduled to launch on June 30, 2015 in 100 countries, Apple Music will mark the tech giant's long-anticipated entry into the streaming business.
Though Apple is a late comer to the crowded market dominated by the likes of Spotify, Deezer and Pandora, it boasts the largest music catalogue with over 37 million songs compared to Spotify's 30 million.
With Grammy-winning rappers and music producers Pharrell Williams and Drake on its side, the streaming battle is on.
Another reason why Apple Music is on everyone's lips is because it sets out to challenge radio broadcasting.
Beats 1 is a new 'free to listen' 24/7 radio station for those with an Apple ID and will be led by former BBC Radio 1 DJ, Zane Lowe.
Jimmy Iovine, co-founder of Beats Electronics which was bought by Apple in 2014, wanted Apple Music to be a bridge between music lovers and artists.
Iovine said: "What's happened to the music industry, from my perspective, is a lot of great music is behind the wall that can't get through, and therefore a lot of artists are getting discouraged. And we hope that this ecosystem really helps revive that."
The Apple executive added: "You have to humanise it a bit, because it's a real art to telling you what song comes next.
"Algorithms can't do it alone. They're very handy, and you can't do something of this scale without them, but you need a strong human element."
Spotify is yet to introduce radio stations run by real DJs, but it is definitely ready to retaliate by raising a new funding round of £338 million from private global investors.
Apple Music will be available on iOS across all Apple devices from US$9.99 a month after a three-month free trial. Subscription fee for UK users are yet to be confirmed.
Android users can also enjoy Apple Music from Autumn 2015.
Apple Pay UK
Apple Pay will finally extend outside of the USA over the pond onto UK shores from July 2015.
Well-known high street brands in the UK like Boots, KFC, Post Office and Nandos will soon begin to accept iPhones for purchases.
The service will up the ante with Android Pay by partnering with major UK banks, including HSBC, TSB, Lloyds, Halifax and Natwest.
As well as being accepted by hundreds of retailers, Apple Pay will be utilised by Transport for London (TfL), meaning commuters can use it like an Oyster card on the Tube.
Apple Watch OS 2
A new feature called 'Time Travel' will allow you to view present and future events. You can also reply emails using voice control.
Fans of the 1980's TV series Knight Rider will be in awe of this technology with their very own personal 'Kitt' on the way.
FaceTime Audio, new watch faces, use of Homekit and Healthkit are among other exciting upgrades to expect.
CEO Tim Cook said: "Today we're bring native apps to the Watch with a new version of the Watch OS, which gives the developers even more time to create even greater apps for the Watch that will change the world."
iOS 9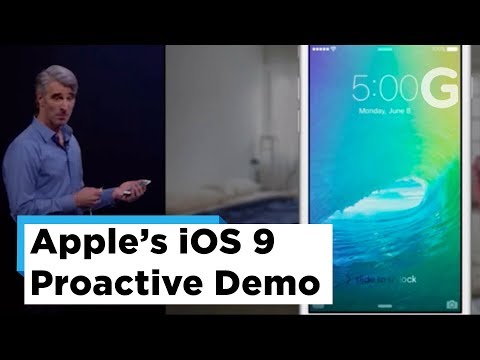 Just like Android M, the new iOS 9 will also focus on battery life with 'low power mode' and various other productivity settings.
Set to release within the next few months, this new operating system can also learn a user's habits and automatically load music or suggest apps at certain times of the day.
iOS 9 will take up less storage space than its predecessor, hence users should see an improvement in its speed and stability.
Also coming to iOS 9 is 'Split View', allowing two apps to appear simultaneously on the screen, albeit only for the iPad Air 2 and the latest iPad Mini.
With Microsoft and Google being the prolific pioneers of this time-saving feature, Apple seems to be just waking up to smell the coffee.
Other key announcements at WWDC 2015 include:
Siri ~ powered by mobile data to offer smarter and faster response
OS X 10.11 El Captain ~ a more refined OS X that optimises Spotlight interactivity and split screen functionality
Apple Maps ~ give clear directions from point A to point B on various modes of transportation
WWDC 2015 generally echoed Google's I/O strategy in focusing on enhancing its ecosystem rather innovations. Perhaps more revolutionary products will be revealed at Apple's hardware announcements in September 2015.