"We no longer have a choice – brands must (upcycle)"
Envision this: reusing, recycling and revamping the garments that you once thought had seen the last light of day, through upcycling.
Every second large quantity of discarded textiles is either thrown into a landfill or in incineration plants.
This method of disposal has resulted in the textile industry being one of the most environmentally hazardous industries.
According to the United Nations, the high levels of waste has contributed to around "10% of global greenhouse gas emissions."
The fashion industry has also increased water pollution as it has produced "about 20% of global wastewater."
Due to the extensive production of clothes, the fashion industry is the highest consumer of precious resources.
This destructive business method has been criticised for its unsustainability and large contribution to the world's carbon footprint.
The concept of upcycling fashion aims at combating this environmental destruction by offering an alternative method to simply throwing out old clothes.
What does Upcycling Fashion mean?
Upcycling fashion is the term used to describe the creative reuse of textile waste or existing clothes into new, better quality products that aid environmental value.
It aims to transform the once used garment into a unique piece that can be worn again in a new way.
This method of consumerism is one of the most supportable things you can do to help improve the environment.
Upcycling uses fewer resources and is a growing trend that deserves greater attention worldwide.
Importance of Sustainability
Repeating the same outfit is not a crime against fashion, rather it is an olive branch in benefitting environmental growth.
The urge to wanted to buy new clothes every so often can be tempting. New clothes are constantly shown in television advertisements, billboards and shop windows.
But do you really need to splurge on a new wardrobe? Probably not.
Before spending your hard-earned money on a new pair of jeans for no valid reason when your old jeans are in great condition, remember this.
According to the United Nations Climate Change, the resources required to make a pair of jeans are shockingly high. It said:
"To make just one pair of denim jeans, 10,000 litres of water is required to just grow the one kilo of cotton needed for the pair of jeans.
"In comparison, one person would take 10 years to drink 10,000 litres of water."
This shocking revelation puts into perspective the importance of sustainability in fashion.
This way of thinking is not only considered by the average person, but it is also being adopted by celebrities.
For example, Hollywood actress Cate Blanchett wore her Armani Prive gown from a 2014 award function to the Cannes 2018.
Also, Bollywood actresses like Deepika Padukone and Alia Bhatt have been spotted wearing the same garments again.
Deepika Padukone wore a white anarkali to the premiere of Padmavaat (2018). She had previously worn the same dress at the trailer launch of Chennai Express (2013).
Alia Bhatt also reworked her sleeveless for two occasions. The actress was seen wearing a French Connection muscle tee with a leather skirt and black ankle boots.
She wore the same t-shirt during the premier of Ek Villain (2014) however, later she wore it with denim shorts and trainers.
And why not? A stylish ensemble deserves to be worn more than once.
Preservation of Fashion
Everyone is aware of the rules of recycling plastic, paper and glass. To avoid dumping them in the landfills the simple method of separating these materials is applied.
But what do we do when it comes to clothes?
Before you think we donate our clothes to charity shops to keep them out of landfills then think again.
Paul Bailey, the Public Relations Lead at Secondary Materials and Recycled Textiles (SMART), highlights how a mere 20%-30% of donated clothes are, in fact, resold.
So, where do these unwanted clothes go?
Charity shops have fast become a place for people to discard their unwanted garments.
It has become difficult for people to find vintage items in charity shops, rather they are left with cheap fashion that clogs the racks.
Since this method is not entirely effective, it is important to look to upcycling fashion as a means of preserving fashion.
Remember fashion is an on-going cycle that is constantly spinning. Whatever we consider being 'out of fashion' will once again be back 'in fashion'.
This highlights that fashion can never truly go out of style. Instead, look to revamping your old items into new pieces.
People are becoming more environmentally conscious and are seeking more ecologically friendly fashion.
This has caused manufacturers to pay heed to consumer demands. Cecile Poignant, a trend forecaster said:
"We no longer have a choice – brands must (upcycle) if they want to keep their customers because it's not only trendy but it's necessary."
Between January 2018 and May 2019, the high-end brand The North Face processed 14,342 garments through its Renewed initiative.
The Renewed collection transforms previously worn, damaged, returned or defective items into better quality clothing.
You can expect the same great quality from the garment without the harmful impact on the planet.
This not only helps the environment and resources, but it also attracts attention and customers for the brand which increases revenue.
Other brands like H&M, ASOS, G-Star Raw and many more are also offering eco-friendly initiative ranges.
Alongside brands being mindful of upcycling fashion, it must also be carried out by individuals.
Before throwing away your old t-shirt, jeans or dresses stop and consider what you can to do upcycle your clothes.
Upcycling is not only limited to western wear, but it can also be applied to ethnic wear like sarees, salwar kameez, anarkalis and more. All you need is the inspiration and a creative outlook.
One such example is writer Shobhaa De. She upcycles her vintage Kanjeevaram and Benarasi silk sarees. She said:
"As a model in those years, I did not have the resources to keep up with the latest fashion trends.
"I had to use my integrity and creativity to look on point by adopting recycling techniques. That has stayed with me.
"Fashion is cyclical. If you hang on to old clothes, they come back as retro. Repeating outfits is the new chic, the new confidence."
Therefore, do not limit yourself to what is readily available in stores. Get creative and rework an item of clothing to suit your taste.
Do It Yourself
If you are thinking of ways to upcycle your old clothes then worry not.
There are numerous ways you can achieve a fresh item of clothing without having to spend large amounts of money and still benefit the environment.
Cover up
Do not let stains or tears get in the way of wearing your clothes. These problems can be fixed by covering up the damage.
This upcycling hack will ensure no one ever finds out about the embarrassing accident that caused that stain or tear.
We have got you covered. Take shoulder patches and simply sew them onto your damaged t-shirt. This will not only cover up the problem, but it will also add dimension to the piece.
Alternatively, if the problem lies in large tear on your jeans and you are not a fan of the distressed denim look then lace is a great option.
Simply turn your jeans inside out. Take a piece of lace and stitch it over the rip. This will help blend the accidental tear and make your jeans one of a kind.
There are various cover-up methods you can use to fix your damaged clothes. Be sure to give it a go before you think of throwing it away.
Downsize
If your clothes are too big for your frame there are ways to downsize your garments to make them fit like a glove.
For example, why not transform an oversized dress into a two-piece co-ord set. Watch the video here: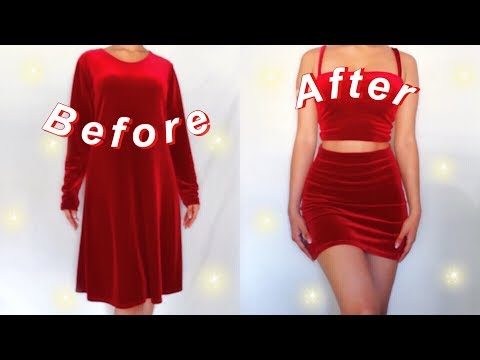 Another way to upcycle your clothes is to turn an old pair of jeans into a skirt. This handy hack will ensure you never throw away your old jeans. Follow the simple steps shown in the video below: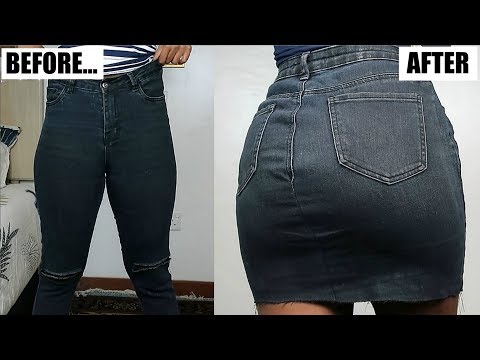 Upsize
Is your clothing too small? We all have that shirt in our wardrobes that are too small for us to wear but too precious for us to get rid of.
In this instance, upcycling your shirt will allow you to wear it again with a revamped design.
Here is a video for you to take inspiration from: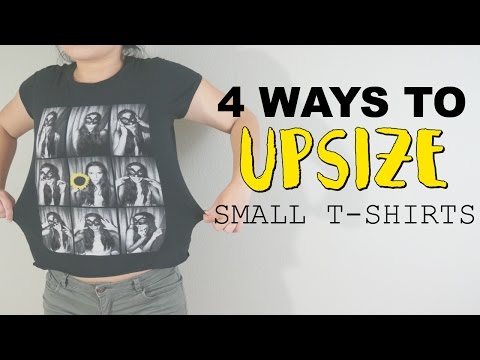 A Saree Fix
Sometimes you do not have to alter your clothes into more clothes. In fact, you can upcycle items into something else without the need for sewing.
This idea works best with a saree. Sarees are timeless creations that can be transformed into dresses.
Watch the video below of YouTuber Pallavi Acharya showing us how to recycle a saree to create different dress styles.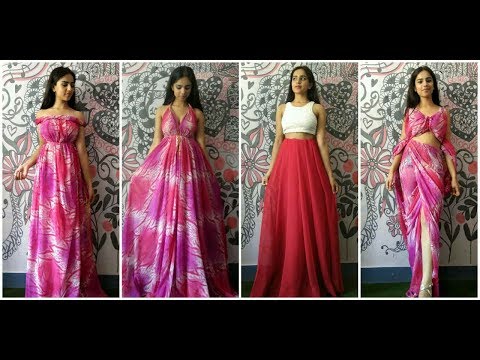 Redesign your Kameez
The beauty of ethnic wear is unprecedented. Every South Asian wardrobe is full of numerous ethnic attires.
In this instance, if you have old kurtis/kameez that have been forgotten at the back then it is time to dig them back out.
You can upcycle your kameez into a jacket that can be worn time and again. Watch the video below on how to achieve this style: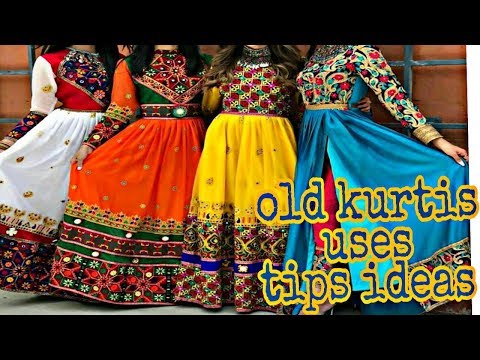 Upcycling fashion promises to reduce the fashion industry's contribution to the world's carbon footprint.
Clothing is a major part of everyone's daily life, with tons of clothes being produced every second it is crucial to reduce waste.
The concept of upcycling fashion will help enable a greener environment. This can be taken on-board by manufacturers, brands and consumers worldwide.
China is known for producing 26 million tons of textile waste annually with the United States producing 16 million tons a year.
India accounts for one million tons of waste with Bangladesh following behind at 500,000 tons.
This textile waste will continue to increase if more awareness is not raised regarding this cause for concern.
It is important to note, fashion should not be abused rather it should be strategically invested in to benefit the planet.
Think fashion, think green!