"It has surprised me the amount of people here today. It's really impressive."
The VegfestUK 2015, the annual event of vegan and vegetarian delights in London took place at the Kensington Olympia on 10th and 11th October 2015.
With two levels of exhibitors, events and activities, the show definitely was a major attraction.
Queues for the event extended for a very long way down Hammersmith Road from the entrance with lots of people eager to get inside.
The show was attended by lots of people who were either vegans, vegetarians and non-vegetarians.
Entering the first level of the show greeted you with freshly cooked vegan and vegetarian breads, Dosa's being prepared on hot tawas, vegan beers, the popular stall of vegetarian sushi and the zealous serving of vegan hot dogs.
With 200 exhibitors present, crowds gathered at literally every exhibitor and food tasting was a very common sight.
Every stall had something different and unique to offer the visitors.
There were lots of other activities taking place as well as the food on show.
Including, Health Summit – talks, from academics and experts, films being shown in a cinema, a Talks Room with inspiring speakers, the Viva! Health Summit and the Living Raw Zone giving cooking advice.
A Teen VGN Zone area was for teenagers looking for valuable vegan information, as well as a Mature Zone for those in their later years.
A key aspect of the show was the Cookery Demos. Demonstrators included Tomi Makanjoula who made Jollof Rice; Christine Bailey who showed Superfoods; Vanessa Almedia demonstrating the versatility of tofu and David Bailey who made vegan dim sum.
We caught up with Nishma Shah of Shambhu's who made vegan 'marble barfi' in her cookery demonstration.
This was a healthier take on the traditional Desi sweet, barfi. Made with oats, dates, almonds and peanut butter to create the marble effect, she said:
"The marble barfi normally takes about 15-20 minutes and the prep time is 5-10 minutes. It is incredibly easy to make. It doesn't contain any dairy, any ghee, so it very healthy."
"The whole reason for me to do the cookery classes is to make healthy versions of vegan sweets," added Shah.
Rubys of London the vegan patisserie was a popular stall. Offering vegan cakes which looked and tasted spectacular. Ruby's mum told us more:
"Our main business is as an online patisserie providing a bespoke service. It's not necessarily the way the cake looks but the taste. We use refined and organic products."
The Vegan Society were encouraging visitors to join them. Peter Smith, their Head of Communications said:
"Most people are members because of the harm to animals. Over 85% are members because of this reason."
"Also people are more and more interested in environmental reasons. Damage from livestock farming and green gas emissions."
Tea is a popular drink for all whether you are vegan, vegetarian or not. Eastern Venture were at their stand providing samples of their organic Tulsi tea, which offers many superior health qualities.
Dalbir Kala, MD of the company told us more about Tulsi:
"Tulsi is a very powerful immune supporting herb. It was traditionally used for respiratory complaints and for things like Asthma. So, it restores the healthy function of the lungs and immune system."
There was a very good number of British Asians attending this foodie event and we spoke to a few of them that you can see and hear in our video highlights: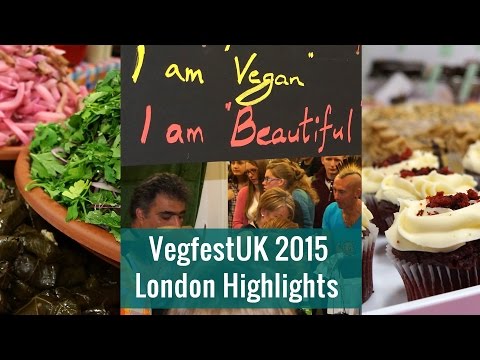 One visitor who was not vegetarian told us:
"It has surprised me the amount of people here today. It's really impressive."
A couple who both became vegan were very enthusiastic about their change in lifestyle. The male partner said:
"I've had accidents before where I've eaten things which were not vegan like cheese or milk. The more you do it the more easier it becomes. You definitely feel more healthier."
A vegetarian at the show said he had come to get ideas for food because of the difficulty of finding vegetarian food easily available in the city:
"We take food from home for lunchtime. Because I work in the city it is difficult to find a vegetarian place for lunch which offers something light as well."
Another area of interest was the mix of fitness and being vegetarian or vegan. We met two guests at the show who were there to show it is definitely possible.
Anastasia, a vegan bodybuilder who has progressed to becoming a powerlifting champion told us about her protein intake:
"Usually I try and combine as many different protein sources as possible. So, for example, I use vital wheat gluten, soya based proteins, rice protein, pea protein, nut flours and chickpea flour all combined and not just one."
Patrik Baboumian a vegan strength athlete who has carried 560 kg for 10 metres as a record, eats between 6 and 8 meals a day and trains for 2-4 hours every other day. When it comes to advice he said:
"Be careful who you listen to because vegan bodybuilders often approach vegan endurance athletes for advice. This can cause a lot of confusion because as an endurance athlete you eat a lot differently to a bodybuilder."
Whilst meeting so many people at the show, it was very evident that it was hugely popular for those curious about vegan or vegetarian foods that are proven healthy substitutes for meat and dairy.
The event weekend had over 12,000 people visit so there is no doubt that it was a fantastic success and it certainly was a great treat for us to see such a positive and lively show.