"As an actor I think it is very important to get out of your comfort zone and do something that is not you."
Jackie Shroff's son Tiger Shroff has arrived into the limelight with his debut film, Heropanti; an action packed film about two protagonists who fall in love.
With much talk about yesteryear's star Jackie Shroff's son, the young 24 year old will be showing some action and romance alongside his leading lady, Kriti Sanon.
Heropanti has been directed by none other than Sabbir Khan and Sajid Nadiadwala, who has very ambitiously cast Tiger as well as an entirely new and fresh cast including Sandeepa Dhar, Vikram Singh, Shireesh Sharma and Samar Jai Singh.
Tiger Shroff originally named Jai Hemant Shroff, has had a slow start into the Indian film industry, after he declined the offer for the lead role in the remake of the TV show Fauji in 2009.
There were more rumours in 2010 that Tiger would be starring in the remake of his father's 1983 film, Hero, but it was then confirmed in 2012 that he had again declined.
It was later in 2012 where his career in acting began to roll as Tiger was signed by Sajid Nadiadwala for Heropanti. Before this, he helped to get Aamir Khan's physique in correct order for the film Dhoom 3 (2013).
When Tiger was ready to sign the contract for Heropanti, his father captured the whole moment on camera. Tiger says: "I remember the first time I met Sabbir it was very casual, primarily because I was not sure what I wanted to do with my life."
"A year later we met again and this time he saw a positive change in me as I was more focused. My manager got a call and told my parents. We had a formal meeting when I signed the contract and my father was recording the entire moment on tape."
Tiger's childhood has been spent growing up watching his father's movies. He mentions that there was a point where he watched a film that his father was in everyday as his grandmother had all of Jackie's movies on tape.
Heropanti which sees Tiger star as the leading role is set in the present day where new urban India is battling with old and rural India.
The courageous and athletic Bablu meets the spoilt Dimpy and love blossoms. As with every love story there is a catch and Dimpy's traditional background doesn't allow her to marry for love. Tiger is forced to prove his worth not only through words but through the power of his first, and the film is a high action romance.
When Heropanti was scripted, Sabbir Khan was on the lookout for new faces as he felt his movie needed new faces. Finding Tiger, he thought the young actor was a perfect fit for the role:
"He had the qualities I was looking for in the script, and I felt he would portray the character in the best possible way. Even though he is Jackie Shroff's son, if he was not right for the part, I don't think he would be here today."
Sabbir also mentioned that he has managed to obtain Tiger's full potential as he said: "He has lived up to the kind of expectation I had in my mind for my character. I have explored his talent as a dancer and what he can do in terms of action." Sabbir believes that the talent Tiger has is the key to success.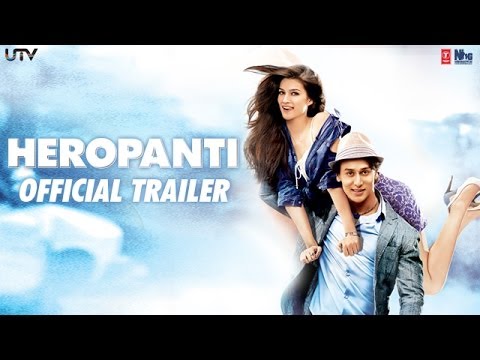 Tiger was drawn to the lead role in Heropanti, as his character is the opposite of him in reality. Tiger said that Sabbir told him that there would be a lot of action involved in the movie and therefore Tiger visualised what his potential is. He stated: "As an actor I think it is very important to get out of your comfort zone and do something that is not you."
Tiger Shroff and Kriti Sanon were at the music launch of 'Whistle Baja'. A nod to Tiger's flute playing skills in the film, a collection flutists were invited to perform the opening song to the live audience of film guests and press.
Other notable songs from the film include, 'Rabba' a romantic song which was shot in Kashmir; 'Raat Bhar'; 'Tabah'; 'The Pappi Song'; and 'Tere Bina'. The album was released on April 21, and the song 'Whistle Baja' was released as a single, which is labelled with Saregama music.
Heropanti is set to have the biggest opening at the Box Office since the film 2 States (2014). With such hype around the film aided by Tiger, there is a good chance the film will hit the charts of the box office, as the music is giving off positive vibes as well as the lead actors, Tiger Shroff and Kriti Sanon. Sabbir could be expected to make a good opening of over 50 per cent in his second film as his first film Kambakkth Ishq (2009) did well too.
There is no doubt that Tiger will be seen shining the Bollywood industry from now on with future movies he may star in, Heropanti is set to release from May 23, if you're a Jackie Shroff fan, be sure not to miss his son's debut film.