"We ended up with good material. We could have filled the half-hour show two or three times over."
The most famous British Asian sitcom, Goodness Gracious Me, returns to our TV screens for one special night of classic Desi fun.
Goodness Gracious Me is perhaps one of the most successful franchises specifically catered towards British Asian audiences. Airing from 1996 to 2001, the popular series starred Sanjeev Bhaskar, Meera Syal, Kulvinder Ghir and Nina Wadia.
A complete fresh and revolutionary series of its time, the show recreated British comedy as we understand it today, and saw a diverse variety of mini sketches that made a playful dig at the rising Asian community within the UK.
As Meera says: "In the mid-1990s, nobody knew what British-Asian comedy was. It had never been seen on TV. I'm not sure we really knew what it was ourselves.
"But there was a small live comedy scene, and we thought a TV sketch show could be something our community would watch. We had no idea if it could cross over into the mainstream."
The true beauty of Goodness Gracious Me was in its sincere and unapologetic ability to make Asians laugh at themselves. Picking on distinct colloquialisms, mannerisms and interactions with other races, the show developed a unique appeal not only to those who could relate to it, but also to the non-Asian masses who would tune in to watch it every week:
"That's the amazing thing about comedy, it breaks down preconceptions in a way that a thousand political speeches can never do. Being funny is a powerful place to be, especially when you're not the punchline of other people's crass racist jokes but are actually pulling the comedy trigger yourselves.
"If you make someone laugh, you're not The Other any more, you've dragged them into your world view and made them laugh," Meera says.
Some of the most memorable sketches of the show included 'Going for an English' where a group of friends in Bombay go into an English restaurant to try the 'blandest thing on the menu'.
Meera admits: "It really hit a nerve. I think it showed that new comedy voices can break through from unexpected places. Until then, second generation British Asians had not been seen as a community with a funnybone, but because we were coming from a completely new place, our material was very fresh and untested on the public. It showed that comedy has no barriers of race, sex or anything else."
It is interesting that while Goodness Gracious Me drew on very specific situations and characters, the 90s show still shows huge relevance even today, which is why a reunion to celebrate BBC Two's 50 years of being on-air was an easy decision to make:
"There has been nothing else like it since, so we didn't feel that there was loads of stuff we had to worry had come in between that we might repeat," Meera says.
The show did break boundaries and was a remarkable success, but as the cast admits, British Asian comedy is still not as mainstream as they expected, and it still struggles to compete with popular British comedy shows that air throughout the week.
Sanjeev adds: "Sketch comedy over the last 10 years has gone very surreal. You can write a sketch about a guy who's turning into a moose, who has oven mitts for hands. Our stuff was always reflecting society, as well as being funny and satirical."
Even with their unique station of being completely original, there was a slight apprehension that to resuscitate a classic sitcom like Goodness Gracious Me could be a comedy failure. As Sanjeev explains however, once the original cast was reunited, the easy flow of fantastic ideas made it seems as though a revival was destined to be:
"I may well have been the last of us to agree to revisit it. My initial concern was that we could end up doing cover versions of our greatest hits and that people would then inevitably say, 'it's not as good as it was'. We didn't just want to recreate past glories.
"So I didn't want to do it unless we had something contemporary to say. The question of relevance was vital for me. What convinced me to do it was the conversations we had when we met up to discuss ideas. We ended up with a surfeit of good material. We could have filled the half-hour show two or three times over," Sanjeev adds.
While there was so much new material shot in the end, only enough to fill a 30-minute slot was chosen – and audiences can be hopeful that it will truly meet their expectations.
The special will feature some of the favourite characters from the original show, with an ode to the currently popular Sherlock Holmes and his obvious Indian heritage. Also, Nadia's aubergine gimmick gets a futuristic makeover, and Robin Thicke's popular 'Blurred Lines' single gets a Desi remix.
Watch a promo clip of the episode here: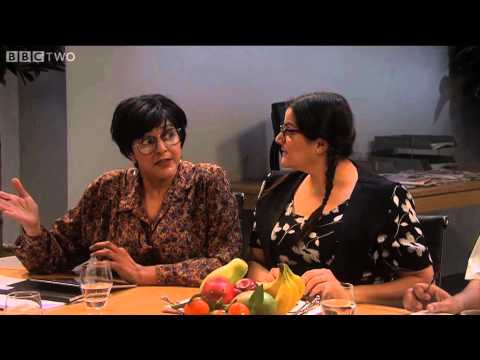 As Meera admits, returning to the familiar surroundings of the original cast and set felt like home, as she had a great time recreating some of the most memorable characters and sketches: "It did feel like putting on an old pair of comfortable slippers, getting back together with everybody," she says.
The nation's favourite British Asian sitcom, Goodness Gracious Me will return to TV screens on May 26 at 10 pm on BBC Two.