"The film is about a fun, quirky and no-holds barred friendship that turns crazy when competition seeps in."
Directed by, Aman Sachdeva, Kuku Mathur Ki Jhand Ho Gayi his debut movie which centres on portraying realistic friendship amongst the young generation.
Newbie actor Siddarth Gupta portrays the protagonist, Kuku Mathur, a man who works many jobs on the film sets of Bhojipuri.
Not employed in a permanent job that will earn him stability nor in a good paying job that will allow career progression, Kuku finds himself struggling to gain respect amongst his peers and thus sets out to create his own job by starting up his own business, an eatery. But it's not going to be easy.
Bad luck is like Kuku's shadow, it follows him wherever he goes. His name is also a reason why others cannot take him seriously. Will he be able to succeed against this shortcoming that is making him fail?
The premise of the movie is about being capable of taking up responsibility and believing in oneself. Coupled with black comedy and slapstick dialogue, this movie aims to avoid being a dramatic drag.
To sum up the movie in a nutshell, director Aman Sachdeva says: "The film is about a fun, quirky and no-holds barred friendship that turns crazy when competition seeps in."
This film also stars former Miss India Simran Kaur Mundi, Pallavi Bhatra and Ashish Juneja. All are fairly new to the Bollywood scene and interestingly this movie is being produced by Ekta Kapoor, a well-known producer of many Indian serials such as Kahin to Hoga and Kasauti Zindagi Ki.
Known to love the letter, K, this movie's title might have been inspired by Ekta Kapoor herself. Bejoy Nambiar who co-produced the movie with Ekta, said:
"We zeroed in on the word 'jhand', which is very popular in the city. The word describes the hilarious crisis situation that the actor is in."
The movie title was inspired by interviewing young college students in Delhi which means this movie will have millions flocking to it on the opening night.
On the budget of the movie, Sachdeva admitted: "This is the most inexpensive film ever. This is the most cheapest film produced by Ekta ever. The budget of my film is close to Rs.2.5 crore. The recovery is easy if you keep your budget low."
Ex-model turned actress, Simran Kaur Mundi who stars in this movie has faced a dilemma because she has two movies that are released in the same month. Kuku Mathur Ki Jhand Ho Gayi had to be postponed.
Simran's Punjabi film producer, Pawan Gill, said in an interview: "Ekta's marketing team has demanded the same dates that Simran had initially allotted to him. I had her dates blocked well in advance for the promotions of our film.
"However, when her Hindi film was postponed to the same date as ours, it created a conflict. So, I have started promoting the film without her. I do hope that she joins us during the Delhi leg of promotions this weekend, as she is pivotal to our film's marketing strategy."
As of now Simran is busy promoting her Hindi movie alongside Balaji films. With quite a reputation in the modelling word, having been crowned Miss India in 2008, it will be interesting to see if Simran also performs well as an actress.
This movie has been rumoured to have passed a prank fever to the main character who recently had teamed up with Varun Dhawan, another actor who has worked with Ekta. They had pulled a prank on Nargis Fakri and caused her to faint.
The "jhand" had gotten out of hand as they pretended to be gunmen to shock Nargis Fakri as she stepped out of the elevator. Luckily no one was hurt and they did debrief her afterwards.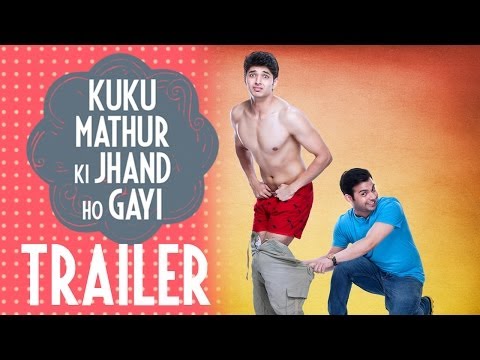 Composed by Prashant Pillai, all the soundtracks in the movie possess techno tunes and sung in a funny way. The movie's feature song is called 'Tarzan', which is sung by Anu Malik. He was specifically sought out to sing this song by the music director:
"I got a call from Balaji and I thought that they want me to compose a track for their project. When I reached their office, I was informed that since my voice is very unique and is liked by several fans, they wanted me to sing this really energetic dance number."
"I had to say yes in a short notice but I didn't know if my voice would go well with the song. Ultimately, when I said yes, we recorded the song the very next day and I realised that the beats are infectious. The club style rhythm is massy and will definitely connect with the audience. In fact, they also made me do the Tarzan call and a rap, which took some time, but we nailed it."
Other notable songs include 'Phacebook Pyaar' featuring singers Tulsi Kumar and Dr Palesh Sen, and 'Tu Mera Jhoota Main Tera Fita' sung by Anand Bajpai. The songs fit in with the movie's theme of comedy and will be enjoyable by those who love techno and humour mixed together.
As this movie is a Balaji film production with renowned producers like Ekta Kapoor and Bejoy Nambiar, it has a good chance of being a box office hit and showcasing new actors. Watch out for this movie as it hits cinemas from May 30th.