"It's a rom-com. It's a good fun film. But it's a movie where I have a double role."
Presented by Vibhu Agarwal, Baat Bann Gayi is a romantic comedy directed by Shuja Ali. The film stars Ali Fazal, Gulsan Grover, Anisa Butt, Amrita Raichand, Razzak Khan and Akshay Singh.
Similar to Gulzar's hit film Angoor (1982), Baat Bann Gayi is based on Shakespeare's play, The Comedy of Errors. The story is loaded with 'duals' that unravel laugh-out-loud comic situations when character lookalikes encounter each other.
Because of the mistaken identities that naturally emerge, a number of hilarious situations full of madness and surprises follow as the plot unfolds.
Actor Gulshan Grover plays both a professor and a gay choreographer in a double role, however he reveals that film's budget caused a big problem for him as he had to shoot for both the characters on the same day:
"The budget of the film is very low. It's a small film, so I had to switch to double roles immediately. When you are doing both the characters together, you have to change within five minutes," Gulshan admitted.
"But it's not just related to changing of clothes, you have to change your character and acting as well. It was a big problem that it was a low budget film."
"As an actor it was challenging. I play heroine's brother who is a professor and is searching for groom for his sister. The other character is of a gay choreographer," he added.
While the gay community is often spoofed in Bollywood, Gulshan made it clear to the directors and producers where to draw the line when it came to his character.
The actor says: "I was very clear that I would not do anything cheap or vulgar for this film nor wear underwear. When I accepted the part, I said I won't do anything cheap (like a bath tub scene) or something that had a double meaning. You can have a gay character that is entertaining but it should not be a caricature to be laughed at. Everything is not about sexuality nor should it be an attack on gays."
He added: "You can have gaalis and full naked scenes in a film. There are haves and have-nots. There is a market for pizza films and then you have the dal, roti sensibility. It's like a five star hotel existing next to a slum. Both have financial stability."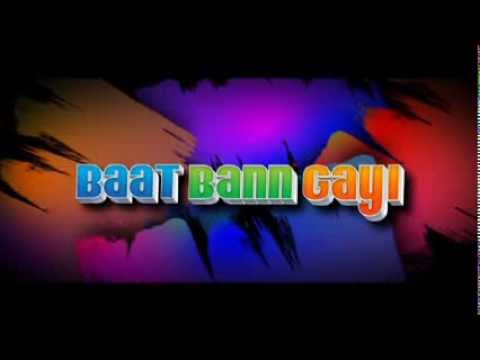 Baat Bann Gayi also marks the debut for London girl Anisa Butt. Speaking about her experience, Anisa says:
"It was great. It was a pleasant experience to work with actors the caliber of Ali Fazal, Gulshan Grover, and Amrita Raichand. The director Shuja Ali is also very talented. I know him from my London days where Shuja used to work on television programs."
When asked whom she which directors she would like to work with, she expressed: "Actually all of them [laughs]. But on a serious note, Anurag Basu, Anurag Kashyap and Imtiaz Ali are ideal directors for me."
The trailer also sees Ali Fazal in a double role, who admitted he found it challenging. He stated: "It was really hard…It's a rom-com. It's a good fun film. But it's a movie where I have a double role."
Ali is slowly progressing up the unyielding Bollywood ladder. He played engineering student, Joy, in 3 Idiots (2009). He became noticed from the supporting role in the film, which is now seen as an all-time Blockbuster hit.
Soon after, he was picked up by Indian superstar, Shahrukh Khan's production-house, Red Chillies Entertainment, for the star role in Always Kabhi Kabhi (2011).
The first look of Jaypeeco Infotainment in association with ASR Media's maiden film Baat Bann Gayi, was held at Fun Republic on August 5. There were many media present at the event as they all got to ask questions and enjoy a show-reel of the film.
Grover said: "It was a pleasant journey working with this unit, also the actors Ali Fazal, Anisa Butt, and Amrita Raichand are extremely talented, and this is a family comedy drama which everybody will love to watch."
Presenter Vibhu Agrawal said: "Although this is my first film, I enjoyed its complete journey of making, and after release we are launching another film."
Baat Bann Gayi released on August 30, 2013. So far it has received mixed reviews but as a fun, light-hearted comedy of errors, the film could do well as a family entertainer.