"Indians and Pakistanis fight about cricket, literally every year"
Makeovers, pampering, cooking and life coaching. Netflix's reality show, Queer Eye features five gay men who look to improve one's lifestyle.
A reboot of the Bravo show Queer Eye For The Straight Guy (2003-7), the show primarily takes place around the state of Georgia.
The "Fab 5" consists of Tan France, Karamo Brown, Jonathan Van Ness, Bobby Berk and Antoni Porowski.
The Fab 5 all are specialists in a particular field which all comes together to improve the lives of their subjects a.k.a, "heroes" of the episodes.
Instead of focusing on straight men as the original did, the reboot welcomes heroes from all walks of life, heterosexual men and women and the lGBTQ+ community.
Watch the Trailer for Queer Eye (Season 1) here: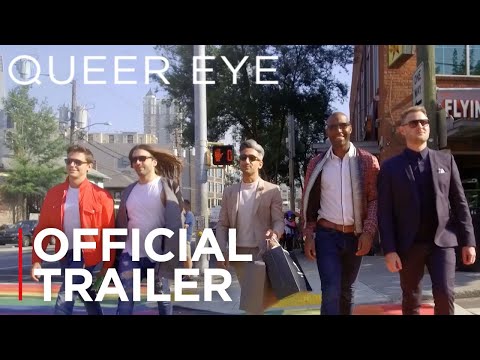 "The original show was fighting for tolerance. Our fight is for acceptance."
The British Pakistani, Tan is the fashion expert of the team who lends his expertise to the "hero" to improve their style.
He takes the time to understand who and what he's working with then takes them shopping. Throughout the course of the show, he has built some strong relationships with the "heroes", his fellow Fab 5, as well as understanding himself more.
The other members of the Fab 5 include Americans, Karamo the culture expert, Jonathan the grooming expert, Bobby the design expert and the Polish-Canadian, Antoni the food and wine expert.
DESIblitz takes a look back at some of best moments of the fashion guru, from Seasons 1 and 2 of Queer Eye.
The Desi Connection
Season 1 Episode: "Saving Sasquatch"
In this episode, the Fab 5 work with Neal. An Indian American programme designer who is a bit of a loner and avoids physical contact with people.
This "Sasquatch" looking Indian covers his face with a large beard and long hair. His home looks as though it has never been vacuumed as it is also covered in hair too, his own and the dog's hair.
The Fab 5 raid Neal's closet with Tan leading the group in some Desi dancing after finding and wearing Neal's Kurtas.
What fans loved about this episode is how Tan and Neal bonded in a closet over cultural similarities. Tan being Pakistani and Neal being Indian.
With Neal's parents, like most Desi parents, expecting him to get married soon. Tan finds a dowry suitcase which he explains to the audience.
Later, they also talked about the Pakistani and Indian cricket rivalry too after finding a cricket ball in the closet.
Tan explains to the camera:
"Indians and Pakistanis fight about cricket, literally every year. That's the only time I started to think, 'oh sh*t, we really are an Indian and Pakistani in a closet together, this may be a first.'"
Neal replies:
"We're breaking down cultural barriers here."
Blurring the Line Between Masculinity and Femininity
Season 1 Episode: "To Gay or Not Too Gay"
What are masculine and feminine? Societal constructs that categorise certain lifestyle choices to male or female.
The Fab 5 are tasked with making over closeted homosexual, AJ as well as helping him come out to his step-mother.
He sleeps in the living room as his bedroom is covered in clothes. Tan explores AJ's closet to find dated clothes as well as leather straps and harnesses which the Fab 5 instantly love.
When discussing fashion, AJ tells Tan:
"Just don't make me look feminine or just some regular guy on the street. Keep me original still."
Tan focuses on the word "feminine" and decides to get to the bottom of why he avoids femininity. AJ reveals his friends feel freer in what they wear but he believes he can't pull that off.
In public, he likes to remain conservative to avoid giving hints about his sexuality. Tan makes it his mission to make AJ feel comfortable in anything without the concern of what people may think of him.
Tan wants to make AJ feel comfortable in his well-built body and show it off a little. He does this by picking out form-fitting clothing like simple polos and skinny jeans.
During a confessional clip, Tan says:
"This conservative guy he wants to be, this masculine life he wants to live, I think its more what society expects of him than what he truly feels inside."
In the end, the Fab 5 all help AJ feel comfortable with his sexuality. He comes out to his step-mother and introduces her to his long-time boyfriend, Andre in some emotional scenes.
Queer Eye later tweeted: "The Fab 5 reunited with AJ + Andre, who revealed they are now MARRIED!"
The Fab 5 reunited with AJ + Andre, who revealed they're now MARRIED! ?????? pic.twitter.com/R2XOUpY60v

— Queer Eye (@QueerEye) June 1, 2018
AJ and Andre are now living happily as a married couple and it looks as though he is sticking to Tan's fashion advice.
A Roti Master Class with Tan France
Season 2 Episode: "The Handyman Can"
Handyman Jason is nominated by his best friend Beth to seek the help of the Fab 5. Jason intends on leaving his close friends and family to move to Nevada in order to become closer to the Burning Man festival.
Whilst figuring out Jason's diet, Antoni discovers Jason has a love for Indian food. Tan and Antoni take Jason to a local Indian Street Food house to explore the different dishes India has to offer.
Whilst there, an enthusiastic Tan is excited to show off his roti-making skills. An adorable moment as fans got to see Tan connect with his own cultural upbringing.
Speaking to one of the chefs, he tells her:
"I make this with my mum… But it's been a very, very long time."
In an interview with Condé Nast Traveler, Tan shares his passion for cooking:
"I learned to cook when I was ten, and I could cook a whole meal for my family by thirteen—and I'm talking the chapatis as well."
"I roll them out and make them from scratch, and I still do it for my husband [Rob France] every couple of days."
The experience definitely shows off as his roti is marriage material! His roti is perfectly round.
Learning About the Trans Community
Season 2 Episode: "Sky's the Limit"
A common misconception is that members of the LGBTQ+ community all understand and tolerate each other but even within the community, prejudice and ignorance exist.
Skyler, the hero of this episode, is a trans man, a first for Queer Eye. He is recovering from a 'top surgery', which consists of a bilateral mastectomy and chest reconstruction.
As the episode begins, the Fab 5 sit in their loft and watch Skyler's top surgery procedure. Tan tells the group he is not too familiar with the trans people and that he has "never met a trans person before".
He continues: "I'm so interested to finally meet a trans person to understand their story."
When discussing fashion, Skyler reveals his uncomfortable experience of finding a tailored suit. So, Tan aims to find Skyler a suit, which he does with the help of a friend from Bindle & Keep a trans-friendly suit company.
During the episode, Tan and Skyler sit down and have an eye-opening conversation about what it means to be transgender. Something that not only Tan learns about, but the audience who may also not be familiar begin to understand too.
Tan admits: "I'm not immersed in the gay community and therefore I'm ignorant."
Skyler talks about the importance of using pronouns correctly and what the surgery meant to him. He later thanks Tan for willing to seek knowledge about transgender people.
One of the biggest lessons to take from the episode is to immerse yourself in different communities. It allows you to learn about different lifestyles and culture from your own point of view.
Tan's Motivational Pep Talk
Special Episode: "Yass, Australia!"
"Yass". A word commonly used by Jonathan Van Ness. The Netflix team discovered a town named 'Yass' in Australia and the Fab 5 had to go.
There, they gave a makeover to George, a farmer who was nominated by his son Levi. Levi wants his father to find love and the Fab 5 provide with the tools necessary.
After a haircut and pampering session with Jonathan; Tan and George, go clothes shopping with the aim of getting George "laid". Tan finds George a lovely navy shawl neck jumper over a checkered shirt then the two have a heart-to-heart.
Overall, George wants to set a good example for his children. To achieve this, Tan teaches George about the importance of self-care and happiness and how that can inspire his children and it is an attractive quality.
Tan says:
"Do all you can to make sure that you're taking care of yourself, get that person that you want in your life, be that person you want to be."
"I don't want you to see yourself as making an effort being a selfish thing, that it doesn't matter. It all matters."
"I want Levi to look at you and think, 'that's my dad… That's my dad and he's wicked, he's incredible, he looks so good.'"
The episode "Yass, Australia!" is available on YouTube.
A Breath of Fresh Air
With a lot of stigma surrounding LGBTQ+ amongst the Desi communities, there is not a lot of exposure of LGBTQ+ South Asians. Many living in fear of being disowned and ostracised by their families.
The inclusion of Tan France in Western media is monumental. With the lack of positive Desi representations and the lack of LGBTQ+ representation, a gay Pakistani has to be one of the first.
Sam* tells DESIblitz:
"It's amazing! You see so less of queer South Asians in media. It's really nice to see him. I almost wept because I hardly find anyone like that in media or in life."
"Him being there is a step for it being normalised."
Not only does casting Tan breakdown barriers for South Asian perceptions of LGBTQ+, it also breaks down barriers of perceptions of Pakistanis.

Tan revealed in an interview with Refinery29:

"Two of our heroes asked, 'Are you a terrorist?' and it was a very honest question for them. They weren't trying to be funny."
As well as breaking down racial stereotypes of being a Pakistani in America, Tan France has proven to be a liberating public figure even for non-Desis.
He has helped to educate those who have misconceptions about him and his identity as well as becoming men's fashion icon.
By the end of your binge, the leader of the French Tuck Revolution will inspire you to go shopping for a printed button shirt, nice fitting jeans and white trainers!
Queer Eye has been picked up for a third season to be released in 2019, so we'll definitely have more amazing Tan France moments to look forward to.
Watch all episodes of Queer Eye on Netflix.