"Another family tried to take revenge, they came to the family address armed."
A violent street brawl between feuding families occurred in broad daylight on August 15, 2019, on Prestbury Road, Aston, Birmingham.
The shocking scenes were captured on camera and it led to numerous people suffering serious injuries.
A source has stated that the violence was a "revenge" attack on a family.
One man was pushed to the ground while others threw punches during the violence. Attackers were armed with baseball bats but it was reported that hammers and crowbars were also used.
A source close to the family, who has remained unnamed for safety reasons, explained:
"They came to the address with the weapons.
"Another family tried to take revenge, they came to the family address armed.
"They all had weapons – crowbars, hammers, baseball bats. A man was attacked by six men and suffered a head injury. He's in a bad way."
The street brawl left three men injured, including one hit on the head with a baseball bat.
West Midlands Police confirmed that two others suffered minor facial injuries after being punched.
It has been claimed that the trouble happened in the middle of the road after one of the victims "intervened in another fight".
The source explained: "There were kids fighting, they were as young as 14.
"He intervened to stop the fight and after a couple of days, they came back to take revenge."
"Police have video evidence, photos and addresses of people with weapons, but nothing has been done, no arrests have been made.
"These people are still roaming around."
Watch the Shocking Footage of the Street Brawl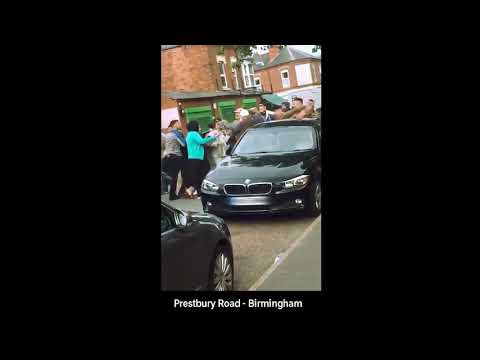 Just after 9 pm on the same day, officers were called to the same road after receiving reports of a stabbing. However, no victim was found.
West Midlands Police previously released a statement:
"Police were called to reports of a disorder in Prestbury Road, Aston, around 5:30 pm (August 15).
"One man suffered a cut to his head after he is believed to have been struck by a baseball bat, while two others suffered minor facial injuries having been punched.
"Officers received a further report of a stabbing at just after 9 pm but officers attended and found no-one with stab injuries."
Birmingham Mail reported that on August 19, 2019, officers confirmed that they have not yet made any arrests and are advising witnesses to come forward.