Siri may struggle to assist unless the postcode is stored in your address book.
How many times have you come back from the supermarket and realised you forgot a couple of things?
Are you tired of driving past your garage every day and still forget to book your MOT?
If so, the iPhone location-based reminder is one you may want to spend some time getting to grips.
Never again forget to buy pistachio ice cream, because your weekly shopping list will appear on your mobile screen every time you pull up to the supermarket.
What about creating a recurring reminder for Friday take-out nights? So your family's food orders will pop up as soon as you arrive at your favourite takeaway!
Follow these four simple steps to trigger reminders upon arriving or leaving a set location:
Create a standard reminder.
Click on the 'i' and turn on 'Remind me at a location'.
Tap 'Location' and enter the desired address.
You can now decide to trigger the reminder when you arrive or leave within a certain distance of your set location.
Check out this visual tutorial as well: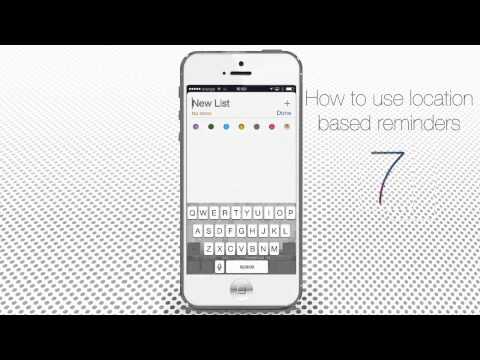 Beware Siri can be used to assist you with this function, but only notify you if the postcode is stored in your address book.
Google Search also has its version of location-based reminders through Google Now voice command.
However, it does not allow users to edit existing reminders once set, which may prove frustrating.
There is a plethora of hit-and-miss apps on both iOS and Android to choose with various options, should the stock functions not suffice.
Some examples include:
Geobells (Android)
Any.do (Android & iOS)
Easilydo (Android & iOS)
WakePoint (iOS)
While some of them enable users to set a radius, others allow text messages to be sent to address book contacts based on your location.
Forgot to buy milk on the way home? Impossible!