"My parents sent me to ballroom dance classes every Saturday because they thought it was English."
Birmingham Repertory Theatre (The REP) is delighted to present Strictly Balti, an endearing one-man show by Saikat Ahamed on November 26, 2015.
Combining comedy and real life events, Strictly Balti follows Saikat, a young British Bengali growing up in Birmingham in the 1980s, who finds himself forced to learn ballroom dancing by his British-loving Desi parents.
Commissioned by the Travelling Light Theatre Company, Strictly Balti is written and performed by Ahamed himself.
Based on Saikat's own 'confused' upbringing, Strictly Balti is a hilarious clash of Western and Eastern ways of thinking.
Speaking about his solo show, Ahamed explains:
"The title comes from the fact that my parents sent me to ballroom dance classes every Saturday during my childhood because they thought it was English. It's not, it's just bonkers."
Saikat has already debuted the show at the Edinburgh Festival Fringe and has since been touring across the UK. Now, Saikat will return to his hometown of Birmingham for five magical shows between November 26 and 28, 2015 at The Door.
The Door, which is part of The REP, is the perfect setting for Saikat's solo show, giving the audience a great intimate experience of the performance.
As well as the comic anecdotes throughout Strictly Balti, what Ahamed crafts on stage is a truly emotionally touching tale.
He recalls his difficulty fitting in and interacting with the other kids in the playground and the many insecurities that he faced growing up:
"Ultimately, it's a very uplifting piece, that's what audiences have said to me. It's very funny, very emotional."
The personal storytelling makes this solo chronicle come alive. A gifted narrator, Saikat's talent comes from his ability to charm the audience and build a generous rapport with them.
Saikat says: "When I was making the piece, I was writing it going, 'Oh yeah, this is funny', and then actually in the rehearsal process, I realised how personal it was."
For Saikat, theatre is a wonderful platform in which to express some of his most personal memories from his childhood:
"It's been a real privilege, genuinely, because from my mind, theatre should really be about connecting to people and actually there is a truth in this piece.
"Because it is a true story. It is my story, and people seem to really respond to that."
Reviews from his tour have praised Strictly Balti for its universal appeal, despite being the story of a second-generation immigrant to the UK.
The show appeals to both the young and old, as Saikat has a natural ability to connect to people whatever their age or background.
And audiences can also expect some dancing too, as Saikat's forced ballroom classes in his youth certainly paid off – he was two years Gold champion in Ballroom and Latin American dance: "I've never been so ashamed," Saikat sighs.
Watch a clip of Saikat's unique performance here: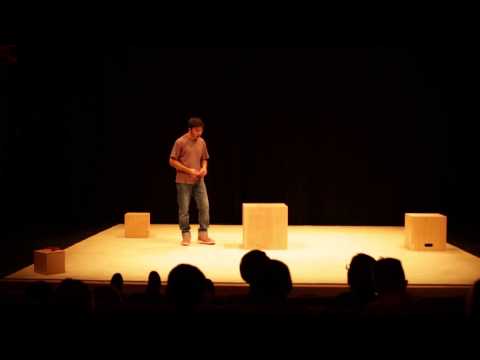 With The REP's mission to reflect the diversity of Birmingham by producing excellent theatrical experiences which enlighten, entertain and engage audiences, this is one play that brings these together in a must see performance.
Strictly Balti will see five separate shows at The REP, including two matinees, all running between November 26 and 28, 2015 at The Door. For more details, and to book tickets, please visit The REP website.