Ranveer called his role of being the brand ambassador as "living the dream"
Ranveer Singh made a rather dashing entry at the Premier League conference in support of the Football Movement in India. The event was held in Mumbai on 24th February. Accompanying Ranveer was former Manchester United star Nemanja Vidic.
The Padmaavat star was appointed as the ambassador for Premier League in India in December 2017. All smiles, Ranveer made his way towards the event by posing along with the Premier League trophy.
The actor spoke about his love for Football and his undying relationship with Arsenal extensively during the conference where he was being interviewed by BBC Sports presenter from the UK, Manish Bhasin.
Ranveer called his role of being the brand ambassador as "living the dream" and talking about it further, he said:
"I have to say it is a huge privilege and I genuinely believe it is the best league in the world."
He also said there is now an added responsibility on him to grow and nurture Football and promote sports culture in India.
Why Ranveer loves Arsenal?
Ranveer confessed his love for football and the Gunners at the event when Manish quizzed him:
"My history with football started in the early 90s when we used to watch world cup Football, that was the only Football we had access to. So it started with Roberto Baggio and the likes. I was a huge fan of Brazil and Italy national squad."
"During 1996, League football started being telecast and after I watched Premier League, I was hooked. At that time, Arsenal was going through "the purple batches" the invincibles were playing at that time. They made the game look good and won and that's why Arsenal."
Considering how hectic schedules actors have, it is a tough job to keep oneself updated with the games but Ranveer agreed to catching up on Football even during work. He laughingly states that he's watched matches in between takes!
Here's the full interview with Ranveer Singh: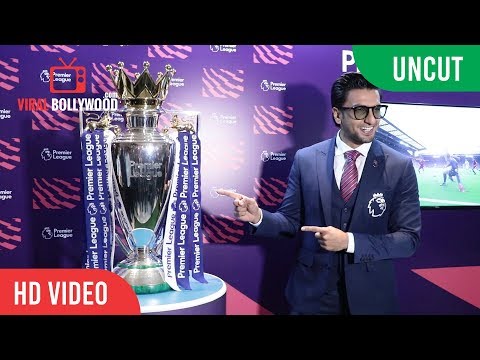 Padmaavat Success
On the Bollywood front, Ranveer was recently seen in the much controversial period drama Padmaavat. The film has become a huge success in India and the actor is being credited massively for it thanks to his portrayal as the lead villain, Allauddin Khilji. An elated Ranveer said:
"It's doing something I had never imagined. It's one of those rare films that sort of encompasses everything, be it critical acclaim, commercial success or love of the audience."
Football & Bollywood
Talk about Bollywood celebrities being fans of the game and a few names such as Abhishek Bachchan and Arjun Kapoor will pop up.
Considering Ranveer is a huge Arsenal supporter while Abhishek and Arjun are hardcore Chelsea supporters, there's bound to be some interesting exchanges happening between them when it comes to matches. Especially when Arsenal play Chelsea!
The banter as they call it is always on and how Ranveer deals with it, he says:
"There is banter for sure. Banter is one of my favourite things. I am a big trash talker and sometimes even informal sort of engagements, I am not able to control my verbal diarrhoea. Abhishek Bachchan and Arjun Kapoor are both big Chelsea fans… so, we go back and forth bantering each other."
So, there we have it, Ranveer shows us that Arsenal fan through and though!
Football is slowly gaining traction in India with events of this nature and also the domestic Indian Soccer League, which has been attracting foreign players to join in the vision to make soccer a formidable sport in India.