Morphite prides itself on taking you on an atmospheric, riveting journey.
Crescent Moon Games have searched towards the stars for the inspiration behind their new game, Morphite. Creators of the popular mobile game, Ravensworld, they return with this atmospheric space exploration title.
A first-person shooter, Morphite is a single-player game, exploring unchartered territories of the galaxy. Traversing through planets and animals, all to unravel the mystery of a rare material called Morphite.
Following the adventures of young Myrah Kale, it takes place in a future where humanity has populated the distant reaches of space.
After growing bored of her residence on a space station with her surrogate father, Mr Mason, Myrah goes on a simple journey to gather supplies. However, what that transpires into she could never have imagined.
Available on iOS, Steam, PS4 and Xbox One, this game aims to delight and amaze. But its premise and use of generated planets quickly gained comparisons to No Man's Sky.
Are these comparisons valid? Let's find out as we review this intriguing game.
A Journey of Self-Discovery
A story-driven game, the player's goal lies in exploring the galaxy. Engaging with hostiles and fighting boss battles. All the while researching your surroundings to understand the lore scattered throughout every planet.
The narrative spans fifteen planets as Mr Mason sends Myrah on a far-reaching journey of self-discovery that introduces her to the mysterious material. She is assisted by her robotic companion, Kitcat.
The dynamic between Myrah and Kitcat is like old friends. Kitcat is sarcastic and witty whilst Myrah is receptive to much of the robot's mischievous dialogue. Between travelling and scanning, their relationship keeps you invested in their journey.
Myrah works well as the protagonist. Inquisitive and self-assured as she ventures into the unknown. That feeling of anticipation carries over to the player making it an enjoyable experience.
In addition, the planets you visit for the story are specially created to serve that purpose. Vibrant and exciting, they show the great potential that low-poly generated graphics have in the sci-fi exploration genre.
Atmospheric, Sci-Fi Exploration
Morphite prides itself on taking you on an atmospheric, riveting journey. That experience is complemented by the calming music and natural sound, different on every planet.
In addition to the fifteen planets that centre the storyline, there are a lot more to explore. Each planet carefully generated through a common theme: the climate.
For example, you'll find planets with warm climates and rocky mountains. Or heavily technological and advanced planets full of machinery.
Despite being a first-person shooter, it doesn't act as a conventional game of that genre. The shooting system works through a lock-on target mechanism and hostile entities are largely harmless. At times, you may feel bad for shooting a low poly dinosaur, simply minding its own business.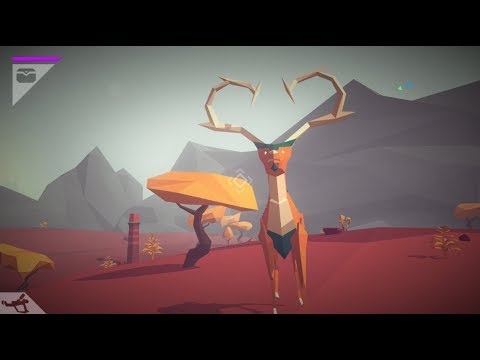 After playing the game here at DESIblitz, it could improve the user experience by allowing a third-person camera option. An exploratory game that limits itself to the visual perspective of first-person seems like a missed opportunity to show-off the scenic landscapes and wildlife.
Moreover, the interface felt slightly minimalistic. Few prompts would arise if you got stuck during a mission, with the mini-map not acting as useful as we hoped.
Showcasing Galactic Potential
The gameplay is defined by its unique low-poly look. Complementing the various species, plants and uncharted planets that you discover and interact with.
To a certain extent, the comparisons to No Man's Sky feel warranted. Both games utilise the worlds to mimic space exploration.
However, Morphite is much smaller in scale and that works in its favour, the storyline is tightly-woven, everything serves a purpose and it hasn't oversold what it can deliver.
In terms of the characters, the voice acting could be better. In particular, for Kitcat, the overly robotic break-up of her voice is a little difficult to follow and takes away from the well-written, though at times cliché, dialogue.
Exploring the game is a calming experience. If you enjoy a good story with well-written sci-fi elements, you might want to check it out. However, if your first-person shooters are Call of Duty and Battlefield then it might feel like training.
Interest to try out this space exploration yourself? Find out more about the game here. Available to purchase from iOS, Steam, PS4 and Xbox One.