"This bullet-like carbon-fibre shell is amazing to look at from all angles."
Mercedes-Benz gives the world a glimpse of its future offerings by showcasing the 'Concept IAA' at the Frankfurt Motor Show 2015.
The 'IAA' stands for 'Intelligent Aerodynamic Automobile', and boy does it have all three in abundance!
With looks to die for, the Mercedes-Benz Concept IAA gets close to being a Transformer-like vehicle, being able to extend parts of the rear to improve air-flow and overall speed.
DESIblitz takes a closer look.
Exterior
Looking like a futuristic CLS saloon, this bullet-like carbon-fibre shell is amazing to look at from all angles, especially the rear.
Its shiny chrome finish adds somewhat to the already futuristic look, creating fluidly jaw dropping shadows through the stunning contours.
Mercedes states: "(The IAA) switches automatically from design mode to aerodynamic mode when the vehicle reaches a speed of 50mph, whereby numerous aerodynamics measures alter the shape of the vehicle."
Eight segments elongate at the rear to extend by 390mm and front flaps extend by 25mm.
Active Rims transform their cupping inwards from 55mm to zero which all act to improve the overall aerodynamics and air circulation of the car.
With an unbelievable drag co-efficient Cd value of 0.19, this four-door coupé is the world's most slippery car.
Interior
The impressively styled four seater luxury interior is in line with everything that comes with a high spec Mercedes S-Class, and then some more.
Mercedes describe the Concept IAA's interior as having 'elegantly curved forms, flowing lines, high-quality materials' and 'a high level of functionality'.
The functions on the steering wheel are made of touch-sensitive buttons.
Optical Finger Navigation (OFN) is used throughout, allowing the driver to effortlessly use controls in a 'hands on the wheel, eyes on the road' styled philosophy.
Cool blue ambient colours create a relaxing mood to augment the elegantly cut glass and aluminium trimmings.
Performance
The Concept IAA is not just all about looks, being a healthy hybrid beast with 279bhp.
Once in aerodynamic mode, the car has a range of 40 miles with CO2 emissions of just 28g/km.
Mercedes is quick to point out the car will give much better performance figures if driven more on the motorway.
"As urban driving is accorded a two-thirds weighting in the current New European Driving Cycle (NEDC), the advantage of aerodynamic mode is not revealed as clearly in this test as in real-life driving."
Take a look at the Mercedes-Benz Concept IAA in its full glory: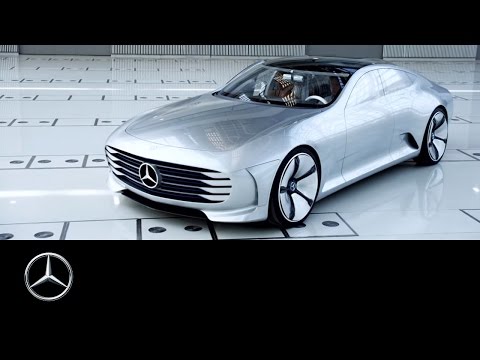 If the Concept IAA is anything close to what future Mercedes-Benz cars will evolve into, then car enthusiasts have plenty to get excited about.
With irresistably dazzling looks both inside and out, and efficient economy performance figures to match, the future of German vehicle engineering has something to be proud of.
Thanks to those lovely Mercedes-Benz engineers, shape-shifting transformer cars imitating Hollywood fantasy movies look to be coming to a driveway near you soon!