"Khamoshiyan deals with a woman who is talking about female sexual desire."
Vishesh Films return with yet another erotic love triangle set in the elegant and mysterious mountains of Kashmir.
The erotic horror film, Khamoshiyan, is directed by debutant director Karan Darra and written by Vikram Bhatt.
Bhatt is famously known for his contribution to the horror genre in Bollywood and offers a new supernatural instalment with Khamoshiyan.
The film is already drawing in some controversy due to the sexual content that is depicted on screen.
As producer, Mahesh Bhatt explains: "Khamoshiyan deals with a woman who is talking about female sexual desire, and you can't talk about equality if you keep females in sexual solitude.
"And by that we are not promoting free sex and of women being emancipated. We are not saying that at all. And that is what the basic plot of Khamoshiyan is."
Mahesh believes that his bold films are hugely relevant to today's India, and he takes much influence from Western cinema:
"Directors' views of sexuality is changing with time. After Murder was made, 10 years down the line extra-marital/pre-marital sex wasn't such a big thing. Multi-partner relationship too isn't something that is raised eyebrows on."
The film follows a heartbroken unsuccessful writer Kabir (played by Ali Fazal), who decides to go on a journey in search of inspiration. He travels to the beautiful mountains of Kashmir where he comes across an isolated and eerie guest house.
It is run by the mysterious beauty Meera (played by Sapna Paabi). Her charming husband Jaidev (Gurmeet Choudhary), owner of the house, is bed ridden leaving the guesthouse responsibility on his wife.
During the course of his stay, Kabir finds himself coming across supernatural incidents and uncovering secrets about the house and Meera that he should not be knowing.
Is there more to Meera that meets the eye? Will Kabir survive to find out the secrets?
Vishesh Films are known to encourage talent from all areas and disciplines. Accordingly, they have offered a cinematic platform to popular TV actors, Sapna Pabbi and Gurmeet Choudhary.
Having done work on television, Sapna Pabbi was previously seen on the successful TV show 24 starring Anil Kapoor. The actress recently quashed comparisons with Mallika Sherawat who also hails from the Bhatt camp:
"Well, I think she's great. Her success is commendable. Mallika Sherawat is in her own space. She has her own place in Bollywood and in society. I would like to say that I'm not a Mallika Sherawat, I'm Sapna Pabbi and I really hope I can always be Sapna Pabbi."
Gurmeet Choudhary, who has also done television for seven years is a recognisable face for the audience.
Explaining the transition from television to film, Gurmeet explains: "There's also been a time when I had become the highest paid TV actor of all time.
"I could have stayed in my comfort zone, making crores with serials. But I always wanted to act in films. Therefore, I treasure this opportunity to act in a Vishesh Films production, irrespective of all other factors."
The film also stars well-known actor Ali Fazal. Fazal has already made his mark on the big screen with films such as 3 Idiots, Fukery and most recently Bobby Jasoos.
The filming of Khamoshiyan was essentially going to take place in Kashmir. However due to floods, the film relocated to South Africa.
Rumours also suggest that not all was well on the sets between writer Vikram Bhatt and Sapna Pabbi as at one point Sapna refused to film any bold scenes which caused a lot of negative energy on the sets.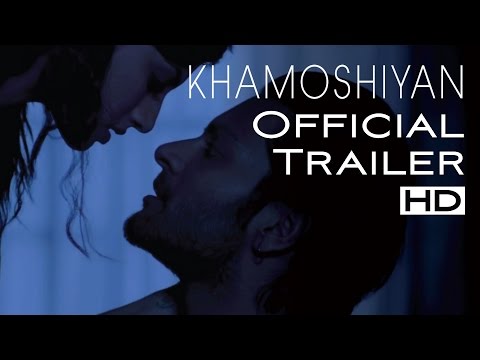 Debutant filmmaker, Karan Darra even claimed Mahesh Bhatt slapped him once: "He slapped me the first time we met. I would also get screamed at a lot but I think he is the best guide on the sets. I have learnt a lot from him," Karan says.
The music of the film is already a huge success, with the CEO of Fox Studio India, Vijay Singh admitting: "The music of Khamoshiyan is a sure short winner."
Vishesh Films have always known to have a super hit soundtrack for each of their films, be it Murder 2 or Aashiqui 2, and Khamoshiyan definitely lives up to that standard.
Vishesh Films decided to launch the music in a very unique way, by doing an underground music launch. Only the cast and certain fans that were chosen from a contest were present.
Composed by singer Ankit Tiwari, Jeet Ganguly, Navad Zafar and Bobby Imraan, the soundtrack consists of 11 tracks including remixes and unplugged versions.
The title track, 'Khamoshiyan' sang by the melodious Arijit Singh has reached every number one spot on every chart, and has been getting 4 out of 5 stars from the critics for music.
Predictions of Khamoshiyan have also been highly positive with Taran Adarsh saying: "Khoob Hala Macheyga."
Mahesh Bhatt mentions he wants Khamoshiyan to be a famous series and is confident that it will be even more popular than Raaz.
The actors believe there are three reasons why audiences will love this film: "The music, the erotica and the supernatural element."
With a fresh cast, engaging music, and supernatural erotica, Khamoshiyan looks like it will definitely get good opening figures. Audiences can find out the 'Secrets of this Silence', as Khamoshiyan releases from January 30, 2015.