This sandbox game has possibly one of the biggest maps in the gaming world.
Set a few years after the events of the previous game, Just Cause 3 has set out to be the most explosive yet.
The new and improved gameplay mechanics are tailored to create masses of destruction.
That, alongside a huge map, with every part of it accessible to the player, proves it is pulling out all the stops to give players a fun and interactive gaming experience.
Rico Rodriguez returns to his hometown of Medici, and is a man on a mission to free his homeland from the totalitarian rule of General DiRavello.
This open world action adventure game focuses on liberating the people under a ruthless dictator.
This sandbox game is also taking it to the next level, with possibly one of the biggest maps in the gaming world.
Linos Blomberg, Founder and CTO of Avalance Studios, highlights this openness of the world perfectly: "One of our mottos is; if you can see it, you can go there."
Medici is like a character itself in the way it allows lots of types of movements through the landscape, with the mountains and different levels of buildings.
Roland Lesterlin, the Game Director, adds they want to create an environment that is vertical so it allows for 'navigation in a way that got Rico quickly into the air'.
Medici is also is a visual reflection of Rico, as he is torn at his heart through witnessing the state his homeland is in.
This is shown through the landscape, with the gnarled trees, shattered rocks and the age of the towns.
It is completely destroyed, but still holds a form of beauty at the same time. Anna Fehr, the concept artist, refers to this as 'brutalism versus the renaissance land of appearance'.
At the heart of this big beautiful and accessible world, Just Cause 3 is all about changing regime, shown through resistance, destruction and reflections of the will of the people.
Art Director, Zach Schlappi, says that they reflect this environment of dissent through the details, such as the graffiti, architecture and colour.
It is also important to note that 'it's not gang graffiti, it's graffiti by people'.
The gameplay has also undertaken mass improvements. Rico still uses his trusty grappling hooks and parachutes, but the hooks have been updated.
They can still be used to hook to buildings, but in the art of destruction, they can now attach buildings, enemies – you name it and smash them into each other.
This falls under the emphasis on creative destruction, and really allows you to manipulate the world.
A way in which this can be done is to destroy propaganda, such as taking down a statue of General DiRavello through tethering your grappling hooks.
The movability throughout this game is also quite stunning. With its unique animations, the act of bouncing off buildings and vehicles to propel yourself would seem to some as a glitchy movement, but it is in fact a unique addition.
From backflips to barrel rolling, Rico's movements are fluid and has a finesse as he boosts over cars and buildings.
One of the most popular additions to Rico's arsenal is his wingsuit – yes a wingsuit. This allows you to fly around, creating a new, fun and faster way of getting around.
This is part of the focus vertical combat. Alongside this, there are customisable weapons and vehicles alongside something many have asked for – an unlimited stock of C4 explosives.
The emphasis on freedom throughout the game is featured through the open ended nature of the missions.
This essentially means that they will not tell you to approach a specific place in a specific vehicle or manner, and instead will give you a choice – opt to drive a car or glide using the wingsuit.
This game will not feature a standard multiplayer experience. Instead, it opts for an asynchronous competitive/co-op modes.
This will feature single player challenges that will add the competitive online atmosphere through comparing your scores against other players.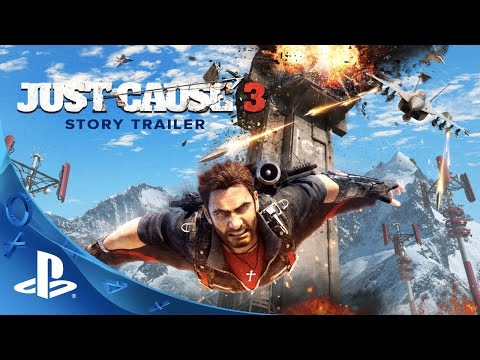 Just Cause 3 is looking to be a fun gaming experience through its focus on creative destruction and freedom of movement.
There is a lot to do, and it will be hard to be bored with such a large map with many places to discover and things to blow up.
From gliding through the skies of Medici, to using the grappling hooks for mass destruction, this sandbox world will feel like a big playground.
The new and advanced mechanics are made to cater for a gaming experience that will give you the free will to choose your methods of manipulating the world.
With over 400 square miles of complete freedom from sky to seabed, and every inch being accessible to the player, it will leave you with little restrictions and a lot to explore.
Just Cause 3 will be released for PS4, Xbox One and PC on December 1, 2015.