"That's one taboo the Asian community hasn't quite gotten over."
Homophobia has been a curse that has plagued us for centuries.
Regardless of faith, culture and race, being homosexual or lesbian has long been scorned by communities all over the world.
Sadly, it has taken generations upon generations for such attitudes to change, even in the West.
It was only 60 years ago that British police were jailing gay men for engaging in 'indecent' behaviour.
In 1958, the Homosexual Law Reform Society began a decades long campaign to make homosexuality legal in the UK.
56 years later, and March 29, 2014 was the landmark day where same-sex marriage finally became legal in England and Wales.
For many gay and lesbian couples this was a breakthrough. Acceptance in the law meant that society's views were also beginning to change, or were they?
On July 30, 2014, just months after same-sex marriage was legalised, Nazim Mahmood died after telling his mother that he was gay and had been in a 13-year relationship with fiancée, Matthew Ogston.
The British Asian doctor who worked at Harley Street came from a traditional Asian family in Birmingham.
Having returned home to celebrate Eid with his family, the 34-year-old was confronted by his mother.
Coming clean about his relationship with Ogston, Mahmood's mother suggested that they visit a psychiatrist to see if her son could be cured.
Days later, Mahmood took his own life, falling four storeys from his balcony flat in West Hampstead.
Unmistakably, acceptance is still far off in British Asian society. But why is this the case? Why are many in our Asian community still struggling to deal with homosexuality?
Many British Asians we asked believe it is down to strict cultural factors, where the option for being anything other than the social norm of 'straight' is deeply frowned upon.
Watch our Desi Chats video on the Acceptance of being Gay and British Asians here: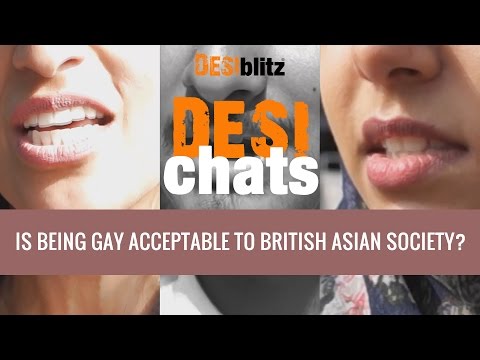 As 38-year-old Zeeshan explains: "That's one taboo the Asian community hasn't quite gotten over."
In the majority of cases, people believe this is down to a generational divide, where parents and elders have upheld eon-long values that they cannot and most vitally, will not break away from.
As 27-year-old Vishal tells us: "It depends on your definition of community. [For] most British born Asians like myself, it's not even a factor. We've all been brought up in a multicultural society where all kinds of people are accepted and welcomed in.
"I'm first-born generation. I know my parents probably wouldn't agree with that. They have got slightly closed-minded views."
Human rights activist, Manjinder Singh Sidhu came out at the age of 25. Luckily, his family and friends accepted his choice, and he has been able to support others since.
In an interview with Sky News, Manjinder explains why UK South Asians find being gay so hard to accept:
"A lot of the immigrants that came from India were from non-educated, village backgrounds. They came to this country, saw the Western world life and shunned away from it, and they protected their children very much.
"I've lived in India, and the middle-class elite and educated gay friends of mine are all out. Most of them, if not all, are accepted."
For many gay or lesbian Asians in UK however, the fear of ostracism has stopped them from coming out so openly to their families or communities.
LGBT Asians find themselves in a painful limbo. On the one hand, they want to be free to love whoever they want to, and on the other, they don't want to be shunned by their community for being 'different' or 'abnormal'.
It is this idea of guilt and shame that leave them to pose as straight men and women to avoid being disowned by the ones they love, leading to marriages of convenience.
Many stay underground and the Gaysian scene across the UK is a vibrant albeit secret community where like-minded Asians are free to express themselves outside of the cultural baggage they face in their everyday lives.
Organisations like Saathi and the Birmingham South Asian LGBTs regularly hold cultural nights for Asians.
Manjinder believes that the problem lies with community members, who refuse to address homosexuality at all.
Lack of education and literature on the subject has left parents closed off. And this is why cases of suicide and marriages of convenience remain high:
"We're almost a generation behind. It's almost like a lost generation, and something needs to be done about it."
What is interesting however, is that non-acceptance of being gay is not just limited to older generations, but seems to have infected younger generations too.
While 40-year-old Syed has come out to his parents, he is worried about telling his siblings. Even though his parents have accepted who he is, Syed fears that his sisters and brothers will not be as supportive.
He believes they will stop him from seeing his nephews and nieces because of the influence that he may have on them, and because being openly gay around them might make them think that homosexuality is normal.
As 33-year-old Indy tells us: "My generation would probably be more far more tolerant and accepting. Tolerant being the key word there. Because even so, people do have stigmas.
"As flexible and modern as you might want to think you are, I know plenty of people that are quite out there, but when it comes to the reality of it, they're not."
In a touching video on his YouTube channel, Manjinder's mother has some wise words for South Asian parents:
"Whatever your child says accept it. Don't pressure them. Support them. If the world laughs, let them laugh. If the world says something, let them.
"Don't listen to the world. Don't force [your child] to get married off. Let [your child] live their life."
In the British Asian sphere, there is still a lot of work to be done. Just as gender stereotypes and the oppression of women are now being overturned, so too could our supposed disdain for LGBTs.
Will being homosexual or lesbian finally be acceptable for British Asians some day?
22-year-old Kiran says: "Maybe in the future it might be. Right now, it's a work in progress."