"I like to support my community and buy products from the UK."
The Gadget Show Live is one of the biggest weeks in the consumer technology world, keenly attended by tech geeks and consumers as well as pioneering innovators and producer.
A spin-off from the Channel 5 TV programme, the significance of the Gadget Show has grown with each annual exhibition and has expanded to accommodate a wider segment of the public.
For 2014, the show included more Kid-friendly areas including a Kids Tech Zone, a Combat Ops, and a Future Tech Zone. Swedish company, Toca Boca displayed a series of fun gaming and educational apps for children to enjoy on their smartphone or tablet.
For more active kids, another company Designure launched its prototypes of construction kits, where children can build furniture, shelters and toys using only seven shapes.
It is clear that the growing interest in gadgets marks our increasing dependency on technology in our daily lives. From smartphones, tablets, digital music players, portable gaming consoles and even reading material for long commutes, most of us never leave the house without at least one gadget in hand.
Competition now for the latest gadget has become a new trend for consumers, and competitors are doing all they can to release bigger and better products year on year to entice a bigger market share.
It is not just global inventors to watch out for, the UK craze for new and innovative tech is just as big. New for 2014, the British Inventors Project showcased some of the UK's newest inventions from the nation's best inventors.
One of the most popular features of the Gadget Show, much of the public and press were keen to show their support for their native talent. One regular visitor to the Gadget Show said: "I like to support my community and buy products from the UK."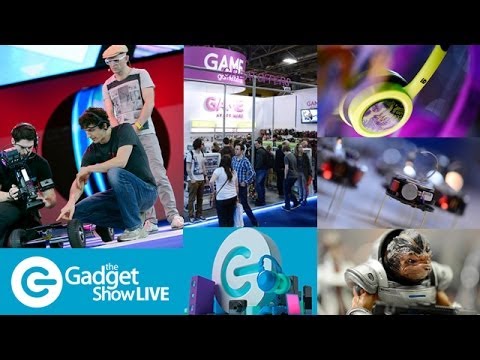 The Gadget Show Live 2014 had something for everybody. As Event Director, Sally Bent said:
"With technology impacting every area of our lives – changing the way we live, work and play – gadgets could not be more prevalent and we will have the widest variety of tech on show."
A Press Call on the opening day saw host Jason Bradbury joined by Ortis Deley and Jon Bentley. One of the technology trends to look out for 2014 are smart watches, and Bradbury clearly sees a future for them.
Other highlights of the show included playable console games (always a popular addition for the tech geek away from home); and a Volkswagen Driving Experience where visitors can test out the latest electric cars from Volkswagen, which retail at £19,000.
An e-Bike Track was also on show. It is the Gadget Show's biggest indoor track to which visitors could test out some of the latest electronic bikes.
Other cool features included the Robo Challenge, the HUB and much more. If you are more of a 'pick of the litter' type, there were some more stand out gadgets amongst the crowd.
One of best smartphones on offer was the Sony Xperia Z2. This smartphone is able to capture 4k ultra HD video and a megapixel count of 20.7 for capturing pictures.
To add to these features, this smartphone is also waterproof which is great for anyone that is prone to dropping their phone in the sink. And to prove its waterproof ability, a diver spent most of the show in an underwater tank taking pictures of the crowd.
Another great company featuring their gadgets was DJI with their camera drones. Their products range from drones everyone can use which come equiped with their own camera or you can attach a Go Pro to.
They also featured a more professional drone which would allow your DSLR to be attached, offering the ability to shoot both video and still picture from an aerial aspect. You can even watch the footage you are recording in real time via their app on iOS or Android, as well as program your flight path from an iPad with the 16-waypoint ground station system.
Finlay was another company to provide some great technology with their 4k Ultra HD televisions. The resolution on these TV's is stunning and eye catching to say the least but so is the steep price tag.
In terms of new gadgets you should look out for, check out Wikipad. Their next generation turns any tablet into a gaming console. This is scheduled to launch at the end of 2014.
If you're really into your future technology you can also check out the NFC ring. Want to open your front door by using your ring? This ring will do it. Unlock your smartphone or tablet? No problem. Turn on Wi-Fi or Bluetooth by using a hand gesture? Sorted. All from a ring that doesn't even need charging.
Fitness trackers are another big feature for the health conscious consumer, as sporting tech leader, Garmin, displayed a new Vivofit fitness band that retails at £100. The band monitors steps and calories so you can keep track of your fitness anywhere you are.
With so many innovative brands and cool tech to display, the Gadget Show Live continues to be one of the UK's biggest consumer tech events. For all the latest trends and what to expect in coming years, gadget geeks don't have to travel too far to see the incredible future of technology.