Speaking to British Asian gave us an idea of what colours to look out for.
Highlighters have a range of colours to add a beautiful touch to your exterior.
Finding highlighters for medium to darker skin tone women is difficult. We all know that not all highlighter colours suit every woman.
We spoke to British South Asian women to find out what highlighter colours they love.
They told DESIblitz which colours they found brought out the glamour in their looks and brightened their face.
These shades are guaranteed to give you a natural glow and beautiful finish any time of the year.
Whether it's for a wedding, gathering or just a typical work setting, these colours are for all occasions.
So, if you are looking for a great highlighter shade look no further. We've collated the 5 popular choices of highlighter colours for South Asian skin tones.
Feel free to use these trendy highlighters to add a warmth to your style to look your most radiant.
Peach Pop
Peach is a popular choice.
There's almost nothing like a subtle pink glow during to make long-lasting memories. So, make use of the 'Becca Champagne Pop'.
A perfect peachy shade to compliment tanned skin for a long-lasting look.
You only have to use a little to give you a unique and warm finish. Something natural for a nice day to day work setting.
It illuminates and adds an ultra-reflective shine which is supplemented with luminous pearls that absorb, reflect and refract light to magnify your natural radiance.
With its creamy-like complexion, this pressed powder can adjust to your skin's natural undertones giving off a luxurious feel.
Therefore, this lovely highlighter will suit a pulled back hairstyle to give your face a nice sculpted look while accentuating the cheekbones.
Another alternative peachy look, the 'Peach Frost' by Too Faced, is another Desi favourite. It melts onto the skin like a cream but dries into a beautiful velvety powder.
Golden Glow
Release your inner gold. If you are the British Asian girl with a burst of personality and you're looking to dazzle, this highlight is definitely for you.
Becca Opal Golden shimmery highlight for a glam and outgoing look. This colour is bound to make your cheekbones pop for a nice sculpted golden-lit finish.
There's no way you won't stand out whatever the occasion.
This bold shine suits all shades of a darker toned woman and all types of wear.
As a result of this, a slick bun, curly updo or if you want to let your hair down then we have found your match.
This highlighter compliments a beautiful dress of any colour and would be lovely on a night out with the girls.
If you're looking for a different gold colour Ofra Highlight Rodeo Drive is also a nice look. It has just as much shimmer and shine.
Champagne
Champagne Heaven
This beautiful champagne colour has a large pan. Like a Diamond by DollBeauty is a soft pigmented product which allows a buildable shimmer. It aims to give a frosty glow that blends in for a fabulous finish.
Mariam Khalefa, a British Asian woman tells DESIblitz:
"It looks sheer and very glossy. When you put it on its very subtle. I prefer subtle highlights. Although, it's also nice because if you add a generous amount it can also be a very strong highlight."
This subtle glow can be used with a regular day look from going out to the shops or with extra layers it can be used for bigger occasions.
Similarly, it will look nice with casual business attire such as a blouse and trousers.
If you are feeling spontaneous, it can be worn for a lovely dinner date with your partner with an off-the-shoulder bodysuit and a gorgeous skirt.
The highlighter would work well with a half updo just so the hair doesn't cover the beauty of the highlight.
The soft powder works beautifully with long dangly earrings, you can apply it to brow bone or include it as a shimmer to the eyelid.
Champagne Silver
If you're looking for something similar more Champagne colours, another popular choice is silver.
Silver is very much a girl's best friend. In contrast, this highlighter is the talk of the town amongst YouTubers and British Asian girls love it.
The Artist Couture 'Illuminati' highlighter is beautiful.
Above all, it works to make you look as beautiful on the outside as you feel on the inside.
This radiant highlight entails a pearly champagne base with silver shimmer, natural milled loose powder for a reflective pearl. It is bound to leave you feeling empowered, confident and inspired.
The highlighter is certainly versatile and can be used on the cheekbones, lips, body and hair and melts evenly into the skin after a hydrating setting spray.
It is highlight pigmented which means it won't fade easily and will be seen clearly on women of deeper skin tones and the shade is perfect to avoid ashiness.
Bronze Babe
Bobbi Brown 'Bronze Glow' is sure to give colour to your makeup look in a sophisticated way. This product is a subtle reflective powder with a shimmery bronze highlight, a perfect pick for Desi girls.
A beautiful bronzer tailored for medium to dark skin tones for a finishing look.
Above all, Bobbi Brown's bronzer has a multipurpose use so you can bronze wherever you want to add a pop of colour.
Its shine gives off a radiant but flattering glow through the evenly silky and smooth powder.
Rose Gold Memories
This highlighter uncovers a soft pink glow giving off a natural touch with golden glimmers. The creamy highlighter is light and not too heavy on the skin.
Macs Mineralize Skinfinish has an intense velvety soft radiant glow to capture your most skin kissed look:
Aseefa Khan says: "I have Mac products and they are great applicators.
"I would definitely try this highlighter because champagne colours suit Asian women very much."
This face powder can give off a polished look with or without foundation to add colour to your skin to achieve a rare glow.
Likewise, to maximise this look, just apply to high planes such as cheekbones for an intense metallic look on special occasions. Or try a subtle peach bronze that warms your face for a seamless effect.
Final Tips/Touches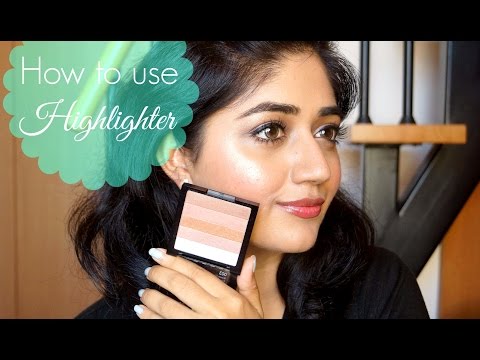 You can't apply highlighters without the right brush.
Make sure to apply highlighters to high cheekbones, brow bones, collar bones, cupids bow of the lip and bridge of the nose to get the desired effects.
A few Asian women concluded that they prefer subtle colours when it comes to highlighting. All these colours can achieve this look if you want it to pop, by layering your brush with the product.
You can use a fan brush for a subtler look but if you want your highlight to stand out using the Morphe R36 will do the trick.
It is a much denser brush to really pack on some product. Morphe has a range of dense brushes to choose from. It gives more control and is a better tool for blending.
The more you blend the more seamless the highlight appears and it's a great way to avoid streaks.
Always include a setting spray to the areas you've applied to help it to give a soft and even touch.
Lastly, when picking a highlighter for deeper tones, always make sure you look into the shade and pigmentation.
Finally, this range of luxurious highlighter colours are great for South Asian women. Be sure to give them a try!