"I'm not saying it was easy. I'm not saying it was a breeze."
Punjabi vocalist Foji Gill returns to the music scene with the release of the new track Sher Di Poosh.
The music celebrity from Birmingham boils down a few years in prison to just over three minutes for his brand new single.
Manjit Singh Gill familiar as 'Foji Gill' was imprisoned to five years for his involvement in a money laundering racket in 2015.
His father Harpal Singh Gill, the orchestra of the fraud operation had to serve 11 years in jail. Several other gang members also went down.
Having done time, Gill is on a comeback trail, beginning with the song Sher Di Poosh.
Foji had an exclusive chat with us about his imprisonment, how life has changed, the new track and what lies ahead.
When asked about the experience he had to go through and his side of the story, Foji exclusive told DESIblitz:
"I got caught up in something that had nothing to do with me.
"It was my father's business. He was doing what he was doing… me being his son must have known everything.
"If anyone knows how the legal system works, it's a conspiracy and you have to prove, which is virtually impossible."
He continues:
"I'll be straight with you. We thought there's nothing there. There's nothing solid in writing that says anything. Even my legal team thought yeah, you'll be fine.
"And next thing, you know, I got found guilty of being involved in it. So when you're stuck in such a place, you can't do anything. There's people you want to phone, there's people you want to get to.
"There's things that you know, you can do to set the record straight and bring things forward. But physically you can't do anything because you're stuck in a rut let's just say."
Hoping to clear his name, becoming more tougher and appreciating family, he states:
"So now I'm out. We're putting something forward and I'm trying to clear my name. That's very important to me and it's a learning curve. That's… the main thing.
"There's a lot of people who take it negatively….of everything that happened. It's made me a stronger person. It's made me value everything I do."
Finding inspiration from a difficult past that may have finished his career, this track is an effort to relight it.
Responding to his critics, the song signifies where Gill found himself in 2015.
In reply to a question about how music saved him, Foji said:
"Just being in that place at that time, you have…. a lot of time to think and I saw it myself."
"There's people in there who are just thinking…. getting into depression because of where they are or what their family is going through. And you have to somehow beat that.
"I'm not saying it was easy. I'm not saying it was a breeze. But mentally it does have its toll on you. And you could easily slip into depression or being down all the time.
"So for me… after a certain point it was that while we're here now, I can't do anything about it."
He added:
"I can't dig a tunnel though I b***y wanted to at one point! And I literally just picked up my pen and paper and I started writing."
He wrote the song in one night but did revisit it a few times. He apparently wrote over fifteen songs.
Prior to his time behind bars, Gill was one of the few talented Punjabi singers from the Midlands.
Foji was the architect behind previously successful tracks such as 'Dafa Ho Ja' (2010), 'Bruah' (201) and  'Pumbeeri' (2011).
But despite working with the likes of Miss Pooja in 'Dafa Ho Ja,' his music life came to a halt.
Fame, fortune and freedom deserted him, with prison being his next destination, courtesy of a 10-2 unanimous jury verdict at Birmingham Crown Court on November 23, 2015.
In the Punjabi music scene where artists can go from top to zero, spending time in jail must have felt like eternal for Gill.
At the time when he went to jail, Foji was gradually peaking, yet still had to revolutionise the music industry.
Gill who came out from prison sometime in 2017 was also barred from taking on a director role for seven years as per the court ruling.
Having done time, Foji is adamant to regain his place in the world of Punjabi music.
Hence Gill is back in the limelight with Sher Di Poosh, releasing under his label, Revere Records.
Sher Di Poosh literally means the 'Lions Tail.'
In response to a question about how his new track compares with his previous hits, Foji mentions:
"Bruah had a little message. Pumbeeri when you listen to each and every line there's a picture you get because it matches up with everything same with Dafa Hoja.
"Whereas Sher Di Pooch there's… a deeper meaning to it. And it's about the experience that I've been through basically and I'm not feeling sorry for myself.
"I just want to put this out there because I'm sure there's these people out there [saying] 'oh he's feeling sorry for himself 'tahi edha diya gallan karda' (that is why he is talking like this)."
Even though going to jail hit his confidence a little, he felt 'great' when recording the track.
Earlier on January 15, 2019, Gill went on Twitter to promote the song, along with a release date:
Sher Di Poosh: 25.01.19#newmusic #revererecords #sherdipoosh pic.twitter.com/pXZxfZsaL3

— Foji Gill (@fojigill) January 15, 2019
However, Revere Records did share the lyrical bhangra and trap version videos a day before on their official YouTube channel.
Watch the bhangra lyrical video of Sher Di Poosh here:
David Juss has done the music for the bhangra version. On the hand, the music for the trap version is by Foji Gill and K Singh.
Watch the trap lyrical video of Sher Di Poosh here:
Whilst the audio track is available on several platforms, the video to Sher Di Poosh is releasing on Valentine's Day – February 2019.
Commenting about the video, Foji reveals:
"The video is going to be different. It's very different.
"I'll just say it's a mini film about 15 minutes long and sort of ends on a cliffhanger."
"There will be a part 2, part 3 in the future coming out with different songs"
Gill feels those who did support him previously will also back him for this track. Following the announcement of the track, he has received a mix of positive and negative remarks.
Reflecting on the dark days, Foji said while it was natural to miss his family the most, he became a 'microwave chef' in prison.
He distinguishes between making an official public apology and saying sorry to his family.
Gills believes he has nothing to prove about the past and is much stronger than ever. He felt the need to apologise to his family because of what they went through.
It is also quite evident that irrespective of his version of events, he did make an error of judgment, which found him on the wrong side of the law.
Watch Foji Gill Exclusive: From Jail back to Music here: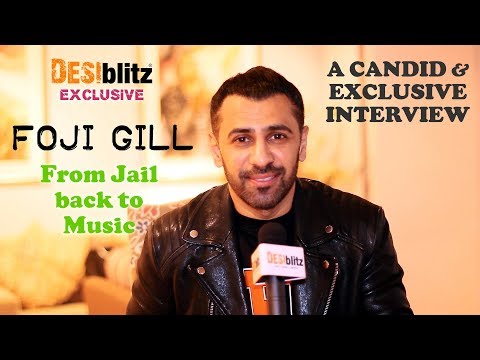 However coming back to the track, Gill is open to constructive criticism, particularly in relation to his singing.
Foji Gill who has a few big collaborations for the future is hoping that Sher Di Poosh will become popular like his previous hits.
Sher Di Poosh is available for download from iTunes and Google Play.