"Artists have to invent and reinvent themselves"
Since the twentieth century, sculptures made by Pakistani sculptors deserve all the recognition.
The eye-catching sculptures using materials such as wood, metals and cement, reflect the sheer talent of these Pakistani sculptors.
A prime example is Shahid Sajjad who predominately uses wood to produces very artistic sculpture, representing humans.
Meanwhile, Anjum Ayaz, applies creativity, using metal to making fascinating sculptures.
Furthermore, successful sculptors like Amin Gulgee are exhibiting their sculptures globally.
Whilst some Pakistani artists are no longer with us, contemporary sculptors continue to present exciting new pieces that can gain further recognition.
Syed Afsar Madad Naqvi
Born on August 10, 1933, Amroha, British India, Syed Afsar Madad Naqvi (late), is a known Pakistani sculptor.
He was also exceptional on the painting side of art. In his early life, he graduated with a diploma and post-diploma from the Government College of Arts and Crafts, Lucknow, India.
Gracing art in the twentieth century, he is notorious for his realistic, monumental sculptures.
His sculptures are visible in different places around Karachi, Pakistan, including at the Roshan Khan/Jahangir Khan Squash Complex, Fleet Club, Arts Council of Pakistan and Quaid-e-Azam International Airport.
Delving deep into his work, he was popular for specialising in using various materials when producing works of art. These include wood, plaster, metal, terra-cotta, and cement.
In terms of his designs, he would approach his work, making Indian classical and cultural sculptures. Ancient figures were a frequent theme in Naqvi's work.
A classic example was of an Indian woman dancing, made of clay. Made in 1981, there is no confirmation about the name of the sculpture.
Teaching many artists, Naqvi has made a significant impact on his students. In 1984, during an interview with The News, a student applauded him for his sculptor ability:
"These figures are carved with extraordinary skill and feeling, with a remarkable mastery over the flexibility of human figures male and female."
On January 11, 1997, Naqvi sadly passed away in Karachi, Pakistan.
Rasheed Araeen
Born on June 15, 1935, Rasheed Araeen is a famous Pakistani sculptor who was raised in humble circumstances in Karachi, Pakistan.
Besides being a sculptor, he is also a London-based minimalist artist and painter. During the 70s and 80s, his work around painting and sculpture making began to advance.
Arriving in London in 1964, he began his art without formal training, producing high-end sculptures, reflecting minimalism.
Zero to Infinity (1968-2004) is among his most famous pieces. It is a large interactive sculpture consisting of a maximum of one hundred wooden lattice cubes.
Whilst being coated with blue paint, they are aligned in a square and placed on the ground. The lattice cubes are made from pieces of wood that are joint at their tips.
The diagonal parts are also split into each of the cubes' six faces, at a forty-five-degree angle. This is so the corners can reach each other.
It is also believed that this sculpture was inspired by 19th-century bridges, which Rasheed is familiar with.
The arrangement of the lattice cubes highlights the precision and detail Rasheed has put into this piece. As a result, it makes him a skilful Pakistani sculptor.
It is a popular sculpture in the UK, at the Tate Modern exhibition in London (exhibiting in 2012-2013).
Speaking to Apollo Magazine, Rasheed Araeen comments about his style when making any sculpture:
"My use of geometry involves symmetry."
"There is an element of optimism in my work. For a vision for the BETTER world."
Other exceptional sculptures of his include Chakras (1969-1970), Disco Sailing (1970-1974) and Opus (2016).
Shahid Sajjad
Pakistani sculptor Shahid Sajjad was born in Muzaffarnagar, British India during 1936. In 1965, after moving to Pakistan, working his way up, he became a self-taught sculptor.
Furthermore, it was at this time that he began learning the lost-wax casting method in sculpting. This procedure involves making a duplicate metal structure from an original sculpture.
Later in his career, working primarily with bronze and wood, he was quickly cementing his reputation as a majestic sculptor. His work continuously shows characters shaped like humans.
His inspiring Horizontal Interference (2010) was one of his last but notable sculptures.
The 10 foot, wooden, standing sculpture carries an underlying message. It highlights two primaeval figures holding another one horizontally.
There are discussions as to whether this sculpture represents a mother and father carrying a child. It is debatable as to whether the sculpture represents a positive or negative theme.
Referring to his human-like sculptures, Shahid works outside any stylistic constraints, enabling the material to be his inspiration.
As far as achievements, he won a solo exhibition of bronze and wood sculptures at the Karachi Arts Council in 1974.
He also took first prize at the National Sculptures exhibition in Islamabad during 1977. Additionally, in February 2012, he was honoured with the Engro Award for Excellence.
Furthermore, he held a retrospective exhibition at the National College of Arts, Lahore. Subsequently, he held his last exhibition at the Indus Valley School of Arts and architecture in 2010.
Another popular sculpture from Shahid is One is Not Without the Other. This sculpture was exhibited at the Art Chowk Gallery in 2015, in Karachi, Pakistan.
Shahid sadly left this world in Karachi, Pakistan on July 28, 2014.
Zahoor ul Akhlaq
Zahoor ul Akhlaq is a Pakistani sculptor who was born on February 4, 1941, in Delhi, India.
He is popular for his unique style of paintings, sculpture and designs. He taught at the National College of Arts in Lahore from 1962 to 1994.
His keen interest in 3D abstractions was noticeable by many. As a sculptor, he was a rare breed that was teaching techniques of making life-size simple/multiple casting and armature with moulds.
The talent of Zahoor was visible in his sculptures, utilising a range of materials such as steel, wood, stone and marble.
In 1975, he made an untitled sculpture from stainless steel. The sculpture has six pyramids, all with sharp edges. This was a very reflective sculpture, perhaps ahead of its time. It also appears as a futuristic cityscape.
Zahoor was tragically killed in Lahore on January 18, 1999. Post-death, in 2019 an exhibition took place at the Lahore National College of Arts titled, 'Persistence of Vision: Zahoor ul Akhlaq.'
His daughter, Nurjahan Akhlaq, put the exhibition in place to remind people of her father's bravery and artistic talents. She shared her father's legacy with the magazine, Clove.
"I think for someone as cerebral as Akhlaq, the unfinished aspect and the experimentation is almost just as important as showing finished works"
"His works are a reflection of who he was as a person, his ideas, beliefs and interests."
Employing various materials and mediums for his sculptures, Zahoor had an interest in the two-dimensional perspective, encouraging viewers to conceptualise space.
His sculptures also question the audience to arrange the connection between shapes and the space around them.
Anjum Ayaz
Born in Amroha, India, during 1949, Anjum Ayaz is a talented sculptor and painter. He studied at the Karachi School of Art, graduating in Fine Arts in 1970.
His work primarily consists of stone and metals when constructing larger pieces.
He is also a firm believer in displaying his sculptures in public spaces like beaches and gardens. In an interaction Dawn, he mentions the reason for presenting his work in public:
"My idea putting those sculptures at Seaview was basically to share my work with the common citizen who has no access to art galleries here."
His sculptures have been exhibiting in various cities around the world. His art has also been present at global sporting events.
For example, his art piece entitled Indus Bull was shown at the 2004 Summer Olympics, in Athens, Greece. His 18-foot piece Life was visible at the Sculpture Garden during the 2008 Summer Olympics in Beijing, China.
He has also been exhibiting in Montreal, Paris, Marseille, Dubai, New York, Holland, Germany, Singapore, Sydney and regularly in Pakistan.
In November 2014, his Indus Bull series was on display, comprising of twenty-five different sculptures at the Momart Gallery in Pakistan.
With this series, he presents the zebu bull in an abstract, but impressive form. Speaking to The Express Tribune, he dissects the importance of the bull in art and Pakistan:
"Around the world, people are drawing, painting and sculpting horses. What we don't realise is how closely humans in Pakistan and around the world are related to the bull."
"It's used for a number of things — we use it as transport, fertiliser for agriculture, drink its milk, and also use its dung to make fire in rural areas."
Investing in using steel and stones, he believes these materials are permanent and are weatherproof.
Huma Bhabha
Huma Bhabha is a gifted Pakistani sculptor based in Poughkeepsie, New York. Born on January 1, 1962, Karachi, Pakistan, her love for art has taken her to reach new career heights.
She has been exhibiting her sculptures internationally in Europe, Mexico and Pakistan.
Interestingly, she is famous for her rare and grotesque, symbolic forms often appearing dissected or dismembered.
She specialises in making her art/sculptures around people or the human body.
Furthermore, Huma usually uses a wide range of materials in her sculptures. These include paper, rubber styrofoam, wire and clay.
When constructing her sculptures, they usually consist of bronze to add effect or detail. Equally, she is productive on paper, designing vivid pastel drawings and eerie visual collages.
Focusing on one specific sculpture by Huma Bhabha, the International Monument (2003) grasps our interests.
Ponders over the meaning of art and her sculpture, Huma says:
"The idea of monument and death is the ultimate raw material of art."
Visually, the five rigid fingers presumably coming out from the ground conveys a dark yet interesting message.
The crudely crafted hand, from the materials used, creates an unsettling but realistic feel to the sculpture.
Its lumpy clay mixed with the crumbly Styrofoam symbolises a fragile nature of the body, which stands out for the audience.
International Monument has been put on display at the Saatchi Gallery in London, UK. It is also believed to have exhibited at the ATM gallery in Austin, US.
Another famous sculpture by Huma is Man of No Importance (2006). The disfiguration of the 'face' makes it a fascinating piece.
Amin Gulgee
Amin Gulgee is an exceptional contemporary Pakistani sculptor from Karachi. Born in 1965, his father Ismail Gulgee (1926-2007) was a big influence on his life as he invested in art, particularly in sculptures.
Being an art practitioner, he heavily explores in making sculptures. Also, his work involves examining spiritual elements and narrative traditions and their contrasts.
Specialising in using copper and bronze, his craft is somewhat unusual yet unique to his perspective.
Confiding with The Express Tribune, he spoke about the approach to his work:
"My art is how I understand myself and express myself – I don't go searching for it, it just comes to me. These sculptures speak of love, dance and joy."
A particular piece that supports the idea of a unique sculpture and its meaning behind it, is Me In The Matrix (2013). Explaining about this particular sculpture, he adds:
"This is composed of 89 of my faces, cast in bronze, chopped and re-assembled. It is how I feel now."
In 2013, it got to showcase as part of the exhibition, Open Studio V: Through the Looking Glass at the Amin Gulgee Gallery, Karachi.
Whilst impressing the local art communities, it caught the eyes of an art critic, Marjorie Husain. Praising the exhibition and Gulgee, she told The Express Tribune:
"It is such a strong exhibition and really shows Gulgee coming into maturity."
His other sculptures and installations have been exhibiting worldwide across many cities. These include Venice, Lisbon, Dresden, London, New York, Karachi, New Delhi, Singapore and Beijing.
Another interesting sculpture exhibiting at the Open Studio V: Through the Looking Glass, was the Cosmic Chapati (2011).
Adeela Suleman
Born on December 9, 1970, in Karachi, Pakistan, Adeela Suleman is a fascinating Pakistani sculptor and artist.
She is the director for the Vasl Artists' Collective in Karachi, Pakistan (2001).
In addition, she was the head of Department of Fine Art from 2008-2019 at Indus Valley School of Art and Architecture. She is an Associate professor in the department.
Her artistry experiments with a series of elements that revolve around the fragile and momentary nature of life.
Furthermore, engulfing her art in a North Indian tradition, she is aware of political realities surrounding her home city of Karachi.
One of her most iconic sculpture is called The Warrior (2014). It is believed to show the use of peacock feathers and a "warrior" with a coating of armour and a shield.
She uses zoological motifs to represent iconography, relating to events from her youth and local mythologies.
The feathers of the peacock connect to the spears, aiming towards the warriors head symbolises a sense of brutality.
She discusses with Art Gallery NSW how it is a painful reminder of death:
"Death is all around us. The most certain thing in life has become uncertain."
"Life and death are running parallel to each other."
Evidently, the themes of nature are recurring motifs in her work. She engages with repetitive patterns, precise details along with symbolic meanings.
Her work has been exhibited at PICA (Perth), 4A Center for Contemporary Art (Sydney) and Gallery NSW (Sydney).
Her sculpture, The Fruit Never Falls I (2012) is also an elegant piece of art.
Huma Mulji
Born in Karachi on January 1, 1970, Huma Mulji is a Pakistani sculptor working in painting and digital imaging.
She has been an Assistant Professor in the School of Visual Arts at Beaconhouse National University, Lahore, since 2002.
Exploring the themes of work by Huma, her sculptures discuss identity through metaphors of travel and the freedom it offers for self-exploration.
Besides, her works contain political and cultural undertones that both ring out as ironic as well as humorous.
According to Plymouth Art, Huma Mulji analyses the approach artists should have to work on their sculptures:
"Artists have to invent and reinvent themselves, and their working methods all the time, to self-motivate to keep going."
As an artist, she is popular for using the method of taxidermy. This process includes the art of stuffing and mounting the skins of animals with realistic effect.
Whilst this remains controversial, she does not shy away from bringing the element of animals into her sculptures.
One of her most significant pieces of work includes Arabian Delight (2008), a taxidermied camel forced into a battered suitcase, addresses ideas of the relocation of cultures.
In addition, it toys with the theme of travel and mental and physical movement. Also, it contains the taxidermy of the camel, forced into a suitcase, looking uncomfortable, but nonetheless happy.
In an interview with Asia Art, Huma Mulji, addresses the confusion at the controversy around her sculpture:
"The controversy was quite unexpected. It revealed the gaps in the glitz of Art Dubai, of its self-censorship despite the outward bravado."
This sculpture was exhibited at the Desperately Seeking Paradise, for Art Dubai 2008 and Saatchi Gallery in 2009, London, UK.
Furthermore, the sculpture Her Suburban Dream (2009) is another piece of controversial art. It shows a cow in a contentious posture.
Jamil Baloch
Born on June 12, 1972, Jamil Baloch is a unique talent from Nushki, Balochistan, Pakistan.
He originates from an art background, having graduated from National College of Arts Lahore in 1997.
Jamil Baloch work revolves around different behaviours of a particular society. In addition, he incorporates a traditional approach with modernity to his art.
Interestingly, his earlier works were exemplifying violence and corruption of power and elements of survival by mankind.
During his career, he was awarded the Rangoonwala Award at the National Exhibition of Visual Arts in 2003.
During 2008, his work was also recognised, winning an Honorable Prize at the International Art Biennale in Bangladesh.
A popular sculpture by Jami is titled Self (2009). Whilst this piece may raise questions, he explains the designs, colours and patterns. Speaking to White Turban, he states:
"I am interested in Balochistan, a region in Pakistan where I belong, and a place experiencing constant political turmoil."
"In Self, I am continuing to explore issues which concerns humankind in relation to the aesthetics that is found in the world around us."
"The work portrays my symbols of stagnancy and sterility as inner and outer feelings of a person, society or natural surroundings."
Based on his views and the visual aspects, Baloch adopts patterns and colours from old rugs. Also, the embroidery in his art indicates some sort of memory from his childhood town.
Jamil Baloch exhibited this particular sculpture at the Khaas Gallery in Islamabad, Pakistan, back in 2010.
Watch Amin Gulgee discuss his sculptures here: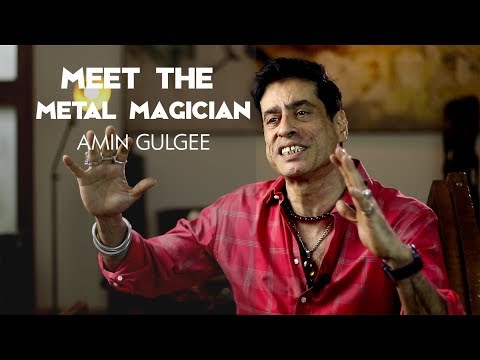 With the popularity of Pakistani sculptors, we can expect this particular art to further grow in Pakistan. Furthermore, with the work that the Pakistani sculptors have been producing, it can inspire the younger generation.
For instance, students at college or university can consider becoming a sculpture artist.
Perhaps we can also see the rise of this art form, symbolising the social issues of Pakistan