Makki di Roti is a typical north Indian cuisine
Roti is a well known Indian flatbread.
Also known as Chapati, it is part of the staple South Asian diet accompanying a variety of meat and vegetarian dishes such as sabzi, daal and meat curries.
In fact, Roti is the second most popular accompaniment after rice for Desi meals.
Roti is made from stone-ground whole wheat flour which is also known as Atta. This is done by mixing the flour with water to make a dough.
The consumption of roti tends to be more popular in South Asian countries like India and Pakistan.
Rotis are mostly cooked on a kitchen utensil known as a 'tawa' – which is a flat metal skillet especially made for cooking rotis. It tends to which charcoal after some use turning into a black surface. It is available from most South Asian grocery stores.
We take a look at the different types of rotis you can make and try.
Akki Roti
The origin of akki roti can be traced down south to the state of Karnataka in India. In Karnataka, akki means rice and roti means flatbread.
Akki roti is a popular dish eaten for breakfast in Southern India. It is made from rice flour after being mixed with vegetables.
How to make Akki Roti:
Chop dill leaves, carrots, coriander leaves and onions into small pieces
Mix them with rice flour in a bowl
Rub it all together and make it into a soft dough.
Take a small round ball of dough and roll it out with a rolling pin into a round flat circular shape
Fry the roti in a little shallow oil or butter until it becomes golden and crispy
Serve with chutney and/or yoghurt.
Alternatively, try Tarla Dalal's recipe here.
Chapati Roti
The origin of the word 'chapati' comes from the Hindi or Urdu word meaning 'slap'. This is because the roti itself is made by the process of slapping the wheat dough between the hands.
They are also known as 'phulka' as while being cooked, the air trapped inside the flatbread warms up and gives an appearance of an inflated balloon.
Chapati is a whole wheat flatbread and is very popular in Punjab, Gujarat and other similar states.
The flour for chapatis is available in different varieties and can be bought at grocery stores and supermarkets in 500gm, 1Kg, 5KG and 10kg bags.
How to make Chapati Roti:
Pour some atta (chapati flour) into a deep bowl.
The atta needs to be mixed with warm water. Some people add a little salt and oil to this mixture depending on taste and regional variances, especially in India.
Knead the mixture into a dough and set it aside for 30 minutes – 1 hour before cooking.
Spread a little atta on a surface
Take a ball of dough from the mixture.
Flatten it into a basic circle shape and dab it into a little atta on both sides to stop it sticking to your rolling pin.
Roll the flat dough circle outwards, flattening it into a circular chapati shape.
Then place the chapati on a hot tawa or non-stick frying pan on medium-high flame.
Cook it, turning it over occasionally until the roti is cooked.
You may garnish it some butter on it for taste – but this does add calories!
Repeat from 5 to make your next one!
You can make chapati for dinner every day, and have them with any side dishes like 'sabji' (vegetables) or meat.
Jolada Roti
Jolada roti is another popular chapati from the Indian states of Maharashtra and Karnataka. It is made from sorghum flour.
In Maharashtra, it is known as Jwarichi Bhakri. The roti is definitely a bit coarser when compared to traditional chapati or any regular wheat-based flatbreads in India.
Jolada roti is made from sorghum flour, salt and hot water. The process is similar to that of chapati where dough needs to be made first.
The great thing about Sorghum flour is that it is naturally gluten-free and therefore can be easily incorporated into a gluten-free diet.
High in fibre, this type of flour originates from the likes of Africa and Australia over 5,000 years ago.
How to make Jolada Roti:
Mix together 2 cups of sorghum flour with 1/4 teaspoon of salt.
Slowly pour in hot water while stirring the flour at the same time.
The dough should be smooth and not sticky.
Roll out balls of dough thinly and then cook on a hot skillet, tawa or non-stick frying pan
You can garnish either side with some butter or ghee.
Make this roti and enjoy it with sides and salads.
Makki di Roti
Unlike its southern cousins, Makki di Roti is a typical north Indian cuisine. Popular in states in Punjab and Haryana, the word 'makki' means corn. So, basically, this roti is made from the yellowish corn flour or maize flour.
The recipe is similar to akki roti of the south, where the flour needs to be mixed with coriander leaves, carom seeds and grated radish to create a dough. Then it should be flattened and cooked on a tawa.
It is a must-have with the leafy-green Punjabi spinach dish known as 'sarson ka saag'. Have a go at making this flatbread and serve it with sarson ka saag or paneer.
How to make Makki Di Roti:
Mix 2 cups of maize flour with Ajwain (carom seeds) and salt together in a bowl.
Add half of the water and knead.
Once combined to form a dough, roll out small balls of dough.
Cook on a tawa or non-stick frying pan, turning it occasionally until cooked.
Garnish either side with ghee or butter.
Rumali Roti
The varied traditions of India are truly reflected by the kinds of rotis that are available all across the land.
Rumali rotis or 'handkerchief' rotis were introduced by the Mughal emperors who needed something soft and thin to wipe their hands. Weren't they just majestic?
Today, rumali rotis are still popular in different parts of India, including Bengal.
Rumali rotis are made by mixing three portions of whole wheat flour and one portion of refined flour, with warm water.
It is easy and it is tasty and you can bring a smile on your guests' faces by preparing this soft flatbread.
How to make Rumali Roti:
Mix together 2 cups of plain flour or maida with salt and a teaspoon of oil.
Add warm milk and knead for about 15 minutes.
Cover the dough with a little bit of oil and cover with a moist cloth.
Roll small balls of dough out thinly. You can even stretch it a little to make them even thinner.
Heat a tawa or non-stick frying pan for a few minutes and then turn upside down so that the roti will cook on the outer side.
Sprinkle water and then spread out roti.
Cook on both sides and then fold into triangles before serving.
Alternatively, try this Rumali Roti recipe from Archana's Kitchen.
Ragi Roti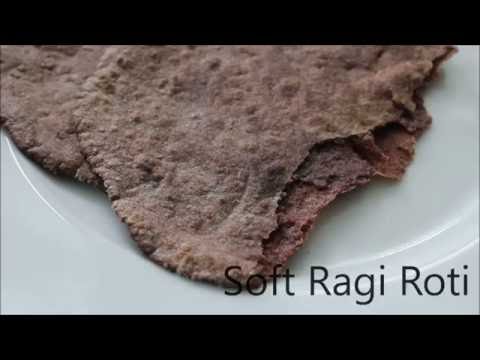 India is not only a land of varied cultures but also a land of different grains and flours.
Ragi roti is again popular in the southern Indian states and is made from maroon coloured finger millet flour.
This scrumptious stomach filling breakfast flatbread is prepared by mixing ragi flour with chillies and onions.
How to make Ragi Roti:
Mix 1 cup of ragi flour, cumin, chopped green chillies, minced onions, chopped curry leaves, and salt with water to form a dough.
Divide the dough into balls and lightly grease a cool tawa with cooking oil.
Turn on the heat and light fry this roti on either side.
It is ideal to serve as breakfast.
Missi Roti
From the south of India, we again travel to north to unveil the special Indian bread known as missi roti.
This flatbread is a part of traditional north Indian cuisine and is viewed as healthy to eat for lunch and dinner.
How to make Missi Roti:
Create the dough mixture by mixing flour and gram flour.
Add spices, asafoetida, chopped onions, and also fenugreek leaves if you wish.
Mix with water to form a dough.
Allow resting before rolling out dough balls.
Place on a hot tawa or non-stick frying pan.
spread some ghee or butter on it.
Cook on both sides.
Give it a try to this easy recipe and serve it with a small lump of butter on the top.
Tandoori Roti
Popular in Pakistan, this is yet another Mughal influence which decorates the Indian palates, even today.
Tandoori rotis are represented by their dark burnt spots with no oil or ghee being applied whilst being cooked.
As the name suggests, they are made on tandoors or clay ovens. But you can also make it on normal stove tops.
How to make Tandoori Roti:
You need to create the dough by mixing whole wheat flour with oil or ghee and some table salt.
Take a ball of dough and roll it out, into a pear-like shape.
Take the tandoor roti and slap it on each of your hands to make it slightly thinner and longer.
Then slap it onto a tawa to roast inside a tandoor if you have one. If not you can use a tawa or stove too.
Tandoori roti is enjoyed hot while it is soft with any Desi dish. If left too long it has a tendency to go hard and become tougher to chew.
Bajra ki Roti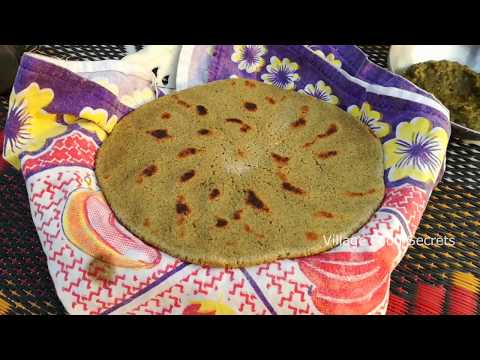 Bajra ki roti is made from pearl millet flour. It is very popular in the states in Gujarat and Maharashtra of India. This type of flour is rich in fibre and protein. It is also naturally gluten free making it popular in parts of India.
This flatbread is a part of regular West Indian dishes. It goes well with any Gujarati vegetables and legumes curry.
How to make Bajra ki Roti:
Make the dough by mixing 2 cups of pearl millet flour with salt, warm water and vegetable oil.
Leave the dough to cool for about 1 hour.
Flatten the dough balls using a rolling pin into circular shapes
Lightly cook each roti on a tawa or non-stick frying pan.
It is really easy to make and can be made on a regular basis.
Naan
The roti collection cannot be completed without naan. This ground flour based flatbread is a North Indian and Pakistani delicacy.
It is made mostly during the festive months and winter in South Asia but available at restaurants all year through.
It is a huge favourite in UK restaurants. Including the 'family naan', which is a very large naan made to share amongst diners.
This perfect staple goes well with spicy curries and can easily be made by following simple steps.
The recipe is very similar to that of tandoori roti except for the fact that you need to mix yeast into the dough. Give it a go and soft roast it with butter or ghee.
How to make Naan:
Ingredients:
3 cups Maida or all-purpose flour
2 tsp Active Dry Yeast
1 tsp sugar
2 tsp salt
1 cup Plain Yoghurt
1/2 cup Warm Water
1 tbsp Oil
Method:
First, make the yeast by mixing sugar, warm water and yeast together in a small bowl. It should take about 5-10 minutes to become activated and foamy.
In a separate bowl combine flour and salt. Make a well and add yeast mixture, yoghurt and oil and knead together until smooth and shiny.
Cover the dough with a damp cloth and let it rise in a warm place for about an hour.
After the dough has doubled in size, flatten and divide into roughly eight parts.
Roll out as normal and then place on a griddle until golden brown and it begins to puff up in places.
Flip and cook the other side.
Finally, brush the naan with melted butter and serve while still warm.
So, now you have ten different kinds of flatbread which you can try making this season.
The recipes are quite similar to each other and all you need to do is gather the correct ingredients.
Rush to your nearest supermarket and surprise your family by making different rotis for supper.