"We had to refund people who did not fly at all"
The coronavirus pandemic has had a huge impact on air travel to Pakistan and the travel agents, which cover this niche country.
Throughout 2020, travelling to Pakistan has been somewhat topsy turvy, with restrictive measures in place.
Prime Minister Boris Johnson made an announcement of the second national lockdown on October 31, 2020. Thus, passengers were only travelling from the UK to Pakistan if necessary.
This is something that the industry, particularly travel agents have had to deal with over the course of 2020.
As a result, this has hurt the industry, with tens of thousands who have already lost their jobs or been told their job was at risk.
The Association of British Travel Agents (ABTA) said the job cuts represent approximately 18% of the UK's travel industry but warned that thousands of more tour operators, travel agents and airline jobs could be lost.
In Birmingham, where COVID-19 cases are still high, there are fewer flights in and out of the city. Hence, some of the smaller travel agents face a big threat to their survival.
Having said that Sadia Malik, Director at Pak Travels on Coventry Road, Birmingham feels that the tide might be turning after a very difficult COVID-19 period:
"The travel industry has undergone many challenges in the past but the coronavirus pandemic is the biggest yet. What was once a £28billion industry has shrunk considerably with airlines reducing flight frequencies, staff and routes.
"Like many others in our industry, COVID-19 has had an impact on our business. The consolation to this is that the number one travel destination from the UK is Pakistan – with all major airlines targeting the route."
"From July onwards, British Airways increased frequencies and routes. Virgin Atlantic announced flights to Pakistan from December. Qatar Airways, Emirates and Turkish Airlines have also increased their frequencies.
"Since the announcement of a COVID-19 vaccine and the quarantine period of those returning from travel being reduced to 5 days, travel enquiries have gone up."
Watch this Video about the Impact of COVID-19 on Air Travel to Pakistan: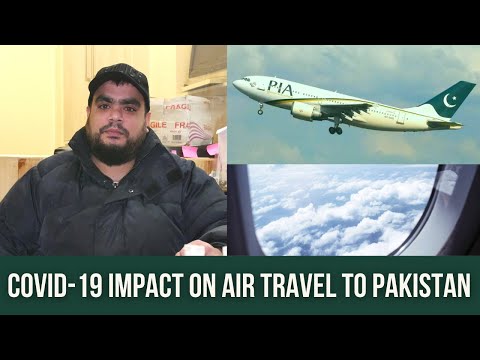 DESIblitz caught up with Ateek Rehman of Attock Travel & Money Service on 420B Ladypool Road, Moseley.
He exclusively discusses the COVID-19 effect on air travel to Pakistan from his travel agency perspective.
COVID-19, Business and Travel Industry
Air travel abroad, particularly to Pakistan has been on and off throughout 2020 due to COVID-19 and the two national lockdowns.
The first lockdown was not implemented until March 23, 2020. However, Ateek explains that his business did suffer a financial hit from the beginning of March,  lasted until mid-May 2020.
Ateek whose main customers travel to Pakistan reveals that it led to problems for people leaving and entering the UK.
He said: "From the start of March to about, I'd say mid-May, we've had loads of flights cancelled so people could not get out of the country.
"There was a problem with people that were coming back into the country as well."
He went on to say that only chartered flights were available on specific dates for British nationals to return, meaning that many were stranded in foreign countries:
"There were only special flights at the beginning of April and end of April which were allocated for people, British nationals, to get back into the country."
Ateek said the issue has affected his business personally because a lot of money had to be refunded to customers.
He added: "We had to refund people who did not fly at all, so mainly they were getting 100% refund.
"So whatever profits that we made, whatever else that we made along with it, we had to give that back as well."
Ateek states that the pandemic has resulted in his business losing approximately seven months worth of salary and profits.
He said the fact that people are not travelling abroad has affected the travel industry the most:
"People are scared to travel, people are scared to travel back from other places as well, there's no bookings being made."
Ateek says the travel industry has been one of the "heaviest hit industries out there", adding that the industry has had no work for many months.
Lack of Travel to and from Pakistan
Fewer citizens are travelling to and from foreign countries like Pakistan, with Ateek revealing a significant drop in sales.
He mentions: "I would say about 80% have stopped travelling to Pakistan."
Many people looking to travel to Pakistan for a holiday have not done so.
Ateek elaborates that the only travellers to Pakistan are people going for emergencies and even then it is difficult to travel.
He added that some travellers struggled financially as well as the travel industry due to price increases:
"It's only the ones who have a funeral or have some sort of emergencies that they have to attend to court hearings.
"Even then, people are struggling to travel because the prices are over a thousand pounds a ticket, £800 a ticket and its not affordable, whereas, normally they were paying £450 per ticket.
"There were also scenarios where people were trying to get back into the country in the lockdown period."
"I remember one client paid over £1,200 for a single ticket back from Pakistan and he had a family with him as well. For example, for the four of them, they basically had to borrow money to get back."
Therefore, many people who have travelled to Pakistan have often been left out of pocket and have had to take desperate measures to come up with the funds.
Another Lockdown and Survival
For the travel industry as well as many other industries in the UK, the first lockdown had a major effect, with workers losing their jobs and businesses closing.
Prime Minister Boris Johnson announced a second nationwide lockdown on October 31, 2020, and it has been detrimental to businesses.
For travel agencies like Ateek's, the questions as to whether they can survive have been a point of discussion as he explained:
"This is something me and my father sat down and talked about.
"We talked about bringing another idea into our office, changing our way of thinking and moving forward because we believe that people like myself are going to be pushed out of this service that we're providing."
He went on to reveal that the elderly, in particular, will miss travel agencies if they were to close as a result of the pandemic.
"Its something that a lot of the elderly enjoy because they're not used to online bookings and they're not trusting the sites that they're buying off, so they rather have somebody like me sitting here and serving them and giving them a ticket.
"But, if that's not going to be viable for me and it's not going to make me any money, I won't be able to carry it forward so it will be a service which will be missing for a lot of people who don't shop online."
The continuation of COVID-19 and restrictions on air travel abroad have led Ateek to admit that he is experiencing the brunt of it.
He believes that his travel business may only survive another few months if COVID-19 restrictions continue.
COVID-19 Testing and Restrictions
As part of the travel restrictions for Pakistan, travellers have to take a COVID-19 test.
Ateek mentioned that for those going to Pakistan, it is essential to take a PCR test within 96 hours of travelling. Citizens are not permitted to travel if they go past that time.
He added: "If you test negative, you can travel. If you test positive, obviously you have to isolate yourself."
Local pharmacies, as well as the NHS, are providing such tests, however, the NHS is not providing certificates for travel.
According to Ateek, a nearby chemist provides test results within 48 hours.
On the prospect of further lockdowns, Ateek said that flights could be cancelled, non-essential travel is advised against.
He revealed that he is also advising clients against non-essential travel to avoid giving out refunds in the future.
"I'd rather not book now and refund them later because it's going to create a bit of a headache."
Due to financial losses, Ateek has taken steps to prevent losing even more of his profits. This is at a time where things are difficult for him and the travel industry.
Government Support
The UK Government have said that they would be supporting businesses during the pandemic.
Ateek received government support in April, stating that he received a £10,000 grant. However, the business owner said it barely covers his costs.
"£10,000 is barely going to cover my costs and it's going to cover my runnings."
On whether it helps with living expenses, Ateek revealed that it does not. Concerning the travel industry, Ateek had a message for the UK Government:
"If the government was to cover all of our losses over the year, I think a lot of businesses wouldn't mind complying but it all comes down to the pocket basically.
"If I'm going to be out of pocket and the world's not going to be moving around, people are going to be locked up in their houses.
"Psychologically, that is not good for you. Physically, that is not very good for you. The world is at a standstill."
Since the second lockdown was announced, Chancellor Rishi Sunak announced further support for businesses. Businesses, which are forced to close will receive up to £3,000 per month.
Personal Effect and Lockdown
The pandemic has had a huge effect on people's lives in terms of having to adapt to change.
Some people have managed to cope throughout the pandemic. However, for some people, it has taken a toll on their mental wellbeing.
For Ateek, he says it has not affected him as much as it has on other people.
"I'm still getting on with things, I very rarely travel a lot. I'm an 'A to B' kind of guy, so I haven't seen a lot of changes in my lifestyle."
While the pandemic has not affected Ateek's wellbeing, he admitted that he is not in favour of the lockdown, because it is "crumbling" the travel industry as well as others.
He said:
"It's affecting small businesses so its something I wish to be resolved as soon as possible."
Ateek has called for UK citizens to carry on with their lives as normal but take precautions. He added that people with possible symptoms should properly judge if they have to isolate.
Travel Advice
The second lockdown prevented people from travelling abroad, including Pakistan. Only in limited circumstances were people allowed to travel.
After the lockdown ends on December 2, 2020, air travel to international countries is permitted subject to the guidance in each tier.
However, the government has said that people should avoid travelling where possible.
When travelling to Pakistan, it is advised that people follow the Foreign, Commonwealth and Development Office (FCDO) travel advice.
International air travel will be permitted as long as the destination is on the FCDO's list of countries that it deems low-risk for travel.
After returning, citizens may have to quarantine for 14 days, depending on if the destination is a non-travel corridor destination or not.
Stories of Loss
Due to COVID-19, air travel to Pakistan has been disrupted, meaning that people cannot go abroad for holidays and weddings.
Ateek revealed that he has heard horror stories from Pakistani-origin people who have lost loved ones.
"For those who have lost their loved ones, they catch a flight the next day and arrive for the funeral the next day but because Pakistan is a hot country, they cannot hold onto the body for too long.
"This is something that has affected a lot of people. You have got to get your COVID-19 tests done, it takes 48 hours.
"People have been torn apart. Also, people who have left their requests with their loved ones that have passed away here (UK) that want to be buried next to their husbands or wives in Pakistan.
"Normally, PIA offer that service of taking the bodies for free to Pakistan. That also got disrupted."
"Against their wishes, they've had to be buried in England."
It certainly appears that air travel to Pakistan has been impacted by the pandemic and its subsequent lockdowns.
Like Ateek explained, travel agencies may have to change their approach or business altogether, otherwise, they may have to shut their doors for good.
Meanwhile, Sadia from Pak Travels believes a united front is a way forward along with confidence-building measures:
"The future of travel requires a universal approach to progress, involving all key stakeholders: governments, airlines, airport authorities, health departments and travel agents.
"To encourage consumer confidence, we need to remove the travel quarantine period and move to rapid pre-flight and post-flight COVID-19 testing.
"Market feedback shows that people are eager to travel but deterrents such as the travel quarantine period is impacting choices.
"The cost of COVID-19 tests are high for some to take advantage of holiday deals. for example, a family of 4 could easily be spending an extra £400-£600 on this, in addition to the holiday."
Hopefully, with an approved vaccination and relaxation of the quarantine period, air travel will once again become normal.
British Pakistanis will be hoping that they can travel to their homeland without disruption. Similarly, foreigners and tourists will be eager in flying to Pakistan and explore its diverse and rich culture.