With new technology, pickpockets can now swipe numbers and information from cards
TV newsmagazine Inside Edition reveals that pickpockets have designed a new, potential pickpocketing scam, based around contactless payment.
With new technology, pickpockets can now swipe numbers and information from cards. They can attempt this in public places, such as shopping centres. Victims may be unable to realise what's happening.
Many bank cards are now contactless, with a special mark to identify them. These cards can now be the target for the latest scam due to their feature.
Banks have been quick to reassure card-owners that contactless pay is an optional feature. Customers can be given new cards without the feature and won't be held responsible if they've been targeted.
Radio frequency identification (RFID) has made this scam possible. Pickpockets disguise the machine in a seemingly ordinary bag. All they need to do is walk nearby their victim. In seconds, the machine can swipe their card. They now hold the victim's card number and additional information.
The Scam in Action
Inside Edition went around a local shopping centre to see how this happens. Carrying the latest scam in their case, reporters approached the public while swiping their cards.
They could even just bump into others; the machine swipes information straightaway. After speaking to customers, they explained the scam and could correctly recall card numbers back to them.
Shocked and bemused, shoppers struggled to understand how it happened. One told Inside Edition: 'It's frightening, very frightening.'
But the investigation didn't end there. The reporters went one step further to see how much pickpockets could exploit with this scam. By swiping a producer's card, reporters were able to go online shopping and purchase items with the stolen card information.
Watch the full report from Inside Edition here: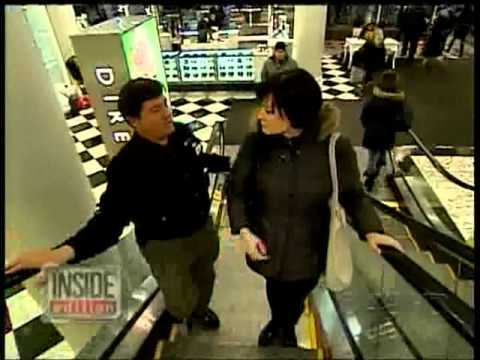 Contactless payment is designed to be an easy alternative to chip and pin. By swiping, customers don't need to bother with the hassle of PIN numbers. But pickpockets have found an opportunity and created the perfect scam.
Banks are doing their best to advise customers on how to fight off this scam. But now the public need to be wary when they go out. And keep a close eye on any strangers lurking around uncomfortably close.