"There is a strong culture in Pakistan of showing off."
In a comedic sketch, Pakistani-Canadian comedian Danish Ali made fun of Pakistan's 'Rishta' tradition.
The video, which is titled Rishtay ka Soda, also stars Hareem Farooq and Ali Rehman Khan. It also promotes film Heer Maan Ja in a humorous way.
The video begins with several men on a cart while Danish pushes it, offering them for marriage.
Hareem then appears on a balcony with her mother as they begin discussing the worth of each man based on his occupation, background and lifestyle.
The comedic video has a twist as the woman has control over who she wants to marry while in real-life 'Rishtas', the man tends to decide on who he wants to marry.
Danish has flipped the societal norms and it highlights an empowering image.
But the video takes a real turn towards the end as the mother forcefully decides to give her daughter away to a murderous but rich man, all because of his status.
Danish highlights the worth of each man based on the stereotypes attached to his profession.
For example, a doctor is offered for Rs. 4 million whereas an "imported" businessman and green card holder is worth Rs. 6 million.
Watch the Video by Danish Ali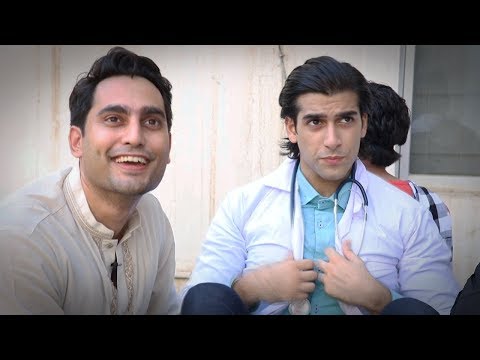 Danish Ali explained that as a comedian, he takes everything as a joke but he knows that he should address serious matters too.
On the video, he said: "I just wanted to make a video that a family can watch and get a message out of."
The process of 'Rishta' in Pakistan remains problematic but the priority seems to now be outfits, lavish gifts and expensive weddings.
The comedian said: "There is a strong culture in Pakistan of showing off.
"People in Pakistan believe that no matter what, even if you don't have anything, you should at least look rich."
"As a young person I want to end this, I want the youth to take charge to end this culture of spending millions of rupees on wedding events."
Danish went on to say that the younger generation is more against excessive spending on weddings but believes that not enough attention is being paid to the future of women. He added:
"It's unfortunate that Pakistani parents save more for their daughter's marriage than their education."