Delivering hit after hit, Yo Yo Honey Singh raps some of the best party anthems
Whether you're going for a night out, or having a house party, the best way to make a fun atmosphere and keep everyone pumped all night long is by having a perfect music playlist of Bollywood club songs.
The recent rise in techno, R&B, rap, and house style music in Bollywood has made for some awesome club anthems.
DESIblitz presents to you a perfect playlist of Bollywood club songs which will keep you dancing all night long!
'Kar Gayi Chull' ~ Kapoor and Sons (2016)
Baadshah's smash hit Punjabi tune, has been revamped in this Bollywood tune. Fusing bhangra, rap and techno, this relatively new song became an instant hit.
Paired with the dance moves perfectly executed by both Alia and Sidharth Malhotra, this club banger makes you want to swing your arms in the air.
'Abhi Toh Party Shuru Hui Hai' ~ Khoobsurat (2014)
This song was Bollywood hit which gave Baadshah almost instant fame amongst the musical crowd in B-Town.
This spunky contemporary song is a favourite Bollywood club song in any party or wedding function.
'Chaar Botal Vodka' ~ Ragini MMS (2014)
Any list about Bollywood club songs would be incomplete without a Yo Yo Honey Singh track. Delivering hit after hit, Yo Yo Honey Singh raps some of the best party anthems.
This track not only worked because of the catchy rhythm, but it also benefited from the sizzling presence of Sunny Leone and Yo Yo Honey Singh romancing one another on screen.
'Baby Doll' ~ Ragini MMS 2 (2014)
This has almost become an anthem for the single girls at a party. It brings everyone onto the dance floor, and people can't help but sing along to Kanika Kapoor's voice.
This super hit song catapulted Sunny Leone into stardom and solidified her fame in the industry. Her sizzling performance in 'Baby Doll' was loved by many.
'Angreji Beat' ~ Cocktail (2012)
Yo Yo Honey Singh's 'Angreji Beat De' ruled the airwaves in 2012. A quintessential club track, the video features a drunk Deepika Padukone let loose in the middle of the dance floor, before finally noticing Saif Ali Khan.
'Lets Nacho' ~ Kapoor and Sons (2016)
Starting off with a South Indian opening, this track fuses desi and western music with ease. The irresistibly catchy hook and block dance moves are made to be played at a club.
'Sooraj Dooba Hai' ~ Roy (2015)
One of the best Bollywood club songs of 2015, Arijit Singh's melodious voice adds the magic to this catchy tune.
Jacqueline's onscreen charisma, and the fun lyrics to the song make you want to dance when the sun has gone down!
'Shaam Shaandaar' ~ Shaandaar (2015)
The pounding of the Dhol in the opening of the track is enough to get any Bhangra lover on their feet.
The smooth transition from traditional Bhangra track to a contemporary club hit is flawless.
Packed with energy and catchy lyrics, this track is a must have for any party.
Listen to our Bollywood Party Playlist here: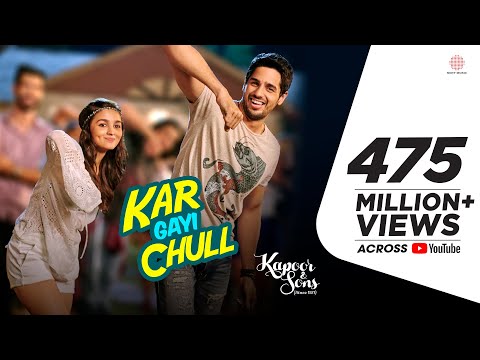 'Hookah Bar' ~ Khiladi 786 (2012)
Akshay Kumar's 'Hookah Bar' will get everyone on their feet. The slightly cheesy yet unbelievably catchy song was penned by Himesh Reshammiya, and sung by Himesh, Vineet Singh and Aman Trikha. One of the best Bollywood club songs for your party playlist.
'Lovely' ~ Happy New Year (2014)
Another one for the ladies, this item song shot on the stunning Deepika Padukone became an instant hit.
Great for shaking your hips and letting go, this sassy track is full of attitude and energy. The addition of Fateh's rap gives the guys some good lines to dance to.
'Sunny Sunny' ~ Yaariyan (2014)
This Yo Yo Honey Singh track is perfect for any summer pool party or outdoor house party.
The smooth music and effortlessly cool sound makes it a perfect song choice for anyone who wants to dance along with friends.
'Bang Bang' ~ Bang Bang (2014)
Katrina and Hrithik's electrifying performance in this song is impressive. This track's groovy feel infused with a Bollywood feel makes for a smooth and funky track to dance to.
This mid-tempo song is best to sway along to, when the high speed songs have worn you out.
'High Heels' ~ Ki and Ka (2016)
Kareena and Arjun's onscreen chemistry was solidified with this smash hit tune. The pumping beat and the spunky desi feel to this song is great combination.
Arjun dancing in heels is also a great sight to see, and Kareena's effortless onscreen charisma adds to the charm of the song.
'Subha Hone Na De' ~ Desi Boyz (2011)
Mika strikes gold once again with this musical gem. Now an anthem for the guys when they go out, the macho lyrics and slick choreography are a killer combination.
The thumping beat, and the funky saxophone sound make for an upbeat and fun song which will make anyone want to dance.
'Lat Lag Gayee' ~ Race 2 (2014)
Jacqueline has countless club anthems to her name, but this is probably her best solo performance. Dancing alongside Saif Ali Khan, this sultry performance is breath taking.
The catchy rhythm and flirtatious lyrics are a great match for a hit club song.
'Jumme Ki Raat' ~ Kick (2014)
Salman always has amazing music to accompany his super hit films. The tracks for Kick were all appreciated, including the song 'Hangover' which he sung himself.
But it is 'Jumme Ki Raat' which gets the party started. The rising tempo of this song, and Mika's unique singing voice are what make this song irresistibly catchy.
'Party On My Mind' ~ Race 2 (2013)
Packed with some of the hottest Bollywood stars, this party track is made for people with a party on their mind.
The techno feel, and the fun and carefree lyrics set the tone for a fun filled night where you can dance your worries away.
Club anthems have taken Bollywood by storm. The fusion of western inspired music with Hindi lyrics has created some super hit party songs.
Whether you like a deep base, or even some quirky Bhangra and Punjabi songs with a contemporary twist, these Bollywood club songs are a must.