Baar Baar Dekho unites hotties Sidharth and Katrina for the first time.
The first song 'Kala Chashma' from Karan Johar's Baar Baar Dekho has been released and promises to be quite sensational.
It is exclusively available on Flickbay app, an extensive database to help users discover movies, rate them and create personalised watch-lists for all their favourite Bollywood films, songs and trailers.
Not only is the song catchy, but Sidharth Malhotra and Katrina Kaif's energetic dancing to Bosco-Caesar is equally impressive.
But if you think that's the only wow-factor, think again.
Wedding attires of the leading actors are very elegant!
Sidharth is dressed smartly in a sherwani, while Katrina is adorned in a red lehenga-choli. However, the kala chashma (sunglasses) steal the show!
Watch it here: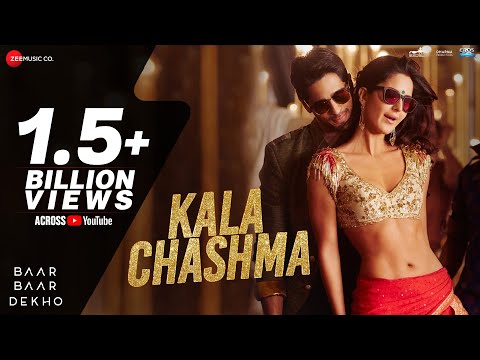 The song itself is a rehash of Prem Hardeep's original composition, which was released by Amar Arshi in 2000.
This rehash includes rap by the popular Badshah, while 'Sunny Sunny' fame singer Neha Kakkar leads the female vocals.
'Kala Chashma' does not only feature Sidharth and Katrina, but one also sees Rajit Kapur and Ram Kapoor dance in a quirky manner.
One simply wonders what their roles are in the movie.
In fact, it wouldn't be wrong to say that 'Kala Chashma' encompasses the 'Om Mangalam' (from Kambakkht Ishq) feeling!
With new renditions of popular Punjabi pop tracks like 'Kar Gayi Chull', 'High Heels' and 'Rock Tha Party' in 2016, it seems that this is becoming a new trend in Bollywood.
But you will not believe how many views this song has collected!
It has grossed approximately 6 million views on YouTube within just a span of two days.
According to Times of India, film producer Ritesh Sidhwani discloses that Baar Baar Dekho is a not a love triangle:
"The film is a love story that traces the journey of (characters) Jay and Diya's relationship, portrayed by Sidharth Malhotra and Katrina Kaif."
Baar Baar Dekho unites hotties Sidharth and Katrina on-screen for the first time. It is Nitya Mehra's directorial venture, and produced by Karan Johar and Farhan Akhtar.
The film hits the screens from September 9, 2016.