"I think women make really good films about men."
The feel-good comedy, Blinded by the Light is a wonderful film, with a British-Asian twist.
Out in cinemas from August 9, 2019, the movie is a direction by award-winning filmmaker Gurinder Chadha.
Blinded by the Light is based on the true story of British journalist and broadcaster Sarfraz Manzoor.
Manzoor who was born in Pakistan came to Luton at a very young age and has stayed in England ever since.
The film follows the story of 16-year-old Javed (Viveik Kalra( as he navigates best friends, first kisses and strict Pakistani parents.
To help him get through all the struggles of teenage life in Thatcher's England, he clings to the music of Bruce Springsteen. His music and lyrics artistically guide the plot of the film.
DESIblitz were in attendance for a press screening of Blinded by the Light. We also spoke exclusively to Gurinder Chadha and Sarfraz Manzoor about the film.
Let's take a closer look at what to expect from Blinded By The Light:
British-Asian Identity
A key theme running throughout Blinded By The Light is British-Asian Identity. This is also a recurring focus in the work of director Gurinder Chadha.
Previously Chadha has focused on British-Asian identity from a female perspective. Her most well-known example being comedy-drama Bend It Like Beckham (2002).
Similar to Bend It Like Beckham, Blinded By The Light portrays the story of a young British-Asian fighting against the expectations of his parents.
Blinded By The Light, however, unlike Chadha's previous work, features a male lead.
When asked what it was like to focus on a male perspective, Gurinder told us:
"I loved making a film about a boy, partly because I've got a son, but also I think women make really good films about men.
"I think having a female perspective makes it a very emotional film, perhaps more than a man would have done."
Chadha is confident about her ability in relating to all her characters in some way as a director. She particularly connected to the British-Asian identity of Javed.
This British-Asian gaze is something that Chadaga is well-known for since directing Bend It Like Beckham. She explains:
"I enjoyed going back to that British-Asian experience with a lot more [directing] experience under my belt since Bend It Like Beckham."
Sarfraz Manzoor also related to the British-Asian element of the film. One of the aspects of this identity that the film Blinded by the Light touches upon is racism.
There were several depictions of racism in the film. Two examples are Javed being spat on and a group of boys urinating inside a Pakistani family's letterbox.
Manzoor revealed to us that the example of a group of boys urinating inside a letterbox was based on a real occurrence. It took place in the house of his best friend, Roops. As for the case of spitting, he said:
"I had a kid in my school who would spit at every Asian person that he saw."
Such traumatic experiences may have drawn Manzoor away from England, but he decided to stay. He is now an acclaimed writer and documentary maker working for famous companies in the UK.
In reply to a question about whether his own British-Asian identity had changed in any way since his childhood, Manzoor said he felt more secure in his identity, telling us:
"I think when I was sixteen I felt like as the dad [in the film] says, 'this isn't really your country, you just happen to be here, they'll never accept you.'
"So that was what I grew up being told. I think now I feel more confident."
Teenagers and Parents
It is quite normal for teenagers to disagree with their parents at some point. At this age, young people are trying to figure out who they are.
With parents sometimes instructing what to do can cause conflict. This is especially the case when teenagers do something against the wishes of their parents.
The coming-of-age film Blinded By The Light showcases this parent-teenager relationship in a special way. It shows how the personalities of Javed and his father Malik (Kulvinder Ghir) clash over cultural expectations.
As a man who spent most of his life in Pakistan, Javed's father wishes to carry his Pakistani culture with him to Luton.
Javed, however, wants to fit in. He wants to join in with what his English friends are doing. He feels a sense of irritation by the expectations his family have for him.
His father came to England in search of a better life for his family. He works hard in a factory but loses his job when cuts come into play.
This means that when Javed tells his father that he wishes to pursue a career as a writer, he disapproves. He does not want Javed to be struggling for money like himself.
The relationship between Javed and Malik is based on the relationship between Sarfraz Manzoor and his own father.
Manzoor mentions that Javed is more outspoken to his father than he himself would have been, but the tensions were similar. He also wanted to be a writer, but his father disapproved.
In Blinded By The Light, Javed pursues a degree in English.
Sarfraz disclosed why he studied Politics and Economics at University instead of English like Javed:
"Well, basically, there was absolutely no way…."
"My dad was somebody who only would really want me to study something that would have lead to a job."
Interestingly, the poems featured in the film are the original poems Manzoor wrote when he was growing up. Unlike Javed, however, Manzoor upheld his father's wishes until much later.
A pivotal scene in Blinded By the Light shows Javed delivering a speech to his classmates and family.
Manzoor who wrote that heartfelt speech he wished he could have been bold enough to tell his family when he was a teenager:
"Gurinder basically said to me at that point, 'write what you want to say to the world and we'll just put it in Javed's mouth'
"So that [speech] was purely how I see the world."
Manzoor's determination to pursue a creative career has paid off. He is famous for his writing and documentary film-making.
Love and Friendship
Another major theme in Blinded By The Light is love and friendship. The Javed we are introduced to at the beginning of the film is awkward and shy.
He is forbidden from going to parties or staying out late. He is jealous of his friend Matt (Dean-Charles Chapman) who is given more social freedom.
Unlike Matt, Javed spends most of his time writing angry poems about his life in Luton and relationship with his father.
He shares these poems with Matt, who occasionally uses them as song lyrics for his band.
Despite having Matt as a friend, Javed feels totally misunderstood and out-of-place in Luton. This begins to change when he meets Roops (Aaron Phagura), a Sikh boy in his school who introduces him to the music of Bruce Springsteen. 
Javed sees the parallels between the lyrics of Bruce Springsteen's songs and his own life in Luton.
Springsteen's music inspires Javed and guides the rest of the film's plot. His music accompanies family conflict, first love, and relatable teenage angst.
The music of Bruce Springsteen helps Javed to make space for his own voice to be heard. He achieves his ambitions despite the hurdles.
It also becomes the foundation of a beautiful friendship between Javed and Roops. This friendship is based on the real friendship between Sarfraz Manzoor and his friend, Roops.
They are still friends today and continue to share their love for Bruce Springsteen.:
"It's really nice that our friendship has been immortalised on-screen like that…we still talk about Bruce a lot."
Watch the official trailer for Blinded By The Light here: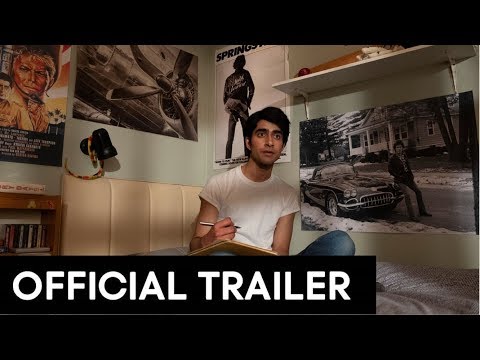 For lovers of music, coming-of-age drama a and feel-good comedy, this film is a must-see. The film has music by the oscar-winning maestro, AR Rahman.
The film had a UK Gala Screening at the Curzon Mayfair in London on July 29, 2019, with the star gracing the custom orange carpet.
Releasing in the UK by Entertainment One, Blinded by the Light will be out in cinemas on August 9, 2019. Further information about the film can be found on social media via Facebook and Twitter.