"It's so hard to find affordable drugstore foundations"
There are numerous inspirational Desi beauticians who are challenging beauty standards and embracing their own ideas about being beautiful.
There seems to be an endless amount of beauty-related content to choose from. You can find everything from prom makeup looks to hairstyle tutorials to clothing hauls.
The most popular beauty related YouTube channels regularly receive millions of views. This is wonderful for beauty lovers, indicating the content of Desi beauticians is very influential.
Having said that sometimes the content created by beauticians can also create unrealistic beauty standards.
What we regularly watch on our screens gives us an idea of what is normal or the standard. That goes for beauty standards too.
DESIblitz explores 5 Desi beauticians who are challenging beauty standards:
AnchalMUA
Anchal is a British-Asian makeup artist based in London. Her Instagram feed (@anchalmua) is filled with makeup tips, skincare advice and fashion inspiration.
She is most popular, however, on YouTube.
The content she makes on YouTube includes vlogs, makeup look tutorials, chatty videos, and Indian makeup looks.
One of her most popular videos on YouTube is a tutorial for finding foundations that suit Indian skin tones.
In a video titled 'Best Drugstore/Affordable Foundations – Indian/Olive/Warm Skin,' she mentions how it is difficult to find makeup products that suit her skin tone. She explains:
"It's so hard to find affordable drugstore foundations that cater to warmer skin tones."
The beauty industry is gradually including more shades into their makeup products such as foundation and concealer, but the options for South Asian skin tones are still limited.
Unfortunately, many makeup brands focus on products that cater to paler skin.
Anchal has tried out various foundations to find out what is best available in the UK for South Asian skin tones – both high-end and drugstore
By doing so she is challenging the beauty standard that pale skin is the norm.
She has also made other successful videos such as 'Curly Hair Routine with Indian Hair,' 'Best Highlighters Indian/Warm/Deep Tones' and 'What I Eat In A Day – Brown Girl Friendly.'
These videos highlight the fact that she has given a lot of thought when it comes to beauty aimed at South Asian audiences.
Watch this video on Indian olive warm skin tones here: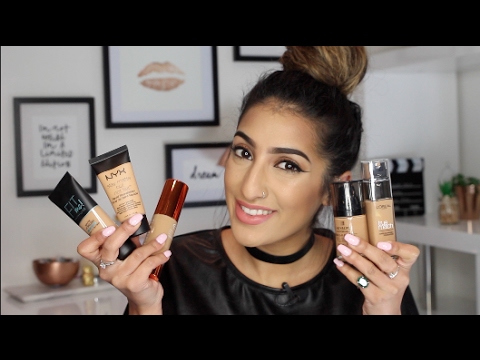 Deepica Mutyala
AnchalMUA has found some of the best makeup products for South Asian skin tones, but Deepica Mutyala has taken it one step further by creating her very own makeup brand.
The makeup brand, called Live Tinted, is designed to produce makeup that celebrates diversity in skin tones and the beauty narrative in general.
As stated on the Live Tinted website:
"By showcasing beauty standards that aren't always represented in media, [Live Tinted] is able to galvanize a community to feel empowered in their individuality."
The YouTube channel of Deepica Mutyala is filled with videos that celebrate this diversity in the beauty industry.
Consequently, her content challenges beauty standards by showing that there is no "standard" when it comes to beauty. She asserts that types of appearances should be appreciated.
Like AnchalMUA, Mutyala has also created videos on drugstore products that are "brown girl friendly" as well as tutorials such as 'How To Put On a Sari' and Indian cooking tutorials ranging from Indian turkey keema to chicken curry to masala corn.
She's your go-to if you want to see a beauty guru determined to create a space for all beauty lovers. This is a space where everyone can feel beautiful.
Watch a Live Tinted trailer from Deepica Mutyala here: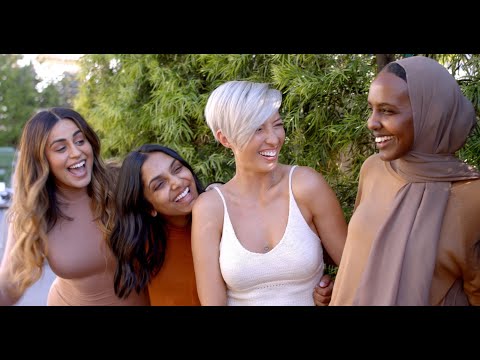 Scherezade Shroff
In Mumbai, India lives Scherezade Shroff. She is another beauty guru who has been on YouTube since 2013.
Her Instagram story highlights consist of #OOTD (outfit of the day), travel and skincare recommendations.
Her YouTube channel, however, has nearly 100,000 more followers. This is where she uploads all her beauty-related tutorials and discussions.
For example, she uploaded a video titled 'Why Does Social Media Want You To Be Perfect!?' where she discusses the pressure of social media on our daily lives, in particular, those of content creators.
In that video, she mentions that the majority of popular online content showcases unrealistic standards. She tries to explain to her viewers that perfection is an unrealistic idea to aspire towards.
She reminds her followers to use social media to express oneself and have fun, and try to avoid such pressures to be "perfect."
Her other videos include content on laser hair removal, ways to style certain clothing items such as trainers, fashion hauls and lipstick hacks.
On her "Desi" YouTube playlist, she has created videos directly related to her Indian identity.
Her video called "Desi Tag" is a good example. In this video, she answers questions such as "what describes you best as a Desi?"
Scherezade prides herself on being as authentic as possible online. In an online world where perfection is the norm, this is a challenging thing to do.
By being as honest as she can be about herself online, she is challenging online beauty norms to be constantly flawless.
Watch the official channel trailer of Scherezade Shroff here: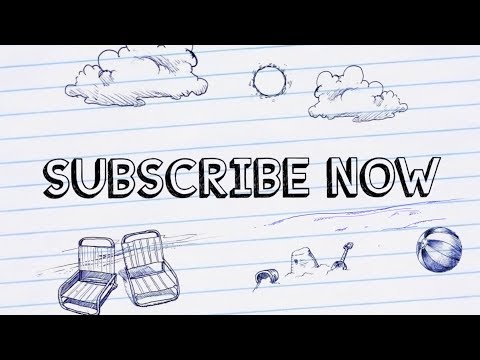 Redalicerao
Up next is Maliha Rao who is famously known by her Instagram account Redalicerao. She is a Pakistani plus-sized beauty influencer.
Redalicerao is relatively new to the YouTube scene, joining in 2017. Her YouTube Channel is called, Real Life with Maliha.
Her Instagram account, however, has a whopping 23,000 followers.
She encourages her YouTube followers to "grab a cuppa tea or coffee, get comfortable and enjoy the videos."
These videos range from vlogs to skincare to calming videos in her series "Holistic Tea." In the latter series, she discusses how to de-stress at the end of the day.
This makes Real Life with Maliha, the perfect relaxing and insightful Desi channel to have in your subscription box.
Other popular videos include 'LET'S TRY – Guessing meanings of Urdu words,' 'Skincare for Beginners – Stop Complaining' and "Eating Korean Food in Karachi.'
Meanwhile, on her Instagram feed, you can find more beauty and food reviews, alongside posts promoting plus-size options in fashion and clothing brands.
Some elements of the fashion industry are notorious for promoting unrealistic beauty standards. Most of the time the standards promoted do not reflect most body types in society.
Most fashion brands depict only one type of body size. It is normally tall and thin.
Redalicerao confidently gives fashion tips for women with a body type similar to her own, showing that there is not only one beautiful body type.
By doing so she is challenging beauty standards with every video and photo uploaded.
Watch this tutorial on Pakistani Wedding Guest Makeup here:
BeautyByMathu
Finally, we have BeautyByMathu, a Canadian-Sri Lankan beauty guru. On her YouTube channel, she has created popular videos such as 'Heatless Waves Tutorial,' 'Indian/Sri Lankan Makeup Tutorial' and 'Diwali Makeup Tutorial.'
BeautyByMathu uploads hair and makeup tutorials, beauty product reviews, vlogs, and challenge videos such as 'Spicy Ramen Noodle Challenge.'
Mathu's most transformative makeup looks include her Halloween tutorials. These videos can be found on YouTube and Instagram.
For example, she gives a step-by-step guide to transforming into a half-human, half-snake creature.
What makes BeautyByMathu stand out is that she regularly uploads beauty-related videos such as makeup tutorials in Tamil.
BeautyByMathu decides not to speak English in all of her videos. She chooses to speak Tamil, a language that she feels a personal connection to and wants to practice more.
By speaking in Tamil in her videos, BeautyByMathu defies the standards in the beauty realm of YouTube.
It also means that she can reach out to viewers who enjoy watching content in Tamil.
Watch this hilarious Tamil makeup tutorial from BeautybyMathu here: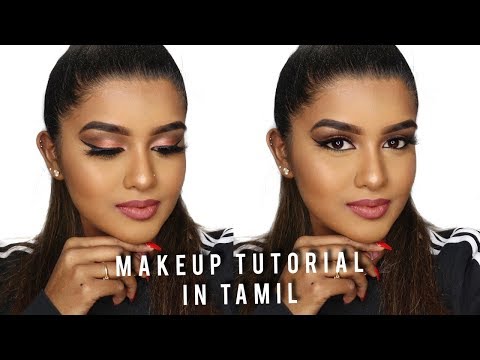 If you're looking to follow a beautician with a Desi twist, these are five good suggestions. Allow them to inspire and teach you the best Desi beauty tricks.
From fashion to skincare to makeup tutorials, these desi beauticians will challenge you to embrace your own style and beauty.