"I'm eating my food. I do not want you brushing your hair near my food."
The new Big Brother series has only entered into Day 3 and already personality clashes have started to emerge. Sukhvinder and Kayleigh began a temper-flared argument, due to Kayleigh brushing her hair in the kitchen while Sukhvinder was eating.
Set to be shown on 8th June 2017's episode, Channel 5 have released a sneak peek of the incident on YouTube.
The argument kicks off in the kitchen, where Kayleigh Morris starts brushing her hair while Sukhvinder Javeed eats her breakfast. As Kayleigh absentmindedly approaches Sukhvinder, the latter calls out Kayleigh for her unhygienic behaviour.
Sukhvinder says: "I'm eating my food. I do not want you brushing your hair near my food."
28-year-old Kayleigh attempts to defend herself, countering that she was not brushing her hair directly into the food. But the argument doesn't end and instead grows even more heated. Sukhvinder and Kayleigh refuse to back down from their opinions.
The 28-year-old dubs her housemate as "judgemental", but Sukhvinder retorts:
"Where's your hygiene? I'm about to eat breakfast! I don't want you brushing your hair – how would you like it if someone did that when you're eating your dinner?"
However, Kayleigh responds: "I'll brush my hair wherever I the f**k I want to brush my hair!"
In the end, the 28-year-old is led away from the kitchen by fellow housemates Ellie and Hannah.
Watch the argument here: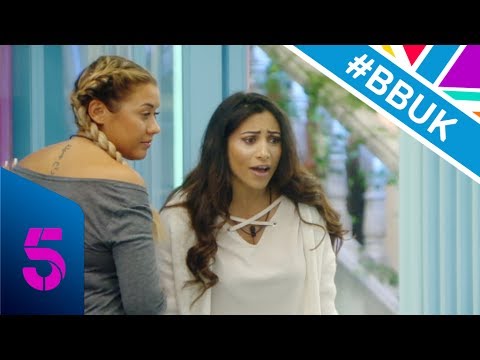 While the argument will air on TV screens soon, some fans have acted quickly to give their thoughts to the incident.
On YouTube, Tonia commented: "Sukhvinder's right you don't brush your hair close to someone's food or near food period. I knew Kayleigh would be a problem right away." Another fan, named as BkzFinest520, also agreed:
"First of all is disrespectful to brush your hair around someone's food, its unsanitary and gross. Secondly, why are you brushing your hair in the kitchen? go to the bathroom or your bed… [sic]"
Sukhvinder, however, makes a fair point in their argument. Many would not want to see others brushing their hair in the kitchen as it's a place where food is prepared and eaten. It's no surprise that it would be seen as unhygienic.
Prior to the heated argument, Sukhvinder has already made it known that she doesn't think too highly of some of her housemates. Speaking to husband Imran, she disagreed with his belief that the housemates were "good people".
She quickly replied: "You need to hear me. Not everyone [in this house] is good". We wonder whether she is referring to Kayleigh in this discussion.
As fans wait for Big Brother's Day 3 episode to appear, can they expect to see more clashes between Sukhvinder and Kayleigh?
Judging by the argument, it seems likely.