"I really admire this generation. They do such fine acting in their every outing."
Big B, Amitabh Bachchan returns as Bhoothnath in director Nitesh Tiwari's family horror. Written by Nitesh and Piyush Gupta, the comedy sequel to Bhoothnath (2008) is sure to once again appeal to both kids and adults alike.
The film is supported by the very talented Boman Irani and Anurag Kashyap to name a few of the well known cast.
Bhoothnath Returns also stars National Award wining actress Usha Jhadav and child actor Parth Bhalerao in lead roles.
Set in a very busy locality, Bhoothnath Returns is termed to be a political satire, where a ghost takes up on the corruption around by standing in elections.
The movie release is set at a very sensitive time, when there are lot of strong political views about the real candidates in the Indian election making social rounds in the networking sites and media alike.
Amitabh Bachchan however has said that it is a coincidence that the film is releasing during the polls but it does emphasise the importance of voting. He added saying: "One vote can bring a sea-change in our country and I feel youth should participate in large numbers to bring that change. I have been voting since my College days."
Bhootnath (played by Senior Bachchan) returns to earth to regain some respect and fear as a ghost after being taken as a laughing stock in the ghost-community. He comes across a poor kid called Akhrot on the busy streets of Mother Earth. Akhrot (played by Parth) is able to see him.
Despite trying to scare him, Bhootnath being a big softie melts and befriends him. As the story progresses, he somehow becomes entangled in politics and decides to stand against Bhau (played by Boman Irani) in the Lok Sabha election. He exploits a legal loophole to stand in the election.
We all like stories that show good take on evil, and especially as kids we savour that even more. Even as adults our appetite for the good vs evil and silliness in general never subsides and hence you will find many adults flocking the theatre to see this movie.
Shahrukh Khan who was seen in the original version with Big B will be seen in a cameo role in the sequel movie too. According to various report Shahrukh Khan can't stop praising Amitabh Bachchan enough for his performance in the film:
"Working with Amitji is always an honour. I always look forward to whatever little bits and pieces I can work with him. I've done some extensive work with him, but whatever new chance I get I feel very happy," said Shahrukh on set.
Director Nitesh added: "Amitabh Bachchan will never say no to anything you suggest.
"We took him to dirty railway tracks where it was impossible to even walk around, made him climb eight floors of a building without a lift, made him dance like a teenager and do really crazy stuff, but he was game!"
"And then again, he doesn't accept anything being 'ok'."
Even though trade analysts have mentioned that the box office collection will be affected by the Lok Sabha elections, the movie will not be missed by those who want to see it. Not to mention the political theme will raise the spirit of anti-corruption more and the election can work to an advantage for the film.
The Yo Yo Honey number, "Party With The Bhoothnath", has already been happily embraced by fans. Besides Shahrukh Khan, Ranbir Kapoor is also said to be playing a cameo in the film. With Shahrukh and Ranbir Kapoor's roles being kept an industry secret, curiosity from fans is high.
Distributor Akshaye Rathi was reported saying: "Bhootnath Returns looks like a promising film.
"It has a director whose last film was a great entertainer, a superstar who is probably the biggest icon of Hindi cinema, the coming together of production houses that have given the audience some very entertaining films and to the cherry on the top – hit and popular music!"
The child actor Parth who has an equally important role in the movie was made comfortable by Senior Bachchan himself as he met the child before shooting began. He would cheer the child actor whenever Parth was down.
Parth was very lucky enough to even get some training form the legendary actor on set. On his co-stars Bachchan says: "I really admire this generation. They do such fine acting in their every outing."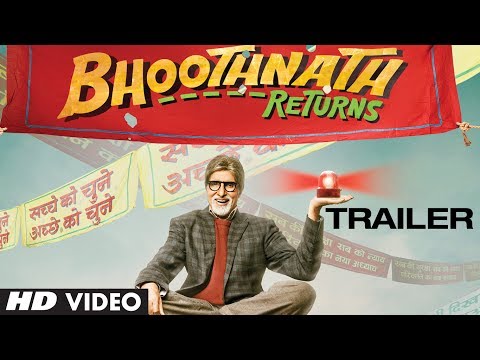 "Parth, who plays the role of the kid is an exceptional talent. Rare, mature and one of the best that I have worked with. His simplicity in executing the most demanding acts is to be seen to be believed," Bachchan adds. That's high praise for anyone let alone a child actor.
Many of us have been Bachchan fans since we were toddlers or kids ourselves. Let's not miss this entertaining journey with the legendary actor. Bhoothnath Returns releases from April 11.