"Why would kids eat that? I feel sorry for the Indians."
Children are by far the toughest food critics, and this group of American kids are no exception.
These youthful volunteers have their taste buds tested by sampling various lunches from around the world.
The result is a montage of hilarious and belly-tickling reactions that would make Gordon Ramsay look like a baby.
Indian food play its part in the palatable experiment, as the brave innocent youngsters are handed a thali (platter) to feast upon.
Items such as chaas, sweet kesari and rice are laid on for them to munch over.
One of them says: "That is not on my list today. Bye bye, walk out of my list."
'Why would kids eat that? That's just mean' and 'I feel sorry for the Indians' are just some of the gut wrenchingly funny observations they manage to regurgitate.
Their reluctance to taste chaas (a drink made of yoghurt, water, cumin and salt) is met with predictable 'distaste', as one boy almost let it all back out. Another describes it as 'gross'.
One girl mistakes kesari (a Punjabi pudding made from semolina) for sweet potato mash. She mutters 'disgusting' as she wipes her mouth clean with a disapproving look.
In what seems to them an unpleasantly torturous affair, things only got worse as they move on to food from other countries.
France, Cuba, Sweden, Japan, Kenya and Afghanistan were the other culinary culprits.
There is no holding back as a bowl of Kenyan githeri is described as 'a big piece of poo surrounded by corn'.
And that is one of the dishes that has gone down slightly better than most!
Nobody expects: "I would go to Afghanistan to get that really, really good cube cookie thingamajig."
With well over 2 million views in the space of a few days, watch the laugh-out-loud viral video right here: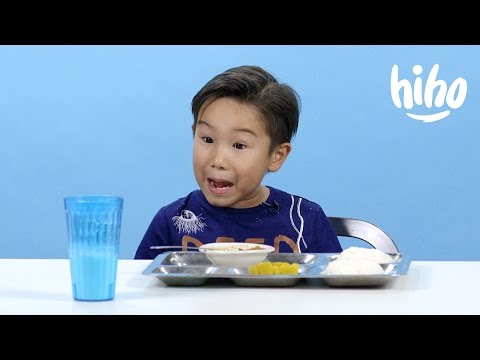 Whether these children's palates are not so cultured when it comes to global dining, or they are simply being mercilessly blunt, one participant sums up his experience perfectly when he says:
"Ok, maybe I'll be a little bit more open minded…but mum, not your food. I will not be open minded about your food!"