Ayub Khan Din's closely observed and emotionally truthful depiction of family life
All in Good Time is the latest offering for the big screen from the popular Brit-Asian writer Ayub Khan Din and director Nigel Cole. The film out in cinemas as of 11th May 2012, takes us into the dynamics of an Asian family facing the challenges of a new marriage in the home.
The film is the big screen adaptation of the Olivier Award Winning play, Rafta Rafta, written by Ayub Khan Din (East Is East) and produced for the National Theatre, based on the Bill Naughton play All In Good Time.
Made by Left Bank Pictures, an award-winning independent television and film production company, responsible for television shows like Mad Dogs and Wallander, the film is a heartfelt comedy with a romantic twist with Asian values being tested between two generations.
The film takes place in modern-day Bolton and features Reece Ritchie (The Lovely Bones) and Amara Karan (The Darjeeling Limited) as Atul Dutt and his young bride Vina for whom married life is proving far from straightforward. Meera Syal MBE and Harish Patel play the parents and when it is time for bed, Atul is so woefully inhibited by the proximity of his parents, let alone his brother's childish pranks. Leading to his beautiful bride remaining a virgin.
When their hard saved for honeymoon is cancelled, the couple is forced to return to the Dutt household and set up home there. So with meddling parents, nosy neighbours and a community that thrives on gossip, can this marriage last? And it's up to Atul's parents to face up to some home truths about their own marriage and not pass their mistakes on to the next generation.
DESIblitz had the pleasure of meeting up with some of the actors from this fun-filled cultural tale with it's family twist.
Watch exclusive interviews with the cast of All In Good Time here: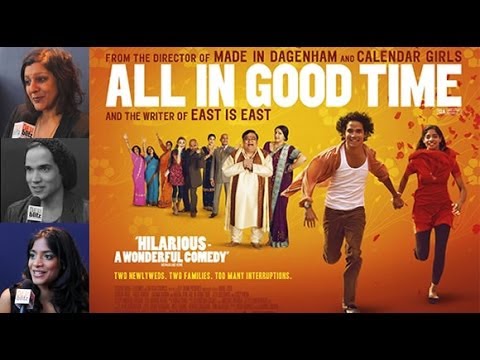 We asked the cast, Meera Syal, Reece Ritchie and Amara Karan about their roles in the film:
Meera Syal played the role of the mother in the theatre version 'Rafta Rafta' and told us that when she had the opportunity to do the role in the film, she literally jumped at it. Telling us about the subject matter of the film, Meera says:
"It's really an honest and funny take on what it's like to live in a joint family, in an Asian family."
Harish Patel known for films like 'Run Fatboy Run' also played the father in the stage production of the film. So, for him the role like Meera was an obvious choice. He delivers a great performance with many comical moments in the film.
Other faces seen in the film include British Asian actress Sudha Bhuchar, playing a nosey neighbour, who has appeared in many well-known television shows including EastEnders and is an avid theatre actress.
Director Nigel Cole says: "I have long since wanted to work with the towering Harish Patel, whose instincts as an actor to mix comedy and pathos are extraordinary. I also have a long standing admiration for Meera Syal's work and reuniting her and Harish from their run at the National Theatre was a gift."
Nigel adds: "What first attracted me to screenplay of Rafta Rafta was Ayub Khan Din's closely observed and emotionally truthful depiction of family life; portraying a family dynamic which whilst belongong to a modern and contemporary Britain, is timeless and whose family highs and lows are universally familiar."
Producer Suzanne Mackie says: "When i first read Rafta Rafta and saw it on stage I was struck by the diversity of its emotional landscape and the seemingly effortless way in which comedy and pathos cohabited; at its heart is a simple and honest depiction of family life and a tender comedy about a young man's sexual coming-of-age."
The film has humour and emotion depicted by some great performances from the cast with interesting inner family twists portrayed in a touching and enigmatic way; it presents a delicate subject matter nicely using humour as the mask. There is much to be taken from this film by past and current generations and it will also appeal to audiences beyond the UK shores, including India.
The heritage of British Asians needs to be documented and support is a must for those doing so like this film. This film is a classic example of the challenges of family life with roots from South Asia and definitely touches on areas of British Asian culture which has its own unique identity.
A must see for everyone who loves humour the British Asian way!