joota Japani, patloon Englistani and a laal topi Russi, yet his heart was Hindustani
Shri Raj Kapoor began as a child artist with Inquilab in 1943. It was at this time that a legend and the first showman of Hindi cinema was discovered.
Mr Kapoor has directed 10 movies, the majority of which were hits and blockbusters.
Under the R.K. Films banner, the legend has produced 21 movies. Plus, his frequent collaborations with music maestros Shankar-Jaikishan and Mukesh in films like Awaara (1951), Sangam (1964) and Chori Chori (1956), to name a few, became trendsetters.
When talking of collaborations however, no one can possibly forget Mr. Kapoor's association with the timeless beauty Nargis. Their reel-life Jodi is one of Hindi cinema's best.
Whether it's the heart-broken Nargis singing 'Raja Ki Aayegi Baraat' in Aah or whether the pair sing 'Pyar Hua Ikrar Hua' under the umbrella in Shree 420, Mr. Kapoor and Nargis' pairing is iconic!
Raj Kapoor films combined drama, romance, and family values. They are the original Bollywood blockbusters that still influence Indian cinema today.
But what makes these films so significant are the life lessons they teach us. DESIblitz lists 7 lessons we've learned from the films of Raj Kapoor.
1. Anger doesn't solve anything (Awaara, 1951)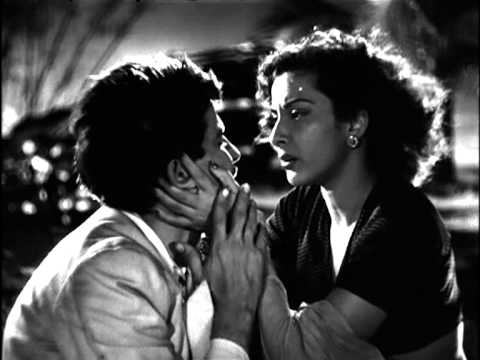 Aabad nahin, barbaad sahi… Gaata hoon khushi ke geet magar. This was the spirit of Mr. Raj Kapoor's characters. The man who laughed outside, but wept inside. He truly was the 'showman' of Hindi cinema.
In Awaara, Raj Kapoor essays the role of a vagabond, Raj, who becomes a talented criminal for the vile Jagga (played by K.N. Singh). After finding out that Jagga was responsible for his mother's misery, he kills him in anger.
His love interest Rita (played by Nargis) defends his case, however he is sentenced to three years in prison. Rita says she will wait for him to be released even though Raj will be locked away from his loved one for many years.
The lesson? In life, we may also act in a rage without thinking about how it may impact our lives and of those we love.
2. There is always light at the end of the tunnel (Boot Polish, 1954)
This is undoubtedly one of the most poignant films that Raj Kapoor produced.
The film narrates the murky tale of orphans, Bhola (played by Ratan Kumar) and Belu (played by Naaz) who are compelled to polish shoes for a living by their wicked aunt. But they are taken under the wing of bootlegger John (played by David Abraham), who teaches them about self-respect.
After some drastic turns in their lives, the children become separated. But they are reunited in the end, which marks the light at the dark tunnel of their lives.
Ironically, this idea is also demonstrated in the Shankar-Jaikishan song, 'Raat Gayi Phir Din Aaata Hai', where John teaches the poor children to keep faith and hold their heads high.
3. Simplicity is the best policy (Shree 420, 1955) 
In Shree 420, Mr. Kapoor portrays a simpleton who wears joota Japani, patloon Englistani and a laal topi Russi, yet his heart is Hindustani.
He is the straightforward Raj, a graduate who travels to Mumbai searching for prosperity. He falls in love with teacher Vidya (played by Nargis) but is soon seduced by the greed of wealth… That's when the dishonest businessman Sonachand and the seductress, Maya (Nadira) make him into a crook known as '420'.
Eventually, Vidya persuades Raj to stop earning money fraudulently. Nowadays, we all are determined to earn money and make a living. Interestingly, Mr. Kapoor also says in the movie: "Aaj gareeb bhi gareeb ko nahin pehchanta."
This applies to the society we live in today, as one can become blinded by fame and fortune. It's pivotal to remember that simplicity is the best policy!
4. The show must go on (Mera Naam Joker, 1970)
Jeena yahan, marna yahan. Iske siva jaana kahan. This is the true spirit of showmanship… Well, life in general. If Boot Polish brought tears to your eyes, then the multi-starrer Mera Naam Joker is equally emotional and thought-provoking.
Mera Naam Joker narrates the story of Raju (played by Raj Kapoor) the best circus clown whose father died whilst performing an act, while he lives with his mother (played by Achala Sachdev).
Raju's life is shown in chapters, beginning from his heartbreak from teacher Mary (played by Simi Garewal) to the day he joined Mahendra's (played by Dharmendra) circus.
With each chapter, Raju suffers a heartbreak… But the biggest one he faces is his mother's death whilst performing a stunt. Despite this, Raju completes the act, giving credence to the idea that the show must go on.
5. Embrace changing times (Kal Aaj aur Kal, 1971)
For the first time ever, three generations of the Kapoor-clan appear in a film together: Prithviraj Kapoor, Raj Kapoor and Randhir Kapoor (also director of the film). This was the film's USP.
Besides this, the movie narrates the ideological clash between Diwan Kapoor (played by Prithviraj Kapoor) and his grandson Rajesh (played by Randhir Kapoor), and how the father Ram (played by Raj Kapoor) helps to resolve this conflict.
The movie emphasises that differences in a family can be resolved by conversations and understanding that times are progressing and older generations need to adapt to the new.
6. Love conquers all (Bobby, 1973) 
This trendsetting movie is a love story about a fisherman's (played by Premnath) daughter, Bobby Braganza (played by Dimple Kapadia) and the son of a rich-business man (played by Pran), Raj Nath (played by Rishi Kapoor in his debut performance).
Due to the ego of Raj's father, the insult of Bobby's father and the cultural differences, this becomes a family feud.
But after a rebellion and brawls, the star-crossed conquer all for their love. Mohabbat has power over anything and anyone!
7. True beauty lies within (Satyam Shivam Sundaram, 1978)
"[Satyam Shivam Sundaram] is Mr. Raj Kapoor's most visually-arresting films," says Randhir Kapoor, and rightly so!
The story is about a Pundit's daughter, Roopa (played by Zeenat Aman) whose face is half-burnt. This repulses her husband, Rajeev (played by Shashi Kapoor), and he begins to hate her.
Upset by her husband's indifference, Roopa decides to meet Rajeev at night, disguising herself in a veil. Eventually he falls in love with her personality, not realising that it is actually his wife.
The lesson to learn? Life isn't like Tinder where we swipe right when attracted by someone's good looks. We ought to realise that beauty comes from within.
On the whole, Raj Kapoor was not just an actor and director. He was a magician, who weaved magic through the medium of cinema.
The lyrics of 'Pyar hua ikrar hua' were iconic: "Main na rahungi, tum na rahoge, phir bhi rahengi yeh nishaaniyan (I won't be alive, nor will you, although our memories will live)," and we can appreciate these sentiments even today.
Mr. Raj Kapoor's films are not only an inspiration to the Generation X of actors in Hindi cinema, but also for us, the audience.