"Azam Khan is an aggressive and attacking batter"
The 2021 World T20 tournament takes place from October 17 to November 14, with several box office cricket players missing from major teams.
Particular cricket players from India, Pakistan, West Indies and New Zealand could have been handful had they been selected.
Most of them were digging in deep and in form, with others also having sheer talent.
Surprisingly, these Desi cricket players were unable to make the reserves list. Thus, they have not even boarded the flight to the United Arab Emirates where the key phase of the competition is hosted
Hence, they will only come into the frame should there be any multiple injuries or if COVID-19 comes into effect.
We showcase 6 cricket players who might have had an incredible effect at the 2021 World T20 event.
Imran Tahir
Pakistani-born Imran Tahir who represents South Africa is one of the world's finest cricket players that will not get the chance to have a swansong.
One of the reasons for his exclusion is the success of the left-arm wrist-spinner, Tabraiz Shamsi.
Having said that, Imran is fit and a real game-changer. He also has had successful outings in T20 leagues across the globe.
At the 2021 Pakistan Super League (PSL) 6, Imran took thirteen wickets, with a best of 3 for 7. He was the fourth-highest wicket-taker, with a phenomenal bowling average of 13.07.
Imran was instrumental in his side, Multan Sultans, winning their maiden PSL title in 2021.
With such statistics, Imran had all the hallmarks to be a force in the spin-friendly conditions of the UAE.
Expressing his sadness, Tahir earlier told IOL Sport:
"I am not feeling great that I am not in the squad."
Even though Shamsi is a good bowler, Imran was the perfect box office combination for him. Plus, everyone loves Imran's celebrations as he proudly gives everything to The Proteas.
Many fans also felt his omission was strange, but it is clear that the team management had thought differently.
Sunil Narine
West Indies cricket player, Sunil Narine, also misses out in the Windies squad. The most surprising aspect is that he has age on his side.
Point taken that his action previously came into question, but he has twice had the clearance to bowl again.
Additionally, his form and career statistics suggest that the West Indian selectors are missing a trick here.
In the Indian Premier League 2021, he had taken fourteen wickets at an economy rate of 6.41, with a healthy bowling average of just over 20.
His career average for the West Indies is around the same mark. So, why did he not come into the equation?
"Fitness standards" and a lack of "necessary preparation and confidence" are some of the reasons given for his absence.
Whilst these are important points, an exception could have been made.
After all, he did represent Kolkata Knight Riders in the 2021 Indian Premier League (IPL).
Also, the T20 Cricket World Cup was a short format, where his fitness was not going to be a big issue
Despite his previous setback, Sunil was the right man to unleash his spin magic at the highest stage. Even though the West Indies have a few spin options, they are not in the same league as Sunil.
He will certainly feel a little hard done and can be the difference in any match. It is quite baffling for fans and pundits to understand his non-selection.
Sharjeel Khan
Sharjeel Khan is one of the most explosive left hand opening cricket players in the world.
It seems his past, has come into play in relation to his non-selection for the 2021 T20 Cricket World Cup.
Players who are not in favour normally have to perform at the domestic level to regain their place. Well on that note, he came on top.
At the Pakistan National T20 Cup 2021-22, Sharjeel was the third-highest scorer. He hit 371 runs from eleven matches, with an average of 37.1 for Sindh
He had a strike rate of 150.81 overall in the tournament. His highlight innings was 101 off fifty-six balls against Southern Punjab at Gadaffi Stadium Lahore, on October 8, 2021.
Sharjeel is a natural leftie who can play both on and off-side. He and Fakhar opening make for a very lethal combination.
Former Pakistan captain and 'Boom Boom' cricketer Shahid Afridi was also wishing to see the two forces batting alongside each other.
Speaking on his Official YouTube Channel, Afridi said:
"Everyone has their opinion but I think that Fakhar Zaman and Sharjeel Khan should be Pakistan's openers in T20 cricket.
"Even if one of them clicks, we will win the game inside the first six overs."
Reportedly, his tainted image is a key reason for not including him. This being that Pakistan Cricket Board Chairman Rameez Raja is not keen on bringing players back that were involved in fixing.
But in defence of Sharjeel, he has served his ban. It is also unfair to Sharjeel, considering Mohammad Amir had a second chance.
Also, if Raja is very strict about this, for the future he should imminently introduce a life ban for players who are involved in any form of fixing. This does not include those who have served their ban already.
Even if Sharjeel could not find a place in the 15, he should have at least been in the reserves. Raja and the selectors ignored the fact the reserve player Khushdil Shah was weak on the off-side.
In addition, Sharjeel brings natural left-hand caribbeanesque touch, which is missing in the Pakistan side.
Ajaz Patel
Ajaz Patel is an Indian born cricket player who represents New Zealand. Making an instant impact in T20 Internationals and then being left out of the 2021 Cricket World Cup is rather unfortunate.
In the five-match T20 series against Bangladesh, Ajaz was the highest wicket-taker. He took 10 wickets at a super average of 7.30, along with an amazing economy rate of 3.65.
In the 3rd T20I that took place at the Sher-e-Bangla Stadium, Dhaka, Bangladesh, Ajaz bagged 4-16. This saw The Tigers skittling to 76 all out, losing by fifty-two runs.
Ajaz has a world-class bowling average and still misses out.
As a slow-left arm orthodox bowler, he was the perfect cricket player to work in tandem with leggie Ish Sodhi.
Ajaz was in a 32 man initial group but did not make the final cut. To miss out on the squad is one thing and not make the reserves list feels is like rubbing salt to the wounds.
The abrupt cancellation of the Pakistan versus New Zealand series also did not help matters. That was another chance for Ajaz to cement his place for the 2021 World T20 tournament.
It is astonishing that he has had not much support from the fans or pundits. Neither has he spoke about missing out on the UAE trip.
This speaks volumes of a player who has extraordinary skills. It's just a shame that the Kiwis are depriving him and the team of a match-winner.
Yuzvendra Chahal
Yuzvendra Chahal not making the final squad for Team India was quite disappointing for many.
During the UAE leg of IPL 2021, Chahal was exceptional. In eight matches, he took 14 wickets, at an average of 13.14.
His economic rate of 6.14 was also terrific. Whilst, his T20I bowling average is higher, he had always been a tough customer to handle.
And on spinner friendly wickets of the UAE, he certainly had the potential to bamboozle the opposition.
It is even more shocking that he did not make it on the reserves list, especially with his experience.
Former Indian opener and commentator, Sanjay Manjrekar felt Chahal was a better wicket-taking option than Ravichandran Ashwin.
However, R Ashwin holds his own place, with Chahal being a great second attacking option. In late September 2021, Sanjay had said, "I think Chahal is back to his best."
Many fans were hoping that Chahal had done enough to make the team on October 15, 2021. Unfortunately, it was not meant to be for him.
One fan went on Twitter  to vent out his frustration:
"Should have picked #YuzvendraChahal instead of #RahulChahar. His bowling average, economy, and the number of wickets taken are much better.
"Still not able to process why not they are picking Yuzi."
In all honestly, there is not much else he could have done. It is obvious that the selectors had other ideas.
Azam Khan
Azam Khan was in the initial Pakistan World T20 15 man squad, which Chief Selector Muhammad Waseem announced in September 2021.
At the time, in a PCB press release, Wasim said:
"Azam Khan is an aggressive and attacking batter who also keeps wickets, a combination that has earned him the selectors' nod ahead of Sarfaraz Ahmed.
However, a month later, former Pakistan captain and wicketkeeper Sarfaraz Ahmed came in to replace him.
Azam had to make way after struggling in the 2021-2022 Pakistan National T20 Cup. Whilst Sarfaraz did perform better, Azam Khan did show glimpses of what wonders he can do.
In a round-robin game, Azam smashed 23 off nine balls to give his side the impetus to chase 212 versus Northern. His staggering strike rate of 255.55 was exactly what he is capable of.
Knowing his capabilities, it is strange that Wasim did not back him. It seems that he also came under the influence of fans who were criticising his batting and body shaming him.
Once he had the axe, many supporters began questioning why he was left out.
Cricviz Analyst Freddie Wilde went on Twitter to share a key analysis:
"We recently did a deep analysis  @CricViz  on the world's best spin-hitters.
"Azam Khan came second, with only Pollard ahead."
"Azam ranked high for power & also taking on 'negative' match-ups – a critical skill given Pakistan's shortage of LHs. #T20WorldCup"
Even cricket statistician Mazher Arshad had some facts in favour of Azam, especially when it comes to playing spin.
Azam is the future of Pakistan cricket and he will have the determination to prove his critic wrong.
There are other top players who, unfortunately, missed out. These include Usman Qadir (PAK) and Iftikhar Ahmed (PAK).
Watch Official Anthem for the 2021 World T20 Cricket event here: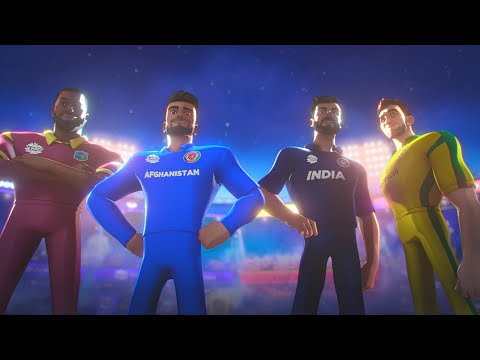 The 29-day cricket carnival kicks off in UAE and Oman with first-round stage. Group A features Ireland, Namibia, Netherlands, and Sri Lanka.
Group B includes Bangladesh, Oman, Papua New Guinea and Scotland.
The top two teams from Group A and B will join India, Afghanistan, Australia, England, New Zealand, Pakistan and the West Indies in the Super 12 stage.
The 12 teams are split into two groups of six, with the top two teams from Group 1 and 2 qualifying for the  semi-finals.
Indian takes on Pakistan in the first match of Group 2 on October 24, 2021. Dubai International Cricket will host many matches including the final on November 14, 2021.
The Sheikh Zayed Cricket Stadium is the venue for a semi-final along with other games taking place there.
The other venues include Sharjah Cricket Stadium, Sharjah, UAE and Al Merat Cricket Stadium, Muscat, Oman.
The first match of the tournament takes place between Oman and Papua New Guinea on October 17, 2021 at the Al Merat Cricket ground.
The tournament should be a cracking one, with plenty of bowling and batting fireworks on display.