"For me, it is going to be such a big highlight to see Rekha perform live"
The press conference for the International Indian Film Academy (IIFA) Awards was held on 12th June 2018. It was attended by legendary stars Rekha, Bobby Deol, Varun Dhawan, Kriti Sanon and Ayushmann Khurrana.
For 2018, the prestigious IIFA Awards will be hosted in Bangkok, from 21st to 24th June 2018. It will take place at the Siam Niramit Theatre in Thailand.
The star-studded event will see a list of popular singers and performers grace the Siam Niramit Theatre stage. Most notably, the legendary Indian film actress, Rekha, who will be performing some of her most iconic hits after 20 years.
Take a look at the exciting line-up for IIFA 2018 and what fans can expect from the 4-day Bangkok extravaganza.
The Star-Studded Line-Up
The line-up is described by IIFA's official website as a 'magnificent celebration of Indian cinema, music, fashion, and dance,' and we can see why.
To kick off celebrations, IIFA Rocks will be hosted by Kartik Aaryan and Ayushmann Khurrana. Speaking at the press conference, Khurrana said:
"This will be the third time I'm going to host IIFA Rocks and I plan to make things very interesting. It has been an amazing association with IIFA who have chosen me to host the event multiple times.
"I wish IIFA all the success this year as we head to Bangkok to present to audiences the biggest entertainment spectacle of the year, Cheers!"
Fans can also look forward to stellar performances from stars including Bollywood music director-singer Pritam Chakraborty.
Chakraborty will be joined by a list of talented singers such as Sreerama Chandra, Amit Mishra, and Shalmali Kholgade, to name a few.
Moving on to the main event (NEXA IIFA 2018 Awards Styled By Myntra), the 'charismatic duo' of filmmaker Karan Johar and actor Riteish Deshmukh will be hosting the awards ceremony.
The big finale of the event will see Bollywood megastars Ranbir Kapoor, Shahid Kapoor, Varun Dhawan, Arjun Kapoor, Bobby Deol, Shraddha Kapoor, Kriti Sanon, and Iulia Vantur take to the stage.
Not to mention, India's most-loved actress, Rekha, is sure to capture the hearts of the audience with her spellbinding performance.
Rekha Graces the IIFA 2018 Stage
Media outlets across the globe have been overcome with excitement at the prospect of Rekha performing. While the veteran star is excited about taking to the stage, details of her performance are being kept secret.
At the IIFA 2018 Press Meet, an enthusiastic Varun attempted to uncover some of Rekha's song and dance list, but to no avail:
"My favourite song is 'Pardesi'," he told Rekha hopefully.
The actress laughed: "No, ain't happening!"
"You know, I am known by another name… Mystery! Come and see the performance in Bangkok," she added.
The official IIFA website only writes that: "Rekha is sure to leave audiences spellbound with her ethereal performance at the grandiose event."
Co-founder director of Wizcraft International, Wiz Sabbas Joseph also spoke to the media. He mentioned how the glamorous event is used to bring people from all over the world together.
Wiz also commented on Rekha's upcoming performance. He said:
"The IIFAs travel the world bringing people and cultures closer together. We are delighted to be returning to Bangkok after a decade to once again create an Indian celebration."
"With this year's star-studded line-up we would also bring alive nostalgia with Rekhaji's performance in an event brimming with youthfulness. Indian movie fans are in for a treat like never before."
The 63-year-old actress last performed at an award show in 2004. At the IIFA press conference, Varun Dhawan added that Rekha's performance would be the highlight of the event for him:
"For me, it is going to be such a big highlight to see her [Rekha] perform live. I know a little bit of her act and to see that live is going to be a huge thing."
Known for her iconic roles in the likes of Umrao Jaan, Silsila, Suhaag and countless others, we are certain that this will be a performance not to be missed!
Also adding to the excitement of on-stage performances is Bobby Deol, who will make his return after a gap of seven years. He will revive to some of his old hits as well as some of the tracks of his latest film, Race 3.
The Gupt actor also enjoyed a fun interaction with Varun on stage. He told the October actor:
"Varun you're a sweetheart! I have to tell you guys, for what he has achieved, he's the most down-to-earth kid I've ever met."
Deol also spoke of his close friendship with Salman Khan, who is reportedly producing a film with Bobby as the lead:
"Salman is an angel in my life. He is the most awesome human being ever. No one in the industry does as much for anyone.
"He's not doing it as a favour, he's doing it because he sees the fire in me and because he wants me to be the best again."
Watch all the highlights of the IIFA 2018 Press Meet here: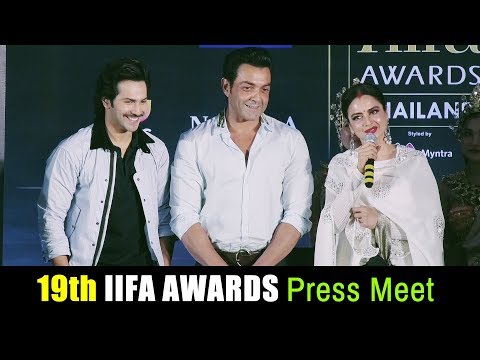 In addition to non-stop live entertainment, fans can anticipate their favourite stars and films getting the recognition they deserve.
Indeed, alongside the other categories, Anupam Kher's huge contribution to Indian cinema will be recognised this year. He will be awarded the 'IIFA Award for Outstanding Achievement in Indian Cinema'.
The excitement for the event continues to build as performers for the show express their own excitement towards the popular award ceremony.
The glitz and glamour will kick off from Thursday 21st June 2018. Fans can keep tabs on what's happening by following IIFA on Instagram, Twitter, and Facebook.