Pakistan cannot be left as a hopeless case.
Every country has its fair share of scandals and the same can be said for scandals in Pakistan.
No matter if the government is liberal or conservative, a few black sheep can be easily spotted no matter how hard they try to hide.
Even if the country is known to be progressive, there are bound to be scandals and gossip.
Pakistan is no stranger to scandals despite the fact it is socially dominated by clerics and leaders of both moderate and extreme nature.
In a country where democracy is beginning to show some signs of life after decades of its birth, Pakistan has some pretty interesting scandals.
Some of the very big ones are related to their rulers and ruling classes. 
To find out more, let's have a look at the top ten biggest scandals of Pakistan.
Imran Khan's Secret Child
Whether you know him as the Prime Minister of Pakistan or as the famous former cricketer, Imran Khan is someone who has had his share of scandals.
While his opponents can take days counting on the number of his scandals, many have not been proven.
Whether drugs or affairs, the list goes on. However, there is one scandal that stays buried far away in time. This is the relationship between Sita White (late) and Imran Khan.
The troubled heiress, Sita White was the daughter of Lord "Gordy" White and Elizabeth Vasquez. She began a relationship with Imran Khan after meeting the former cricketer in the Jermyn Street nightclub, Tramp.
It is believed Imran Khan ended their relationship after a few months. However, the pair spent a final night together before Sita permanently moved to Los Angeles in 1990.
Sita then gave birth to their daughter, Tyrian in June 1992, who Khan failed to accept as his daughter. The news of Khan's paternity came to light after he was married to Jemima Goldsmith.
Determined to prove Khan was the father of her child, Sita filed a paternity suit, however, Khan failed to contest to it. Eventually, a California judge declared Khan as the father.
Although the story quite possibly ended when White passed away in the early 2000s, their daughter remains a matter of concern for his opponents.
Despite Khan not acknowledging his daughter, Sita made his ex-wife Jemima Tyrian's guardian. 
Tyrian is usually seen on holiday with Jemima and her half-brothers Sulaiman and Kasim. She also resides with Jemima at her home in Oxfordshire when she visits the UK.  
According to the Daily Mail, a family friend of Jemima Goldsmith spoke about Tyrian's relationship with Jemima and the family. The family friend said:
"Tyrian is like a daughter to Jemima. They are extremely close. She also has a good relationship with her brothers Sulaiman and Kasim, and Jemima's brother Ben."
Imran Khan hardly or never gets this question asked in both international and national media due to the nature of his work.
His opponents have also accused him of using cocaine during his sports career as well as outside of it. 
The Prime Minister is facing no such scandalous encounters but it would be naive to say that his opponents have forgotten Sita White.
Inappropriate Sexual Videos
It appears scandals are never far away from the Pakistan government. However, this time it does not involve Prime Minister Imran Khan rather it involves one of his ministers.
Federal Railway Minister and Pindi playboy, Sheikh Rasheed is known for his loud and to-the-point attitude.
He has been one of the favourites of both the establishment and TV talk shows for his rather entertaining insights.
The man does not shy from smoking cigars in public and certainly has no fear when discussing the ever-popular actress Reema Khan.
Rumour has it that he was deeply in love with Reema Khan. One rumour even has it that he remains a bachelor because of Khan.
While Rasheed and Khan's affair is an old story, the latest of his scandals involve the famous TikTok star, Hareem Shah. He was accused of inappropriate sexual behaviour with Hareem Shah.
The TikTok star rose to fame with her videos featuring Pakistani politicians. One of her most popular controversial videos includes sitting inside the Ministry of Foreign Affairs office.
However, another and somewhat more prolific video involves exposing Rasheed's lewd behaviour.
In a video that has gone viral, a woman, whose face cannot be seen, reveals how Sheikh Rasheed would get naked and perform inappropriate acts on video calls. She said:
"Aap nanga hoke mujhe dikhaate the. Video pe galat-galat kism ki hartakein karte hai. [You used to get naked and show me. You did inappropriate things on camera].
Sheikh Rasheed's TikTok video chat with models Hareem & Sundal Khattack goes viral. What's going on in the republic? pic.twitter.com/fFdJ2IAX9l

— Murtaza Ali Shah (@MurtazaViews) December 28, 2019
However, the man who is claimed to be Rasheed cuts the phone call.
After the release of the video online, Shah told Geo News that she received numerous death threats.
The TikTok sensation also confirmed the authenticity of the video and claimed that she did not release the footage, rather her friend did.
It does not end here. Shah also denied Rasheed's statement that he is unmarried. She allegedly revealed that the minister was, in fact, temporarily married to her friend.
Shah further added that she was an eye-witness at the nikkah and Rasheed also bought her unnamed friend a car and house.
Undoubtedly, these strings of accusations led to many fingers being pointed at both Rasheed and Shah.
According to a video shared by the Pakistani news channel, City 42, Rasheed denied the accusations made against him. He said:
"I have done no such thing. I am coming from Allah's house, I am completely clear."
Watch Rasheed's Statement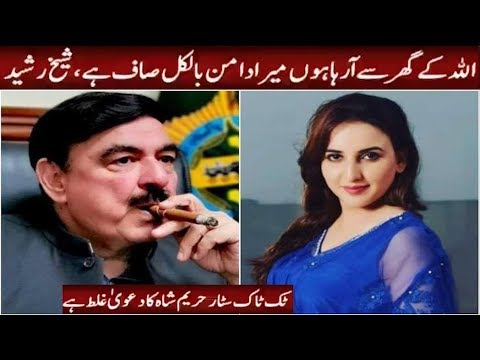 On the other hand, Shah has been accused of trying to defame Rasheed to gain more fame and remain in the spotlight.
In many cases, people compare Hareem Shah to the late controversial Pakistani figure Qandeel Baloch because of their bold nature.
Murder Suspect Mufti Abdul Qavi
In July 2016, Pakistani social media sensation, Qandeel Baloch was ruthlessly murdered at her residence in Multan, Pakistan.
The 26-year-old star was avidly known for her bold, provocative and risqué content she posted on YouTube. Undoubtedly, most Pakistani societies felt this went against their moral values.
Qandeel Baloch rose to fame in 2013 when she started the social media scene. Known as a controversial figure, she was often referred to as the Kim Kardashian of Pakistan.
Despite many viewing her as an immoral figure, she was also praised for her bravery to live life according to her terms.
Reportedly, she was also in the top ten most searched Pakistani figures in 2015, showcasing her international popularity.
However, those who applauded her fearlessness also warned the YouTube star that her behaviour was detrimental to her life.
Yet, her association with the well-known religious scholar, Mufti Abdul Qavi became one of the most prolific scandals before her untimely death.
The 50-year-old mufti was also a renowned member of the moon-sighting committee, which worked to determine the dates of Islamic festivals.
As a highly-regarded member in society, Qavi was often invited to appear on television programs to share his views on social and religious matters.
In June 2016, Qavi was questioned about Baloch's behaviour online, who was present during a video link on the show Ajeeb Saa (2016) on Neo News.
Interestingly, instead of criticising Baloch, he invited her to a moon-sighting event which was to be held in Karachi. She responded saying it would be an "honour" to meet him.
On June 20, Baloch visited Qavi. Their meet-up was shared online by Baloch who posted numerous suggestive selfies with Qavi.
As a result of their meeting, the mufti was heavily criticised online for having had associated with an immoral woman especially during the spiritual month of Ramadan.
His humiliation also led to the revoke of his moon-sighting committee membership.
Less than a month after meeting Qavi, Baloch was discovered murdered in her house in Multan.
Her brother, Wasim Baloch initially confessed to strangling his sister to death for dishonouring the family name.
However, when he and his two accomplices were taken to court over the charge of murder, the trio pleaded not guilty.
Baloch's family also claimed that Qavi was, in fact, responsible for instigating their daughter's death.
According to her parents, Qavi persuaded them to take such action because of their daughter's disreputable behaviour.
Yet, Qavi denied any wrongdoing in the murder case and refused to partake in the police investigation.
Despite denying the claims made against him, Qavi fled from police custody only to be later captured after his mobile phone was traced.
In Baloch's murder investigation, her brother Wasim was sentenced to life in prison.
The outspoken Qandeel Baloch is still remembered from various angles. Not everyone agrees let alone accept her but she is still remembered whether famously or infamously.
The legacy of Qandeel Baloch can be estimated by the fact that a documentary was made of her life titled, In the Name of Honour (2017). 
Watch In the Name of Honour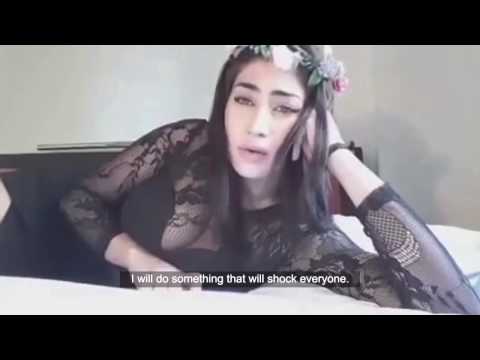 Nude Magazine Scandal
Veena Malik may have left the film industry but she has not given up on all the attention she receives in the media. 
Whether it was the erotic Indian film Zindagi 50-50 (2013) or her chemistry with Ashmit Patel on Bigg Boss that got her spotlight once again, she is not afraid of being the centre of attention.
However, the scandal that stands out is the infamous nude cover scandal where Malik appeared nude on the cover of FHM magazine.
Allegedly according to reports from the Mirror, Malik's father, Malik Mohammad Aslam disowned his daughter after this cover shoot. He said:
"I have disowned her. I have severed all ties with her and I don't want her to have any share in whatever meagre assets I have until she is cleared of the controversy and pledges not to visit India again.
"I can ignore if she disobeys me but I cannot tolerate anything against my country and my faith."
Her father further added that he demanded Veena to promise to never visit India again once the news of the scandal settled down.
Interestingly, Malik denied posing nude for such a provocative magazine cover. Rather she claimed her pictured were "morphed."
As a result of this, Malik filed a Rs 10 crore (£1,072,121.21) defamation lawsuit against the publication, its photographer and editor. Her decision to take legal action came after outrage in Pakistan.
According to the notice sent to the publication by her lawyer, it stated: "Irreparable harm, loss and damage" was caused because of the "morphed pictures" published. These offences are punishable under the Indian Penal Code.
On the contrary, she is now a celebrity and a TV host and can often be found hosting Ramadan transmissions.
Cricket Spot-Fixing Scandal
This may be one of the world's most infamous sports scandals known across the globe. 
Members of the Pakistan cricket team were found guilty of partaking in a betting scam which shocked the cricketing world.
These included fast bowlers Mohammad Amir and Mohammad Asif and former cricket team captain Salman Butt.
The trio was convicted of taking bribes from cricket agent, Mazhar Majeed to purposefully underperform at Lord's in 2010, in the fourth Test Match between England and Pakistan.
To many cricket spectators at the time, the poor performance by three of Pakistan's finest players seemed as though they were having an unlucky day on the pitch.
The three no-balls delivered by the respective players appeared to many that even international sportsmen are also susceptible to making mistakes.
A no-ball is given when the bowler clearly oversteps the marked line.
However, in a shocking revelation made by the former news publication, News of the World (NoW), revealed that three no-balls were, in fact, being delivered deliberately at pre-planned intervals.
Gambling is a large part of the sporting world, as betters usually place bets on particular aspects of a game. In this instance, they were staking their money on the exact time a no-ball would be delivered.  
In August 2010, an undercover sting operation by the NoW used middleman Majeed, who they secretly recorded proposing an arrangement for spot-fixing.
Majeed confirmed to reporters that Asif, Amir and Butt had agreed to deliberately deliver three no-balls. He further bragged about how he had members of the Pakistan cricket team in his pocket.
In return for his role, he was rewarded with £150,000, most of which has never been recovered.
As a result of this spot-fixing scandal, those with inside information had the perfect opportunity to place their bets accordingly.
On November 1, 2011, in a trial at Southwark Crown Court, Butt, Asif, Amir and Majeed were found guilty of conspiring to cheat.
Despite Butt and Asif strongly denying the accusations against them, Majeed and Amir pleaded guilty.
In an unsuccessful attempt to prove his innocence during his trial, Butt said: 
"Never in my whole life have I intended to do anything like that, play a match in a certain way. I always do what is required to the best of my ability." 
The former cricket captain further claimed he felt betrayed by his agent Majeed. In response to his statement, prosecution barrister, Aftab Jafferjee said: 
"You are lying your head off to this jury aren't you, Mr Butt? In response, Butt said: "No, I'm not."
On November 3, 2011, the accused were sentenced with jail terms. Butt, thirty months, Amir, six months, Asif, one year and two years and eight months for Majeed.
Alongside the jail terms, the three cricketers were also banned from playing the sport. Butt was given a ten-year (five years suspended) ban, Asif seven (two years suspended) years and Amir 5 years.     
Furthermore, in an interview conducted by the International Cricket Council (ICC) following Amir's ban from the sport, Amir promised to make a "comeback." He said:
"Cricket is the most important thing in my life, I left my studies for cricket. My entire family depends on me and I depend on cricket.
"I will never lose hope. I have never done that in my life and I'll do everything in my power to make a comeback, a strong comeback."
On August 19, 2015, Amir was permitted to play all forms of cricket from September 2, 2015. He made his comeback on January 15, 2016, during the T20 match against New Zealand.
Despite receiving a hostile reception by being booed by the crowd, Amir took a wicket as Pakistan reigned supreme against New Zealand.    
Butt and Asif also returned to the game in 2016, with the pair playing in Pakistan's domestic one-day tournament. Butt scored 135 runs while bowler Asif scored 2-22.
Undoubtedly, the spot-fixing scandal has somewhat tarnished the game of cricket. According to BBC, former England cricketer said:
"I don't think it's just been damaging to Pakistan cricket, it's been damaging to cricket full stop."
Unfortunately, this is one scandal which will forever be linked to Pakistan cricket.
Surrey Mahal
There is something about his wide smile that earned him a lot of attention all over the world. 
The political geography of Pakistan can sometimes be predictable. This is because every politician once in power will be put to trial by their opponent who takes power. 
Known to many as Mr 10%, his full name is Asif Ali Zardari. 
Even before he was not in the government, Zardari had faced numerous trials imposed by his political rivals. 
When the PPP came to power in 2009, Zardari became the President of Pakistan. This is the man who has been accused of so many allegations.
A renowned scandal concerning both Benazir Bhutto and her husband Zardari was the controversy surrounding the Rockwood Estate near Godalming, famously known as the Surrey Mahal (mansion).
The couple owned the estate from 1995 to 2005 during which they carried out a series of upgrades to the estate.
These included reinforcing the master bedroom with a concrete and 'bomb-proof' steel dome as well as a replica of a local pub installed in the basement.
In 1995, the couple denied owning the 350-acre property, however, Pakistan authorities believed it was acquired with ill-gotten gains.
Eventually, in 2004, Zardari admitted to purchasing the Surrey Mahal before it was sold for £4 million in 2005.
According to the Daily Mail, Nick Freeth an estate agent from Clarke Gammon Wellers described the renowned estate. He said:
"Local people know about the estate and so do people in Pakistan, it made headline news over there.
"The whole estate would suit someone looking for privacy but also be within 40 minutes of London.
"There is also a working airstrip, although I'm not sure I would like to land on it.
"They must have spent a lot of money on it but it wasn't until 2004 that Zardari admitted they owned it. And Ms Bhutto denied ever even visiting it.
"There is a highly-sophisticated air-conditioning system which was installed by them and it is thought to have cost £750,000 to install.
"Zardari went to the nearby Dog and Feather (pub) and tried to buy it but they wouldn't sell so he recreated it in the basement. It is a fascinating and unusual property with amazing views."
After being sold by Zardari, the estate was popularly used for 'sex parties' before being put in auction, in 2014, for £10 million.
Some even hold Zardari responsible for the murder of his wife and two times Prime Minister of Pakistan Benazir Bhutto.
Regardless of the accusations he has faced, Zardari has been known to get the job done if he gets to have the 10% of whatever the financial cost of the project is. 
He gets a special mention in Bruce Bueno de Mesquita's 'The Dictator's Handbook' for sabotaging the financial aid his government received during the 2010 flood crisis.
The Panama Papers
It doesn't take a rocket scientist to figure out if a politician is corrupt or innocent, especially when being mentioned in the infamous Panama Papers.
Of all the politicians in the world who got their names in the papers, former Pakistan Prime Minister Nawaz Sharif and his family faced the worst of it. 
As a result, in a matter of months, he was ousted through judicial inquiries.
No matter what can be said by the sympathisers or opponents of Sharif, one thing is for certain that politics in Pakistan saw a major shift.
It can be rightfully attributed to the Panama Papers as far as the downfall of the Sharif family goes. 
Of all the progress and achievements that were made in his tenure, it went downhill and not only was he driven off politics but it was just the start.
Like a fission reaction, Panama papers would rock the political careers of Nawaz Sharif, his daughter, Maryam Nawaz, and his brother Shahbaz Sharif.
Consequently, Nawaz Sharif was sentenced to prison. In 2019, he was released on medical grounds to undergo treatment for various ailments. 
#MeToo Scandal
The #MeToo movement swept across the world as it brought forward men from all circles of life, responsible for harassing and demeaning women.
The first #MeToo case in Pakistan involved singers Ali Zafar and Meesha Shafi.
What started in April 2018 as a series of accusations against Ali Zafar, Meesha Shafi stood strong on her ground, whereas Ali Zafar has claimed his innocence through the courts.
Shafi claims that Ali Zafar had sexually harassed her multiple times. More women came out as Shafi opened up about her experience. On the other hand, Ali Zafar did not accept the accusations.
These two are some of the most highly paid and demanded musicians of Pakistan. This #MeToo case has seriously hampered the careers of both individuals.
Axact Fake Diplomas Scandal
On May 17, 2015, an investigative piece by The New York Times revealed that Axact, a Karachi based software company were operating several websites, selling fake academic degrees.
The published story stated Axact was running this online scam on a global scale, with the help of up to 370 degree and accreditation mill websites.
The company was allegedly able to open for 24 hours, with some of the company's 2000 employees, working as fake American Education officials across various shifts.
Denying all the allegations, Axact blamed The New York Times of "baseless, substandard reporting." They also accused rival media organisations of plotting this scandal ahead of their Bol TV Network launch.
Media and bloggers who were covering this scandal were warned by Axact, with potential lawsuits.
The owner and CEO Shoaib Shaikh had initially denied any links with the fake online portals, claiming Axact was only selling software to them.
Following instructions from the government of Pakistan, the Federal Investigation Agency (FIA) conducted a raid at Axact managed offices in Karachi and Islamabad.
Besides seizing computers and recording employee statements, the FIA took twenty-five Axact staff into their custody.
A report published on April 10, 2016, revealed that the scandal was "bigger than initially imagined."
Axact was alleged to have taken money from more than 215,000 individuals in 197 countries.
But due to lack of evidence, Shaikh was cleared of money laundering charges in August 2016.
However, Shaikh and twenty-two of his employees were found guilty, with a sessions court sentencing them to twenty years in prison for the fake scam allegedly worth up to $140 million.
Shaikh's sentence was later suspended by the Islamabad High Court, with Justice Athar Minallah saying that "not even a single victim lodged a complaint."
Khanani and Kaalia: Forex Scam Case
Khanani and Kaalia International, a leading foreign exchange company, was shut down by the government of Pakistan in connection with the Forex Scam Case.
The FIA arrested directors Javed Khanani, Yusuf Kalia and their associates for their involvement in the illegal transfer of money worth $10 billion dollars in November 2008.
The main charges they faced was running an illegal Hawala business, which saw them physically transferring foreign currency from Pakistan.
There were many reports stating the groups link to the underworld mafia.
But in March 2011, a special banking court acquitted the foreign exchange dealers, along with four bank officals in the money laundering scam.
The court ruling stated "insufficient evidence" for exonerating the eight officials. The Supreme Court of Pakistan investigated the acquittals by appointing an impartial judge, following a complaint from the FIA.
Despite the FIA appealing the case, in 2019 the Sindh High Court declared that all the previously accused individuals were innocent.
Khanani had allegedly committed suicide in 2016, jumping from a building in Karachi, which was under construction.
Watch video of the Top 10 scandals of Pakistan here: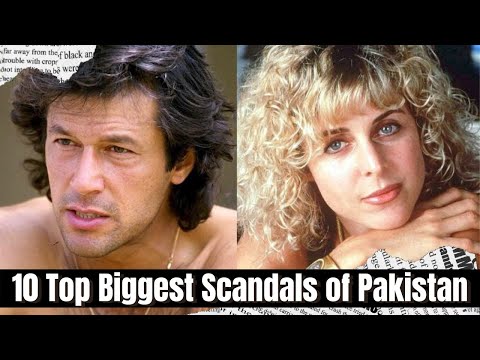 This is merely a novel list of scandals that can be easily found on social media and news. 
There are sex scandals of various actresses such as Rida Isfahani, Rabi Peerzada Sofia Ahmed, Meera, Samra Chaudhary and many more. 
However, for a country that is solely established on male dominance can be easily manipulated in favour of the male gender.
Women who are exposed without their consent and will are the ones who get blamed and shamed for the scandals.
In fact, women have to bring forth the proof of whether they have been sexually harassed or raped as per law.
But it does not stop there. Politicians and others use every possible way to get away with money laundering and corrupt practices.  
It is fair to assume that for politicians, big business people, industrialists and celebrities, the law can be bent and even broken without any dire consequences.
Needless to say, Pakistan cannot be left as a hopeless case. There is always room for improvement on the political and social ground.
The question is for how long can Pakistani politicians, feudalists, and powerful men and women misuse their power?