"It took me one whole year to get him on board. It took a lot of wooing."
All aboard the Bollywood cruise of summer 2015. Director Zoya Akhtar delivers blockbuster gold with her third film release, Dil Dhadakne Do (DDD).
Bringing together the likes of Anil Kapoor, Shefali Shah, Priyanka Chopra, Ranveer Singh, Anushka Sharma and Farhan Akhtar, Zoya ropes in the biggest A-list cast you could think of.
A feel-good, family comedy, DDD follows the story of the dysfunctional family, the Mehras.
Kamal Mehra (played by Anil Kapoor) is a Delhi based industrialist who decides to celebrate his wedding anniversary on a cruise ship with his wife Neelam Mehra (played by Shefali Shah) and kids, Ayesha Mehra (played by Priyanka Chopra) and Kabir Mehra (played by Ranveer Singh).
But just like any other family, the Mehras are are not sure of problems and issues too.
Ayesha wants out of a loveless marriage, and Kabir isn't interested in marrying the girl of his parent's choice.
But fates change when on a 10-day cruise in the Mediterranean, Kabir meets dancer Farrah Ali (played by Anushka Sharma), and Ayesha bumps into her ex-lover Sunny Gill (played by Farhan Akhtar).
The Mehra sibling's emotions towards their respected partners get even more confused. And with limited time left on the cruise, will the Mehra kids make or break these relationships?
With the filming of DDD starting in early 2014, the film has been at the centre of much gossip and news – not least because of its star cast.
Initially, rumours emerged of a so-called 'cat fight' between the two leading ladies, Anushka and Priyanka.
News headlines reported that Priyanka was keeping the Band Baaja Baaraat actress at arms-length, because Anushka had been spreading rumours about the closeness of Priyanka and Farhan off set.
However later Priyanka put a stop to the gossip and posted a candid picture on Twitter of Anushka playfully grabbing her neck, captioning the picture with:
"The PeeCee n Nushki "CATFIGHT" !! ..For those who believe everything!! #GetOverIt @AnushkaSharma."
Interestingly, Zoya admits that it was a difficult task to convince veteran star Anil Kapoor to agree to the film:
"It took me one whole year to get him on board. It took a lot of wooing. It took Aamir Khan to go to his house. Aamir was like, 'You've to play this role'.
"There was no Plan B for Anil's role. Aamir has gone and sat on Anil's head until he said yes. Even my Dad and Farhan spoke to Anil.
"I went and convinced him. And Anil's son Harshvardhan was a huge help. He kept badgering his father until he signed my film. Too cute, huh?"
A surprise new addition to the film was none other than Aamir Khan, who voices the family and philosophical dog, Pluto. Speaking about how he bagged the role, he said:
"I got a call a few weeks ago from Zoya, and she asked me to see the film. I saw it and, of course, Pluto was also there in the film. His voice was given by Javed Akhtar saab at that time."
"When I told her I loved it, Zoya said, 'Listen, I want you to play Pluto'. I was a bit surprised because I thought Javed sir had done a great job," Aamir said.
"I had loved the film so much that I was just happy to be a part of it and I agreed. I didn't even think twice. And two days later, I was dubbing for it. That was it."
Of course with such a blockbuster film in the making, accompanying blockbuster music was also a must. Zoya reassembled the hit-maker trio, Shankar-Ehsaan-Loy to create the memorable soundtrack for the film.
The album sees 5 tracks in total. The title song, 'Dil Dhadakne Do', marks the official singing debut of Priyanka Chopra in Bollywood.
Complementing her is Farhan Akhtar who previously has rocked the screen with his vocals.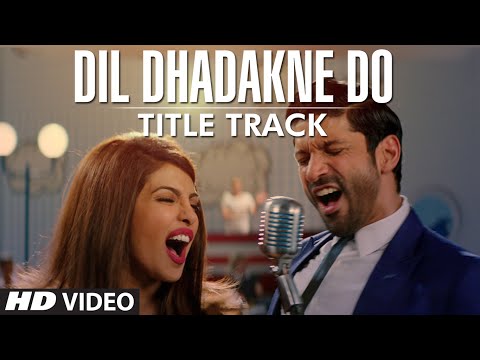 The next track 'Pehli Baar' sung by Sukriti Kakkar and Siddharth Mahadevan, projects the emotions of Farah and Kabir. The jazzy romantic tune is definitely a favourite for many.
'Girls like to Swing' is a jazzy track that shows how girls just want to have fun, while 'Phir Bhi Yeh Zindagi' is the most soulful and melodious song of the album.
Reactions to the film have been hugely positive so far, particularly from Bollywood.
Film critic, Taran Adarsh tweeted:
Watched #DilDhadakneDo. Loved the film! Very few directors can tackle relationships with such sensitivity as Zoya Akhtar. That's a fact!

— taran adarsh (@taran_adarsh) May 31, 2015
Deepika also gave a special shout out to her beau Ranveer Singh on Twitter:
Can't get over what I just saw!!!???My most awaited film of the year!!!#DilDhadakneDo #5thJune #MustWatch

— PIKU (@deepikapadukone) May 28, 2015
And you @RanveerOfficial …YOU can do THIS ALSO!!?? #incredible! Soo proud of you!( and no…I'm not being biased…??)

— PIKU (@deepikapadukone) May 28, 2015
I feel on top of the world after watchin #DilDhadakneDo @ritesh_sid pls convince Zoya to make more films more often !!!

— Arjun Kapoor (@arjunk26) May 31, 2015
The cast and director have been travelling across India to do endless promotion for the film.
The film also enjoyed special promotion and an exclusive screening at the prestigious IIFA Awards on June 6, 2015 in Malaysia.
Organisers picked the film as their showcase and with Ranveer Singh also co-hosting the Awards night, IIFA transformed into a full DDD affair!
Following a relatively slow start on its opening day, the film has picked up incredibly well. Over the course of the weekend, the film raked in Rs 42.82 crores, the third highest of 2015.
It has also topped the overseas market with an opening weekend collection of £1.5 million (Rs. 22.40 crores).
It is clear that Dil Dhadakne Do has definitely made all the dils of audiences beat faster. Make sure you go aboard this fun-filled cruise from June 5, 2015.